If your institution has many career centres in Handshake, you can filter the interview schedules by Career Centre.
To access an interview schedule at a specific career centre:
1. Click Interviews on the left navigation bar.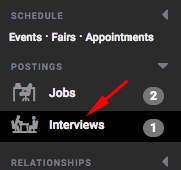 2. Click Edit this, located in the upper-left corner of the page.
3. Within the pop-up, click the circle next to the Career Centre you want to access.

Troubleshooting
Room Availability
If you are unable to edit the room availability, you will need to ensure that you are connected to the Career Centre in your User Settings.
To update the Career Centre(s) you're connected to:
1. Click on your name in the upper-right corner of the screen, then click User Settings.
2. Click Personal Information from the left menu.
3. Scroll down to the Career Centers option and add the Career Centre(s).

4. Click the blue Save Changes button to update.
Interview Request
If an employer has requested a schedule, but you aren't able to locate the request, ensure you're filtering on the Career Centre the interview is connected to.