If you're having trouble receiving emails from Handshake, here are a few tips and tricks you can use to ensure better deliverability in the future…
Check your spam folder.

In most cases, if Handshake emails aren't making it to your inbox, they're in your spam folder. Subsequent tips will give you ways to make emails go straight to your inbox, but if you're looking for an email right now, check your spam.

Add our email addresses to your contacts. Emails from Handshake in the UK come from handshake@mail.joinhandshake.co.uk

,

handshake@notifications.joinhandshake.co.uk

,

handshake@g.joinhandshake.co.uk

or

handshake@m.joinhandshake.co.uk,

depending on the content of the email. If you add those addresses to your email contact list, it can help with deliverability.

Talk to your IT team.

There are occasionally security measures in place where you work that automatically block some emails from getting to your inbox. If you get in touch with IT, you can ask them to whitelist Handshake.

The whitelisting process ensures that future emails aren't blocked. IT may also be able to tell you if emails Handshake has been sending you are blocked and can be released. Details to share with IT can be found here: https://documentation.joinhandshake.co.uk/docs/whitelist-handshakes-emails
Retrigger the email to yourself.

If you are trying to receive an account confirmation email, you should see the option to resend yourself the email. If you've completed steps 1-3, a newly sent email is more likely to hit your inbox.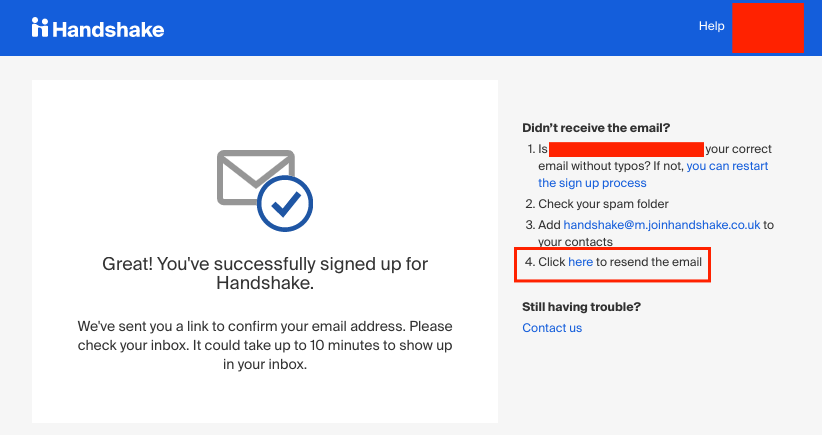 If you run into any questions on this front, please don't hesitate to contact our Support Team for assistance!