Your job posting has been approved by an institution, and has started receiving applications. Great! Now what? This article provides an overview of resources to help manage your job applicants in Handshake.
To access a posting's applicants, click Jobs from the left navigation bar, select the relevant job posting, then click the Applicants tab.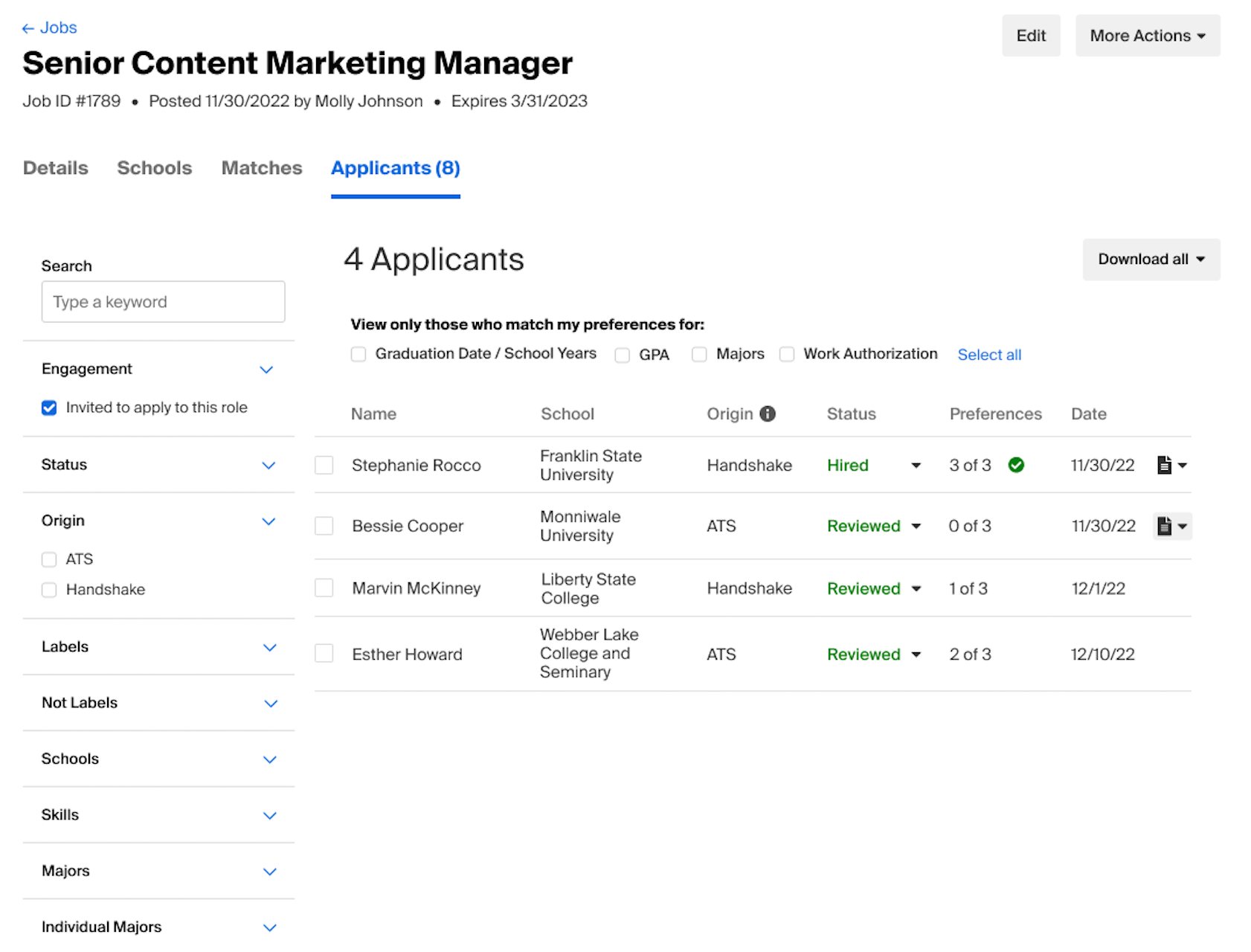 All applicants will be displayed on the page, along with columns for their institution name, application status, the number of candidate preferences they meet, and the date of their application.
Note: Premium employers with ATS integrations will have an additional column titled Origin.*
*Premium features are for Handshake Premium accounts only. For more information, please check out this resource!
Applicant filters
From here, use the filters on the left of the page to identify applicants based on:
Keyword Search
Engagement

This filter returns any applicants who received a message with this job attached.

Status (Application Status)
Origin*

This filter refers to where the talent's application to your job originated.

Handshake's applicants clicked the link to apply through your ATS from within Handshake.
Applicants applied directly to your ATS (outside of Handshake) and have engaged with your employer in Handshake in the last 12 months.

Not Labels
Institutions
Skills
Courses
Individual Courses
Date (application created date)
*The filter Origin includes the following touchpoints in Handshake for candidates who applied directly to your ATS:
Student viewed your employer
Student followed your employer
Student messaged your employer
Student opened a message sent by your employer
Student opened a campaign sent by your employer
Student clicked a campaign sent by your employer
Student viewed a job posted by your employer
Student applied to a job posted by your employer
Student registered for an event or career fair session with your employer
Use the filters (checkboxes) at the top of the applicants table to identify candidates that match the candidate preferences set for this job:
Graduation Date / Level of Study
Courses
Applicant bulk actions
Select the checkbox(es) next to relevant applicants to access bulk actions:
Message Students
Download applicant packages (PDF, Zip, and CSV options)
Add or remove labels
Mark applications hired or declined

Status Management
With Handshake, you can send custom automated messages to applicants based on the status of their applications. For additional details, refer to Applicant Status Messaging Preferences.
As displayed above, you can update applications in bulk as well as update individual application statuses from the status dropdown.
If you'd like to learn more about what each status represents, we recommend Definitions: Application Statuses.
Once you've updated statuses, you can also Hide Declined Applicants. Curious about What happens when I decline applicants?