NOTE: If you have a career fair that was active when this feature was released it will continue to use the old representatives functionality and any new career fairs will be shifted to the new one! Please reach out to support if you have any questions.
Additional representative information, including associated costs, can be set up in booth options. When setting up a career fair, you can indicate the number of representatives included in each booth option along with the maximum number and cost of additional representatives.
This article goes into detail on how to configure your additional representative options for your career fair. For more information on setting up the rest of the details of your career fair, see our article on creating a career fair. 
Configuring Additional Representative Options
To begin, go to your career fair and click Edit near the upper right hand corner of your screen. 
Select

 

Booth Options

 and then 

click

 

Add Booth Option

 in the upper right hand corner.  Here you can define one or more booth types available to employers.
Give the booth a 

Name 

(for example "Small Booth" or "Large Corner Booth")

Select

 which Career fair session this booth will be available for

Check 

the 

Hidden 

checkbox if you'd like this booth option to not be visible to employers. (You might use this feature if you'd like to keep some of your booth inventory reserved for non-profits, or for last minute VIP registrations for example).
To describe the booth and provide details you 

enter 

a

 

Description

.

Enter

 

Price

 which is the cost of the booth.

Enter

 

Count

 to specify the number of booths of this type that are available. Handshake will automatically ensure that the booth type does not over sell.
Enter the Included representatives count to denote the number or representatives that are included in the price you entered above.
Enter the Maximum additional representatives count to denote the maximum number of representatives an employer can register for, in addition to the included representatives above. In the the screenshot below, the employer employer will be able to register a maximum of 5 total representatives.
Enter the Additional representative cost. This is the additional amount that the employer will be charged for each representative over the included representative count.

Click 

the 

Create Booth Option 

button to make this new booth available.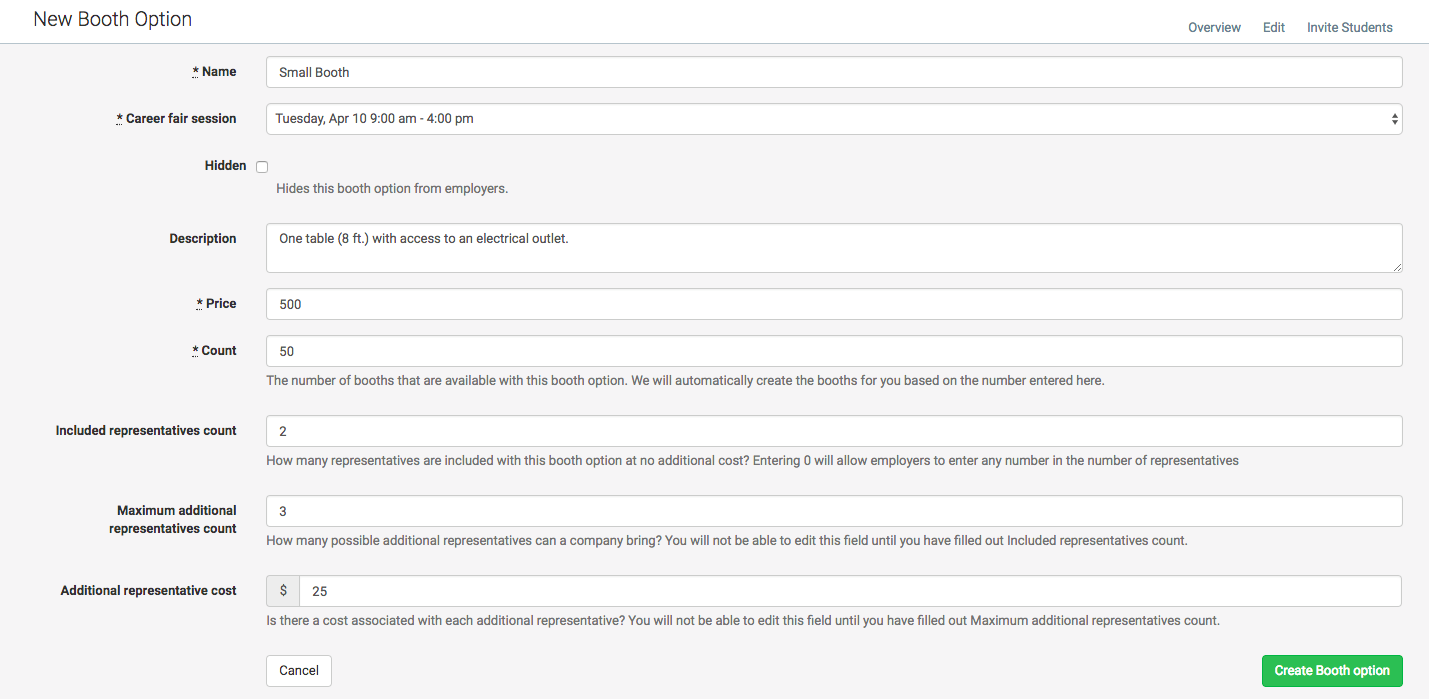 Employer View During Registration
The registration page will automatically calculate the cost for additional representatives based on the information you entered on the booth options page, see the screenshot below for more detail:

Reporting
You can quickly report on the number of representatives registered through the quick downloads feature on the career fair employer page. 
From the career fair home page, click View Employers:




Now click the Download button near the upper right hand corner:




This will generate a csv file with information on all of your employer registrations. The download will include a "Representatives" column from which you can quickly scan through the number or representatives per employer, or grab the total number of representatives overall: