Appointment categories and types are the first part of getting appointments setup on your campus. 
Appointment Categories
Appointment categories are a way for you to organize appointments. These categories are the first level of organization students will see when they request an appointment. We have included two example of ways to organize these categories below. NOTE: You will not be able to report on appointment categories.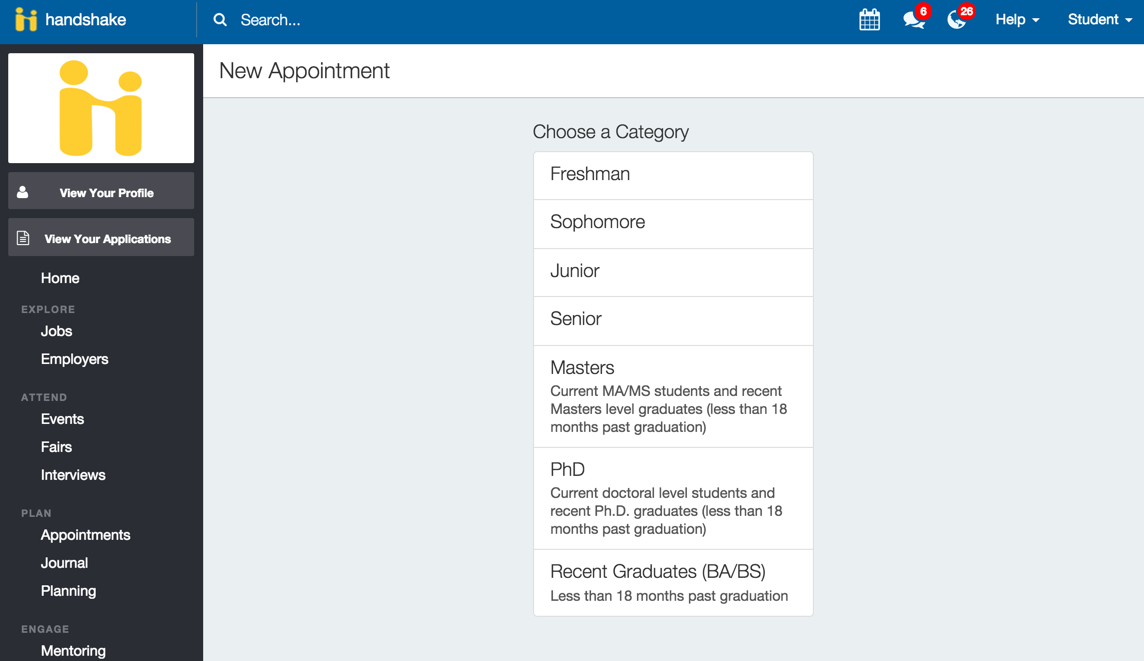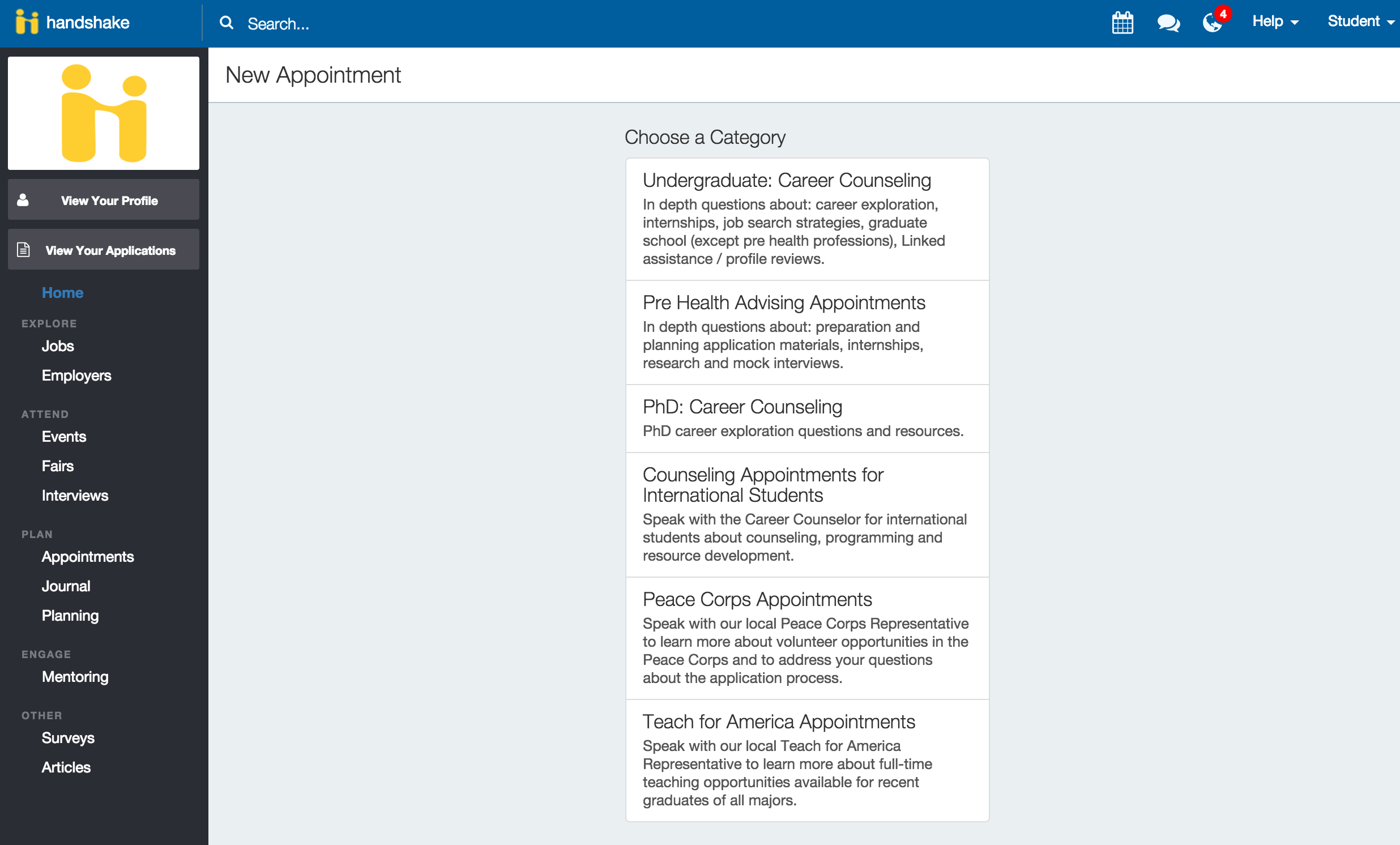 To add a new appointment category:
Navigate to the school settings
Click 

Appointment Categories

Click 

Add Appointment Category

Enter the details about this appointment category

Name:

 Should describe the appointment category in the most general sense. We see many schools using school year or area of study as appointment categories.

Description: 

A more detailed description of who this appointment is for.

Types: 

Appointment types that will be listed within this category, if you have not created the appointment types for this category yet you can leave this blank and add them at a different time.

Click 

Create Appointment Category 

when you are ready to add this to the list of categories that students can choose from.
Appointment Types
Appointment types are the second level of appointment organization. Example of what a student will see when they select an appointment category: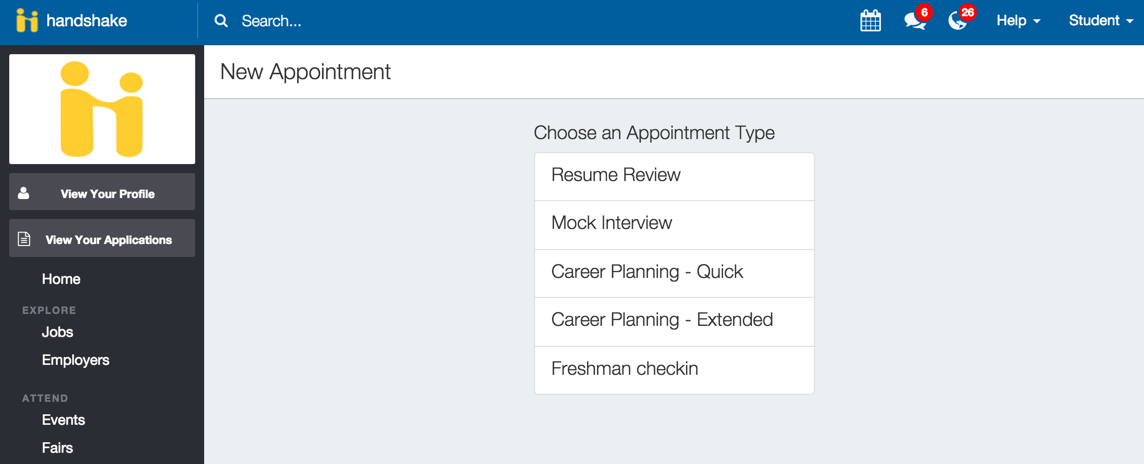 To create new appointment types that represent the types of appointments on your campus, follow these instructions:
Click 

Appointment Types

Review your appointment types

Click 

Add Appointment Type

Enter the information about this appointment types

Note: You will add appointment types to your user profile so these should represent the appointments counselors will be taking on campus

Name: 

Should describe this appointment

Description: 

Description of the appointment type so students select the correct appointment type

Length: 

Duration of appointment, since each user will have appointment types connected to their accounts this will be important when you set up the times you are available to take appointments in Handshake

Categories: 

The category that this appointment should be listed under, if you do not know yet you can always connect this at a different time

Drop-In Enabled: 

If students can walk into your office for this type of appointment you should check this box
Next, there is the option to connect surveys to this appointment type
These surveys should be created in the surveys section of Handshake: Read How to create a survey for more information

Pre-appointment survey

: These additional questions will be included in the registration process for this appointment. The message will be sent as a confirmation once the student's requested appointment is approved.

Post appointment survey: 

This survey and message will be sent after the appointment is completed. The 

Complete Appointment 

button will need to be selected in order for this to be sent to the student. 

Please note: marking an appointment as completed from the Edit  menu will *not* initiate the post-appointment email and survey.

Staff Member Survey: 

This survey is included in the appointment notes options and is a great way to track common questions for certain types of appointments. You can run reports on the answers to these questions and see how students are responding to questions during these appointments.

Review your appointment types using the filters at the top of the appointments page
Examples for survey questions that would be attached to this appointment type:
Pre Appointment Survey Example: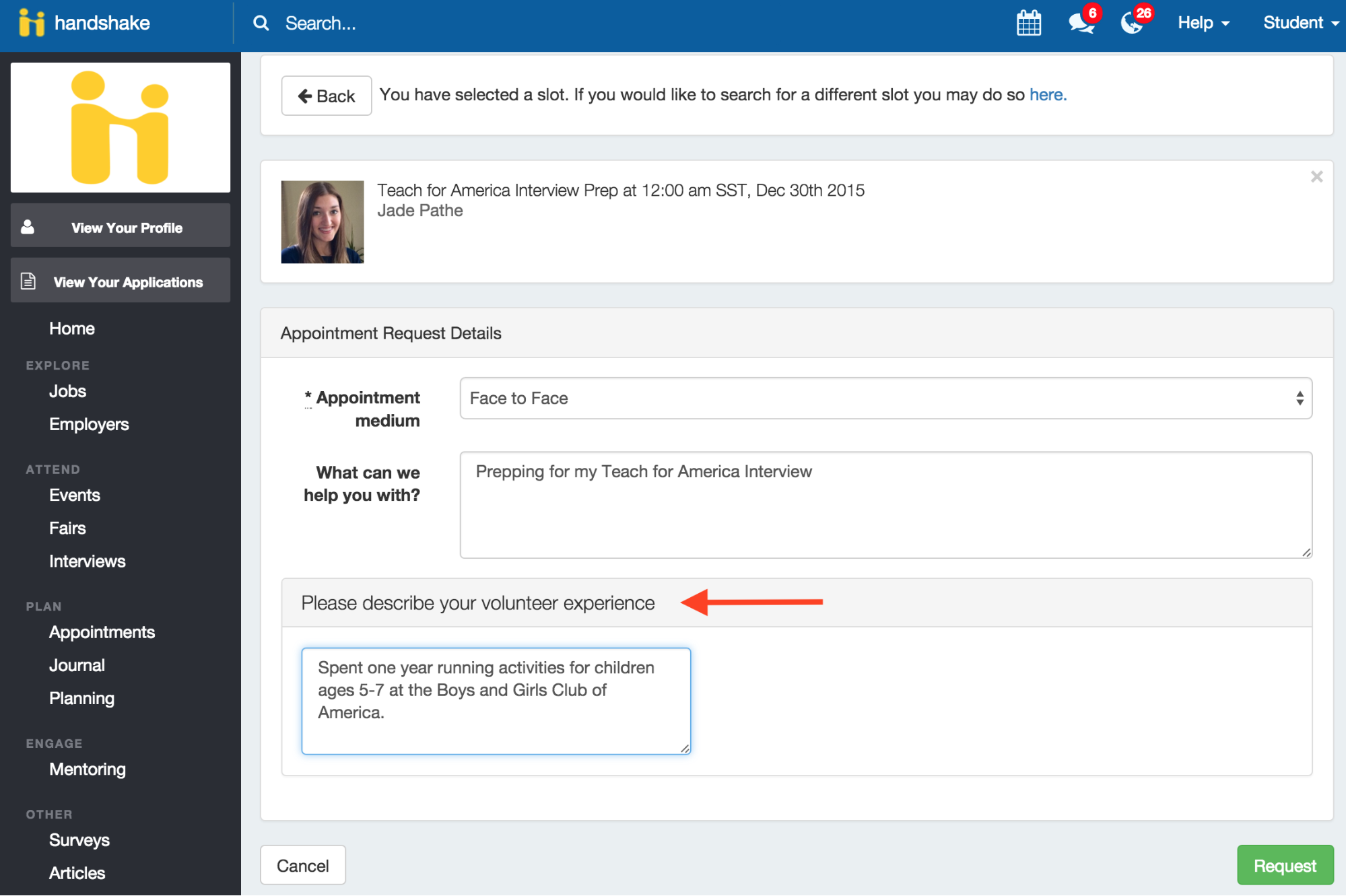 Pre appointment message example: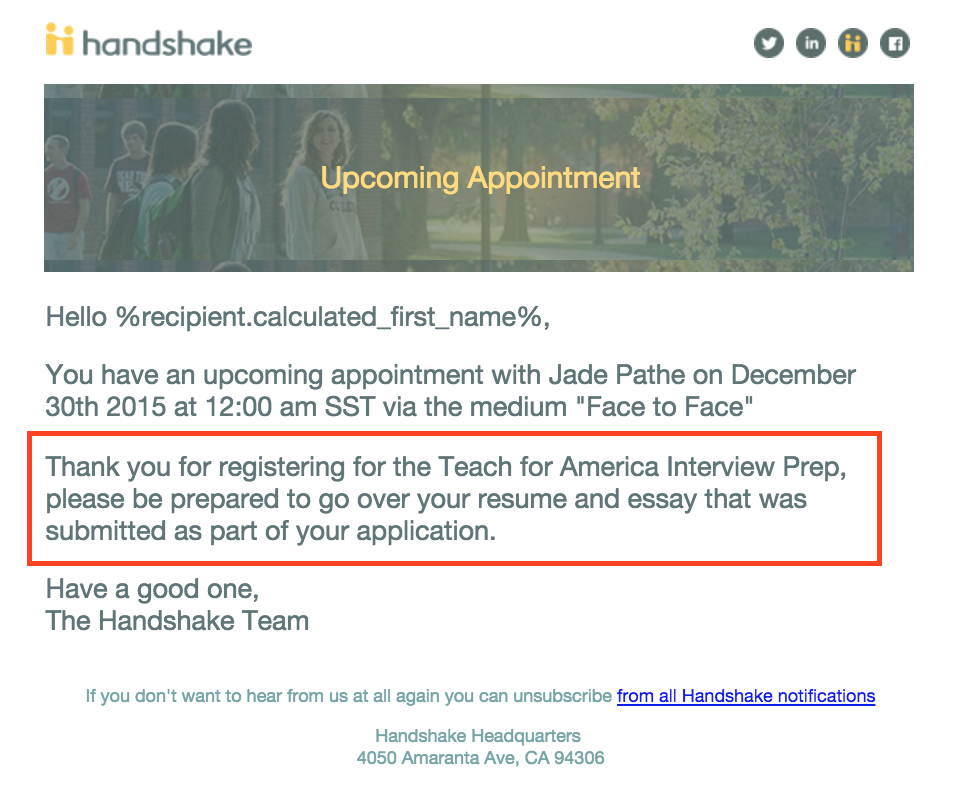 Staff member survey example: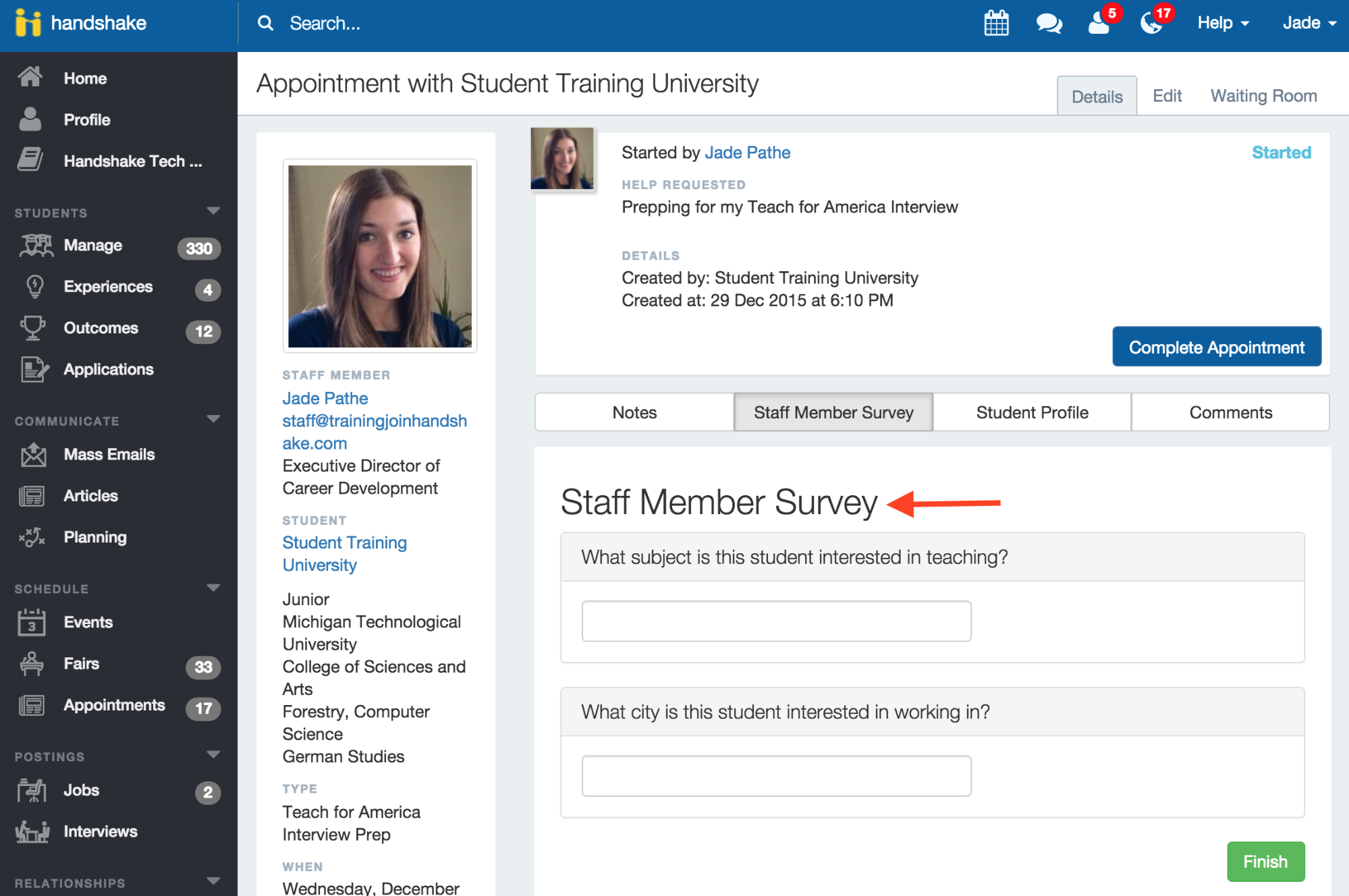 Post appointment message and survey example: