By setting job and applicant qualifications, you can easily filter and prioritise the most qualified candidates.
Note: qualifications are optional and none of the qualifications added will prevent students from applying for your job. 
Applicant Qualifications
Graduation Date/Levels of Study 

Note: if you add a qualification for both Graduation Date Range AND Level of Study and filter to exclude students that do not match "level of study or graduation date", this will exclude students who do not meet BOTH qualifications selected. 

Majors
To add or edit your applicant qualifications, refer to How to Edit a Job Posting.
Reviewing applicants 
When reviewing applicants, you can identify which candidates fully match your qualifications. 
The Applicants tab displays all applicants who have applied to your job. The filter toolbar above the applicant table can be used to view applicants who meet the qualifications you have specified in your job posting.
The Qualifications

column will display how many of your total

qualifications the applicant meets.

Hover your mouse over the number value to understand which qualifications the candidate meets and doesn't meet.
Note: if the candidate meets all of the job qualifications, a green checkmark icon displays to the right of the number values.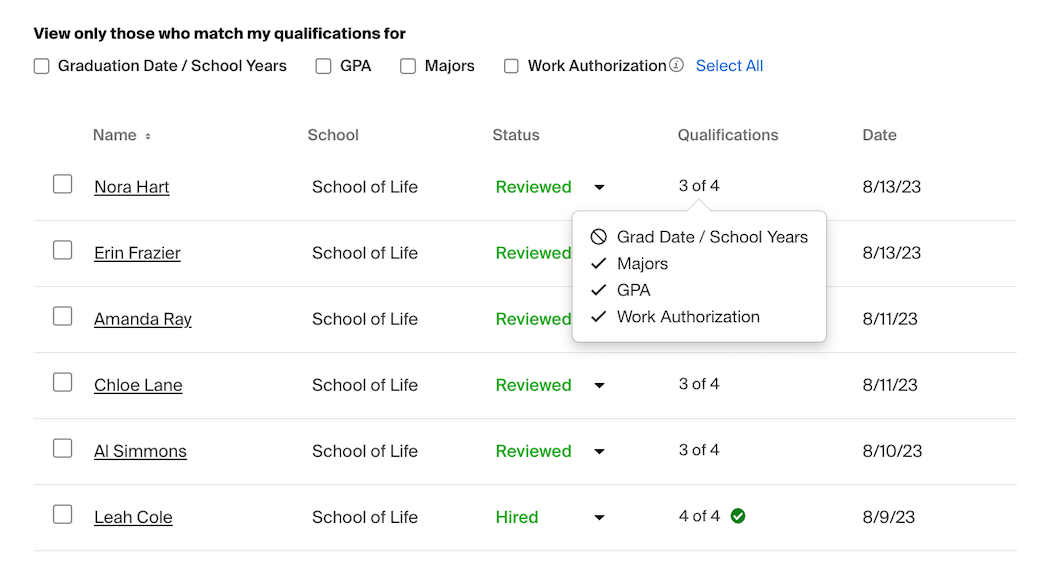 Learn more about Reviewing Applications in Handshake.