Employers can view student profiles in Handshake, as long as their company is approved to recruit at the student's institution. The student must also have opted into sharing their profile with employers.
For more information on connecting with institutions, refer to Institution Network Management.
Access student profiles
Student profiles can be accessed in Applications, Event or Fair RSVPs and on the Talent page. To view a student profile, click on the name of the student.
Note: if the student has marked their profile as private, and you click on it, an error message will appear saying, "This user's profile is private."
For more information on messaging applicants with a private profile, refer to Messaging Applicants.
Student profiles 
Student profiles display standard information that may be either added by the student, or synced into Handshake via their institution. All employers (that are approved at the institution) will be able to view the information entered in each field: 
Education: Institution Name, Level of Study, Graduation Date, Course(s), College
Personal Information: Pronouns*

*Pronouns is an optional sharing setting for students - viewable only if the student opts into sharing their pronouns with employers. 

Work Experience: Employer name, Job Title, Dates of employment, Location
Organisations / Extracurriculars
Courses
Projects
Get To Know Me: A brief introduction from the student
Skills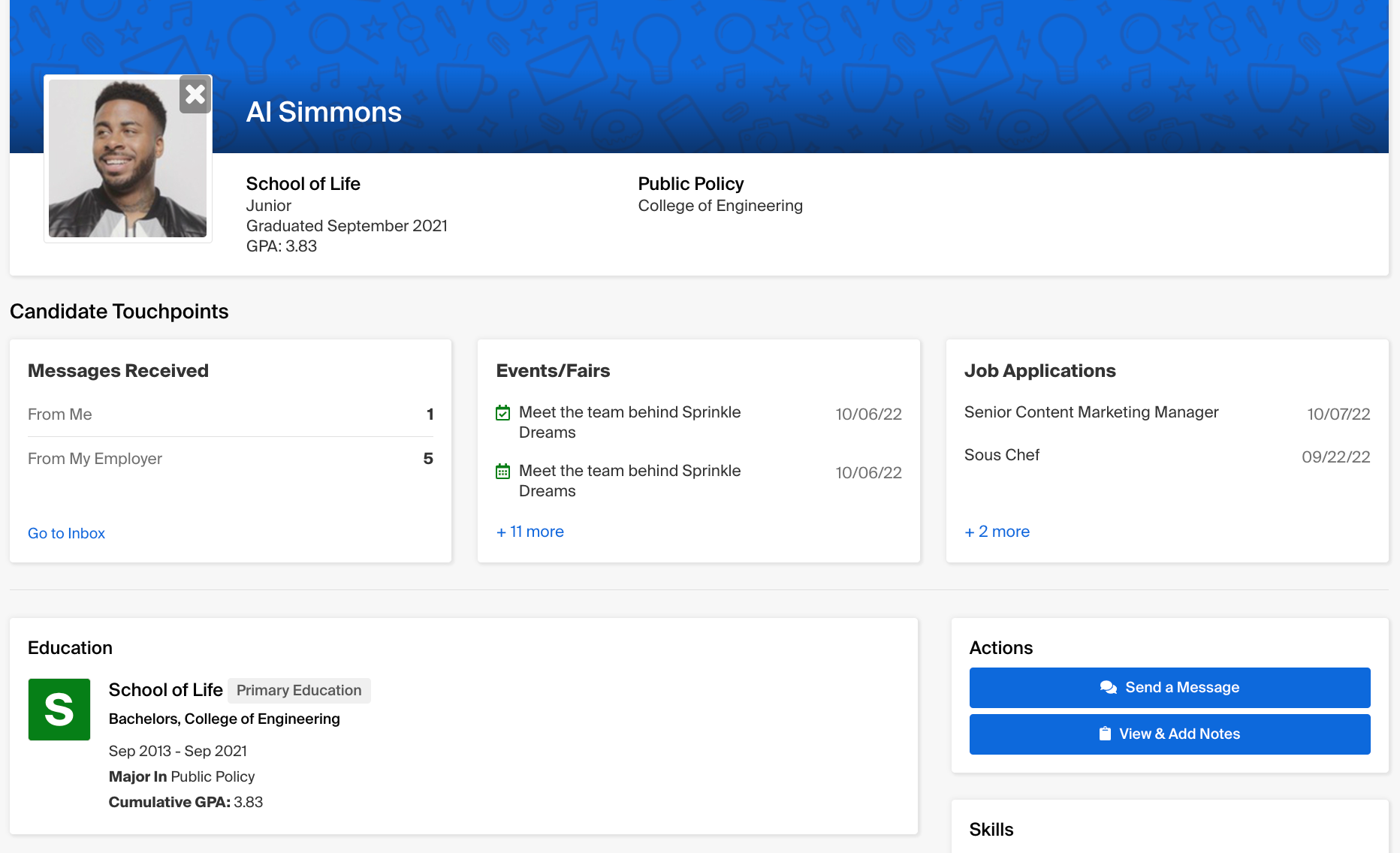 Premium partners will also have access to Candidate Touchpoints, which are highlighted in the student's profile.
Premium features are for Handshake Premium accounts only. For more information, please check out this resource.
The Candidate Touchpoints section provides the following details: 
Any messages the student has already received from your employer.
Events or fairs the student has

RSVP'd or checked into with your company.

Any jobs the student has applied for at your company.