Once you have posted a job to a school, you may want to request an interview schedule on campus. This article will walk you through the steps of requesting an interview at a school in Handshake.
Important Note: If you're not able to request an Interview Schedule at a School you're already approved at, this is due to the fact that the School either has not given you the permission to request interview schedules with them on Handshake, or they have specific Interview Seasons set up, where employers can only request Interviews during specific dates. In both of these case, we recommend reaching out to the University's Career Center directly for further assistance. 
Review a video walk-through of this process here.
How to Request an Interview Schedule: 
Click Interviews in the left navigation bar
Click the Request Interview Schedule tab in the upper right corner, or in the middle of this page. You can also click Request an Interview from your Home page.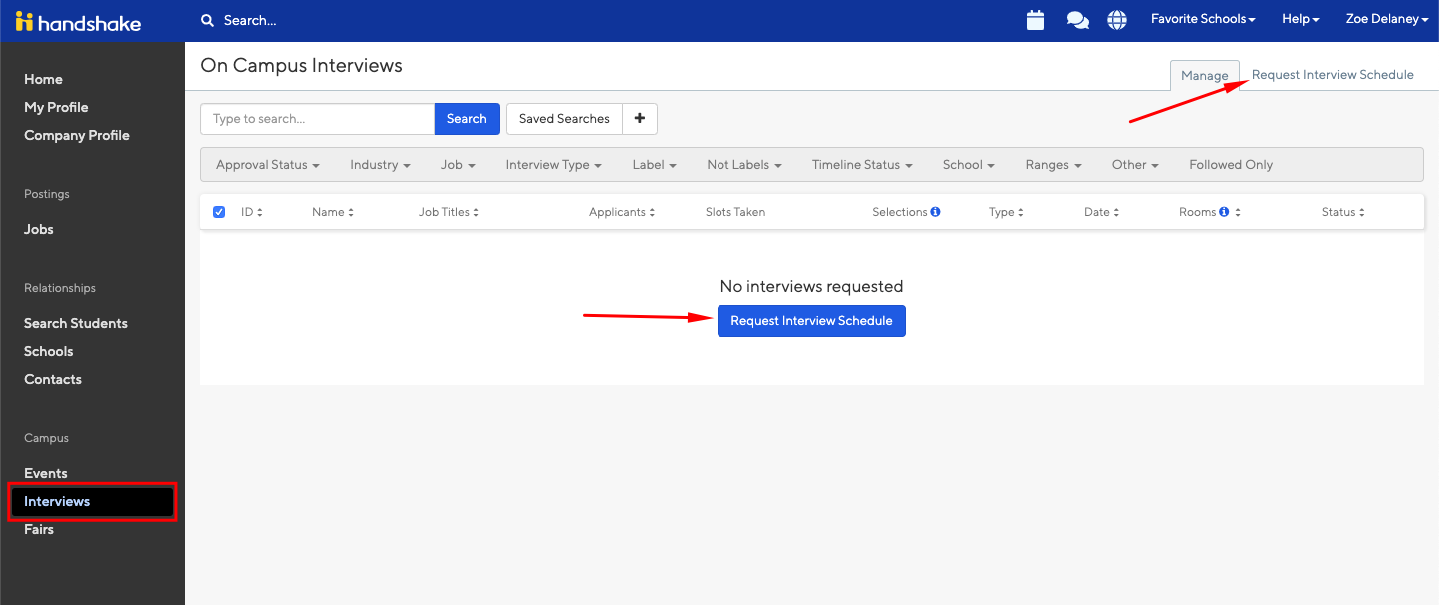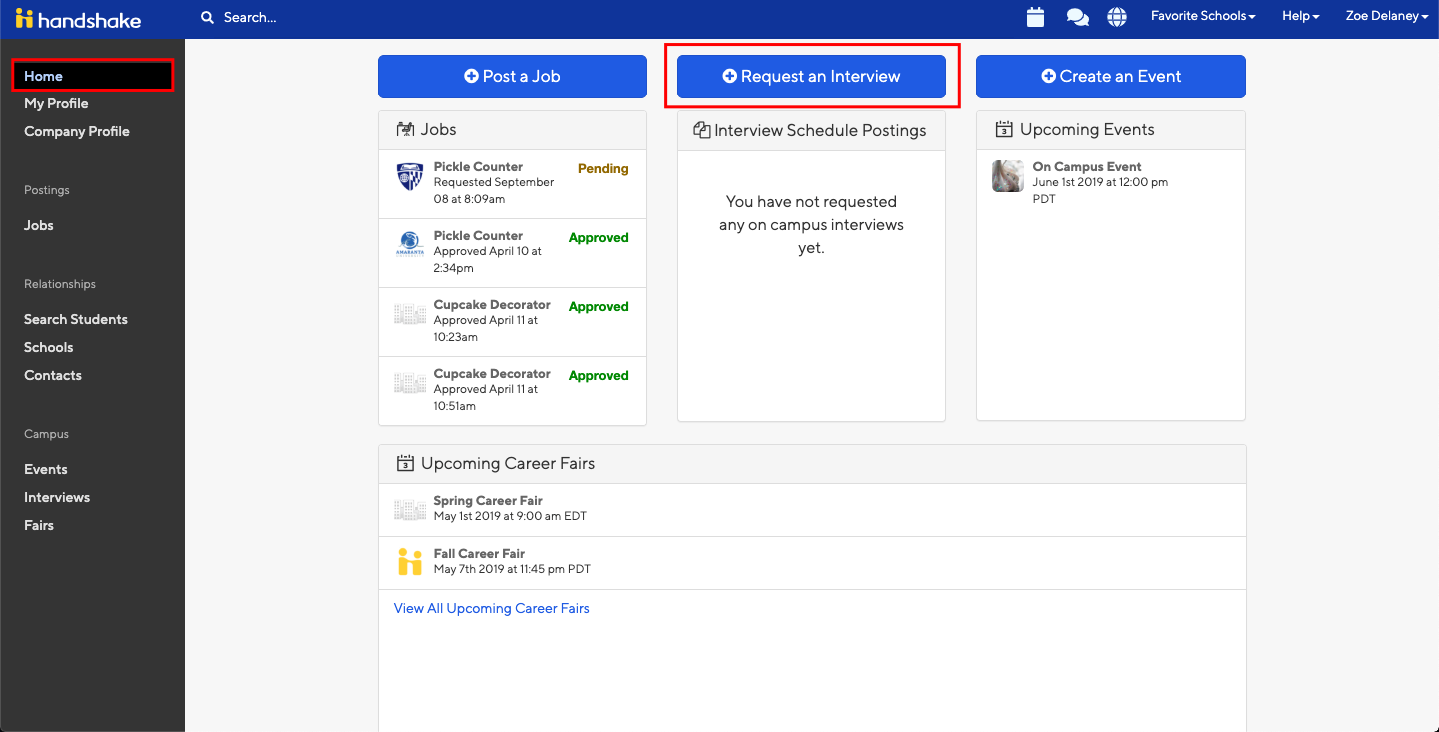 This will take you directly to the Basics tab, where you can fill out all the basic information for the Interview Schedule including: 

School: The school where you are requesting the interview schedule. 

Note: You will only be able to choose from school's at which you've been approved and those schools must be in their interview period. If you'd like to interview at a school that does not appear in your drop-down list of available schools, read How do I request access to a school? to learn more about how to get approved at additional schools

Career Center: This section will only populate if there is more than one Career Center at the School. Learn more here
Contacts: The interviewers from your company who will be present for the interviews. 

Note: You're welcome to include staff members at your company who do not have a Handshake profile.

Name: Uniquely name the interview.
Description: Describe the interview. Provide any information students might use to prepare for the interview including the format, the number of interviewers that will be present, etc. If you'll administer a skills test or if you'd like the student to bring work samples to the interview, share that information here.
Only allow students to apply to one job attached to the interview schedule: You can set this field once more than one job is attached to the schedule.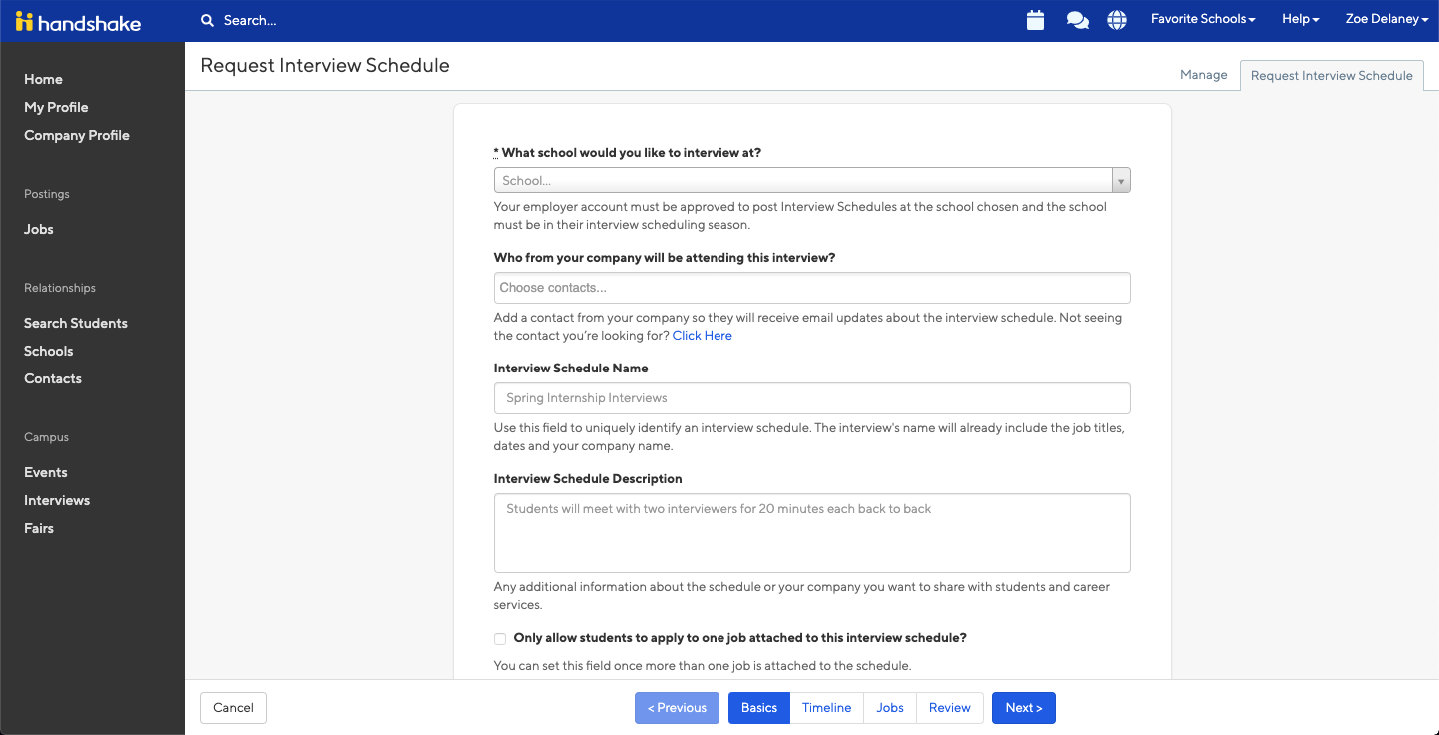 Once all of the above information is filled out, click Timeline or Next from the tabs at the bottom of the page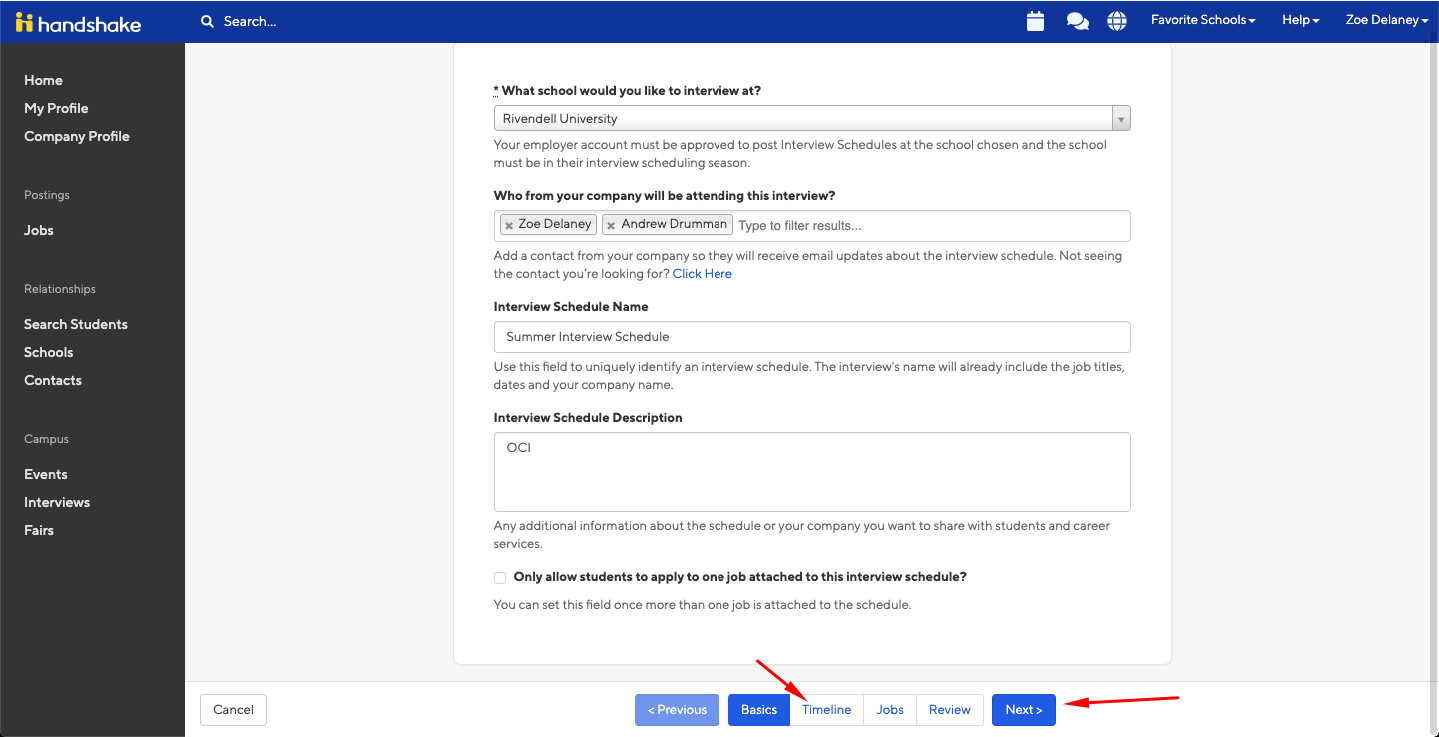 This will take you to the Timeline page.
Select the date you are interested in interviewing on campus. You also have the option to list an alternate date if you wish, in case the first date is not available at that school.
Once selected, a pop-up window will appear. You will be asked for:

An alternate date
Requested room count

The school may have a limit set on the number of rooms you can request, they may also limit which dates are available for interviews. If you have any questions about availability you can reach out to the career center on the comments section on their school page.

Any details you'd like to communicate to the Career Center. (optional)

If you have any extra details about what the rooms will be used for (especially if more than one room is needed), leave those here for the reviewer. For example "Two reviewers, one in each room".

Once this information is added, click Add Date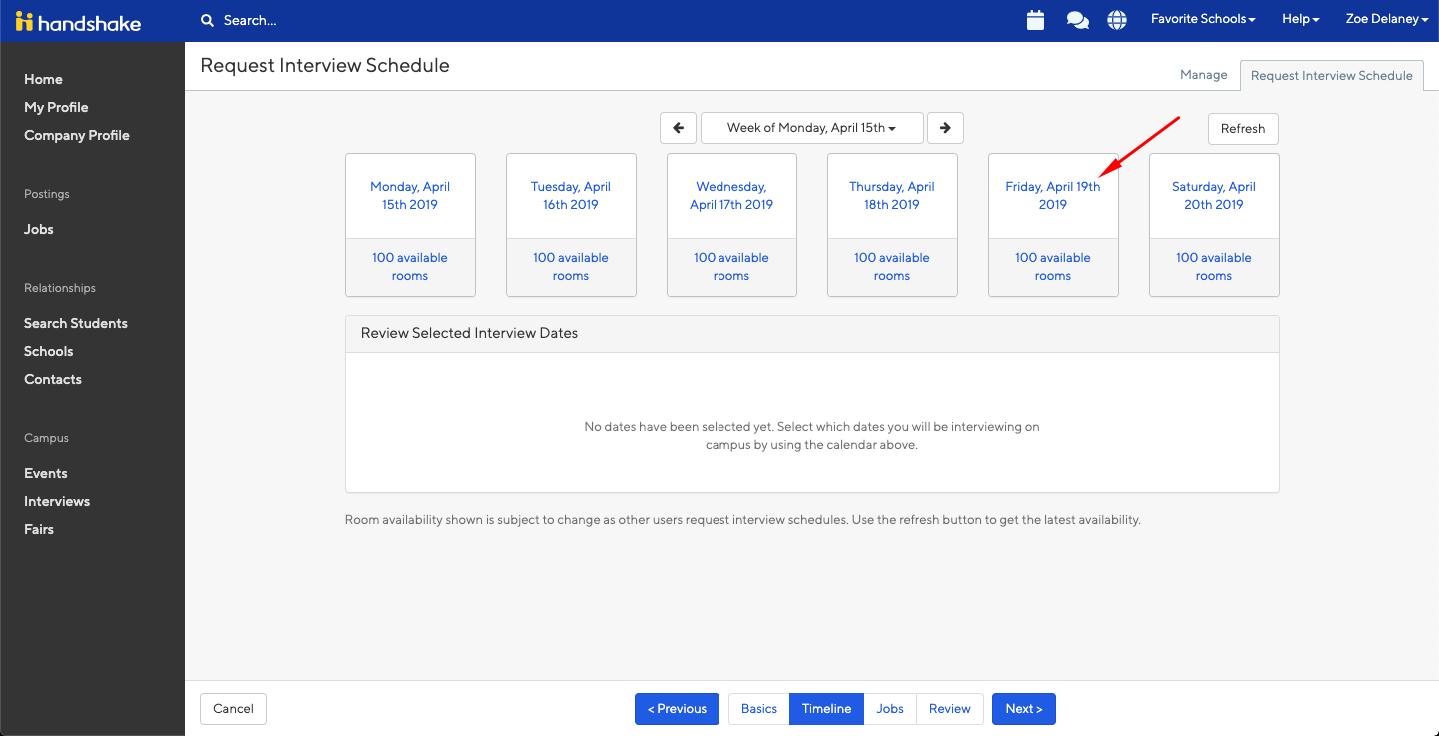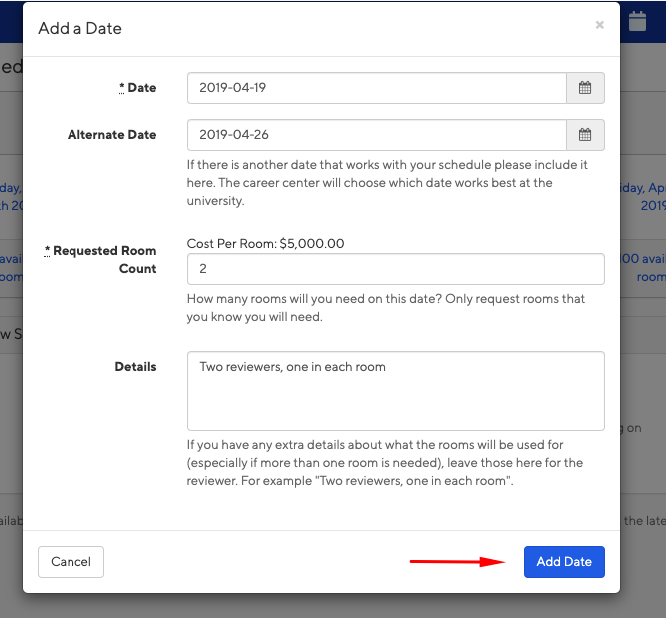 If the school you're working with hasn't provided an interview Timeline template, create one yourself by clicking the Enter Dates Directly button in the Timeline section.  
Use one or more of the following options to create a timeline of how students can sign up for interview slots.

Room only: In this period of time, you'll have the room reserved from the school, but you will not be using Handshake to sign students up for specific interview slots.   
Open: During an "Open" period, any student who meets the specified job or interview qualifications is allowed to reserve an interview slot (without manual approval).
Preselect: During a Preselect period, you will define an application period and separate interview signup periods for Primary and Alternate candidates. After the application period has ended, you will select Primary and Alternate candidates from the students who applied. Candidates you designate as "Primary" are allowed to sign up any time after the primary signup start and candidates you designate as "Alternate" are allowed to sign up any time after the alternate signup date.  This helps ensure that your most promising candidates are able to find an acceptable interview slot

Once your timeline is selected, select the time slots you would like to interview students in. These are time slots that are accepted at the university you are interviewing at.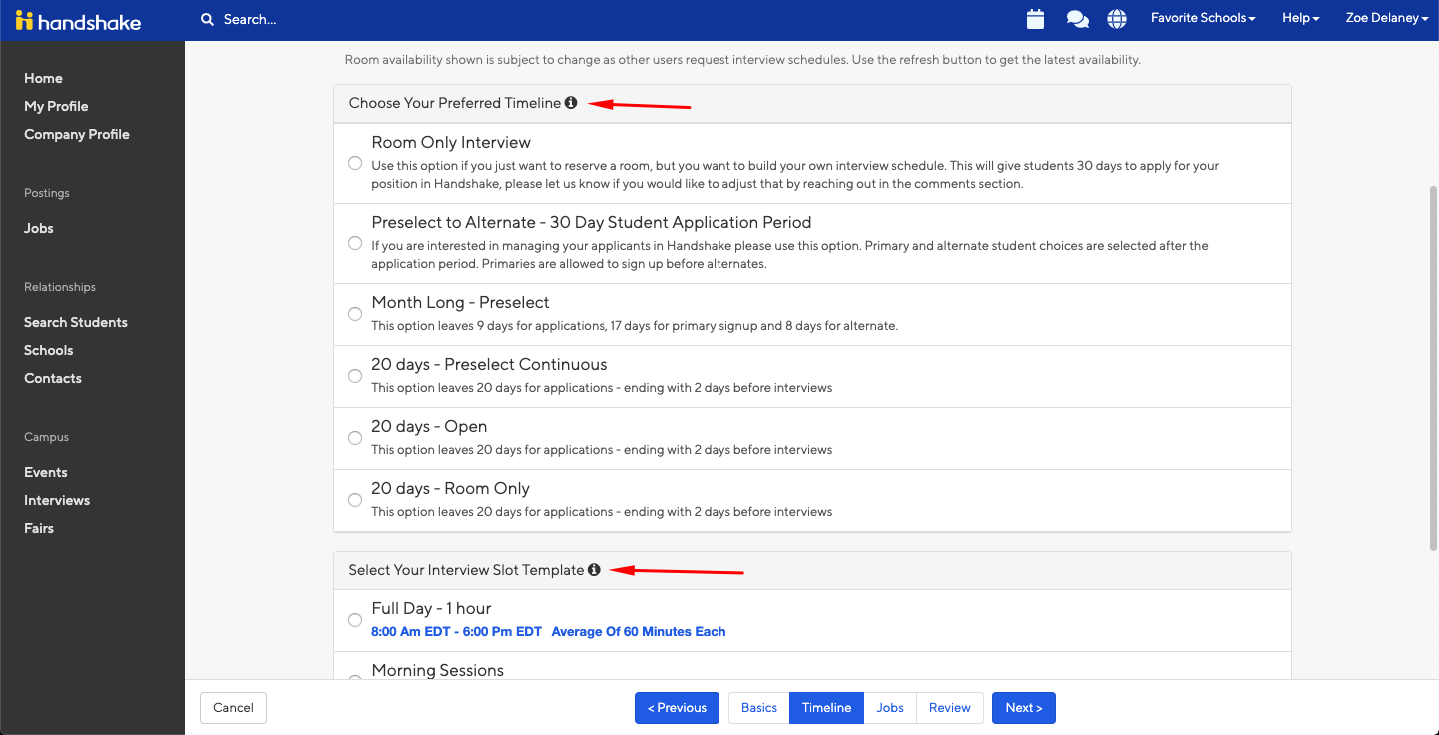 Once you have selected your interview date, interview timeline, and interview slot template, click Jobs or Next from the tabs at the bottom of the screen to move forward.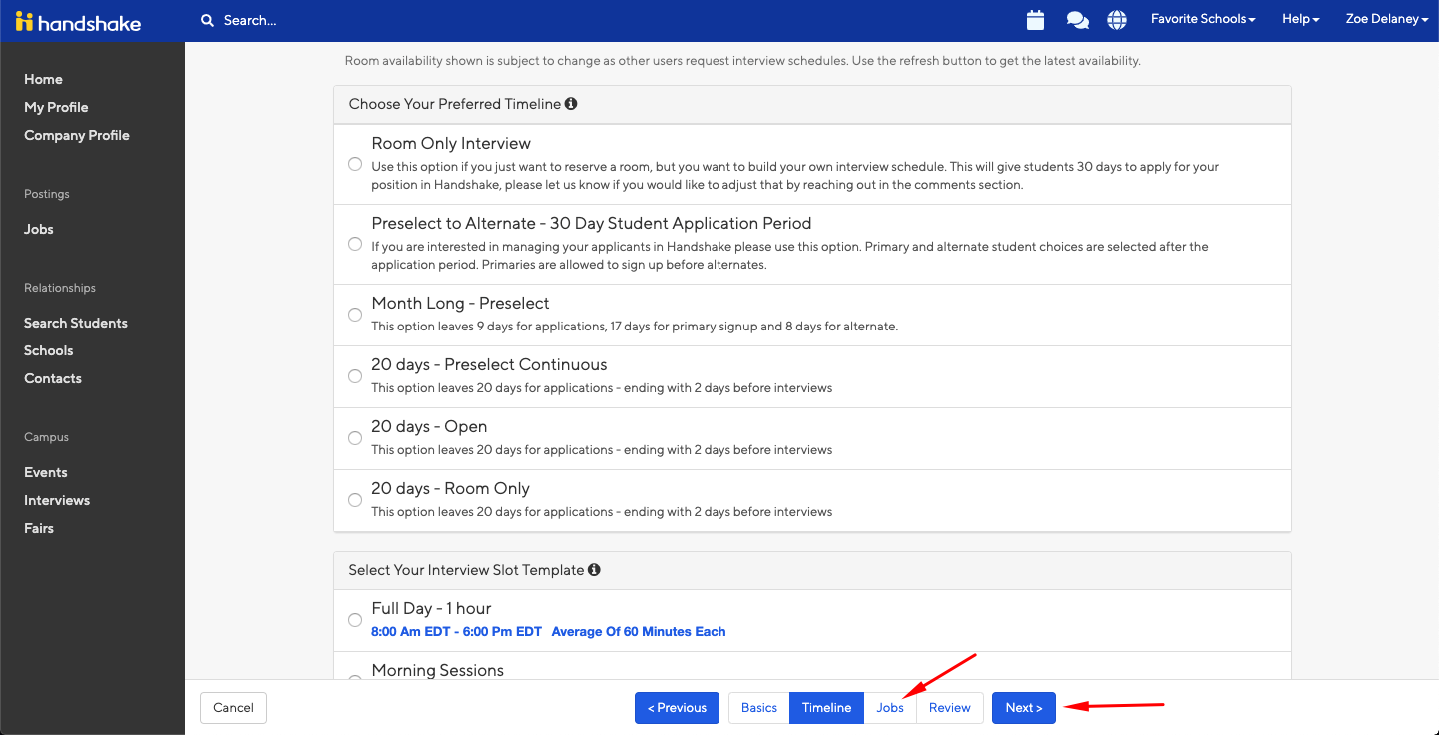 This will take you to the Jobs page for your Interview Schedule. From here you'll choose the job you would like to attach to this interview schedule. You have the option to: 

Create a New Job: Use this option to create a new job and new details, requirements and qualifications.
Copy Job Details: Copy job details from an existing job. This will create a new job posting and will not import any job applicants.
Use Existing Job: Use this option to attach an existing job and its current applicants to the interview schedule. Only active jobs will be available here, no expired jobs will be an option to select. 

If you are not ready to post a position you can click Remind me Later, this option will send you an email four days before the Apply Start Date reminding you to post a position and attach it to the schedule. A job will need to be added by this time.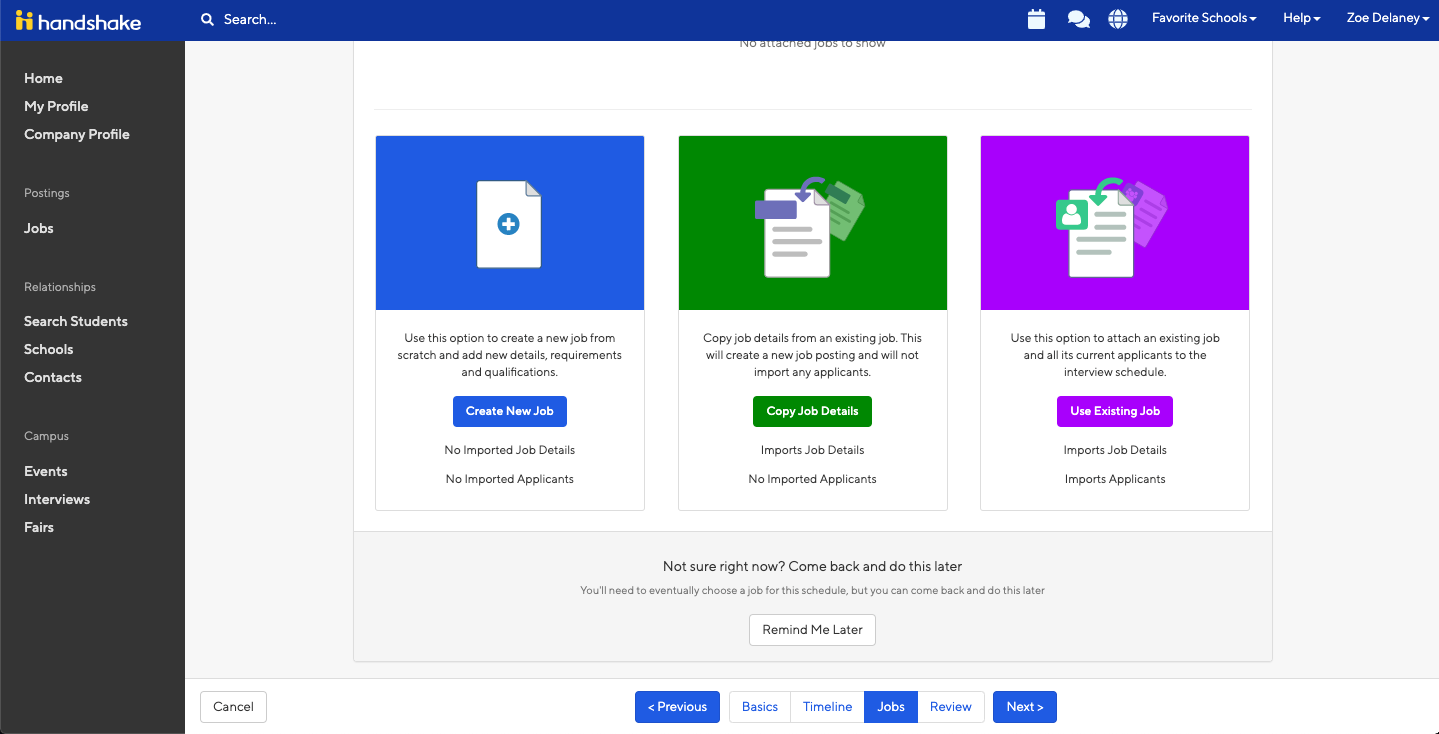 When you are ready to move on click Review or Next from the tabs at the bottom of the page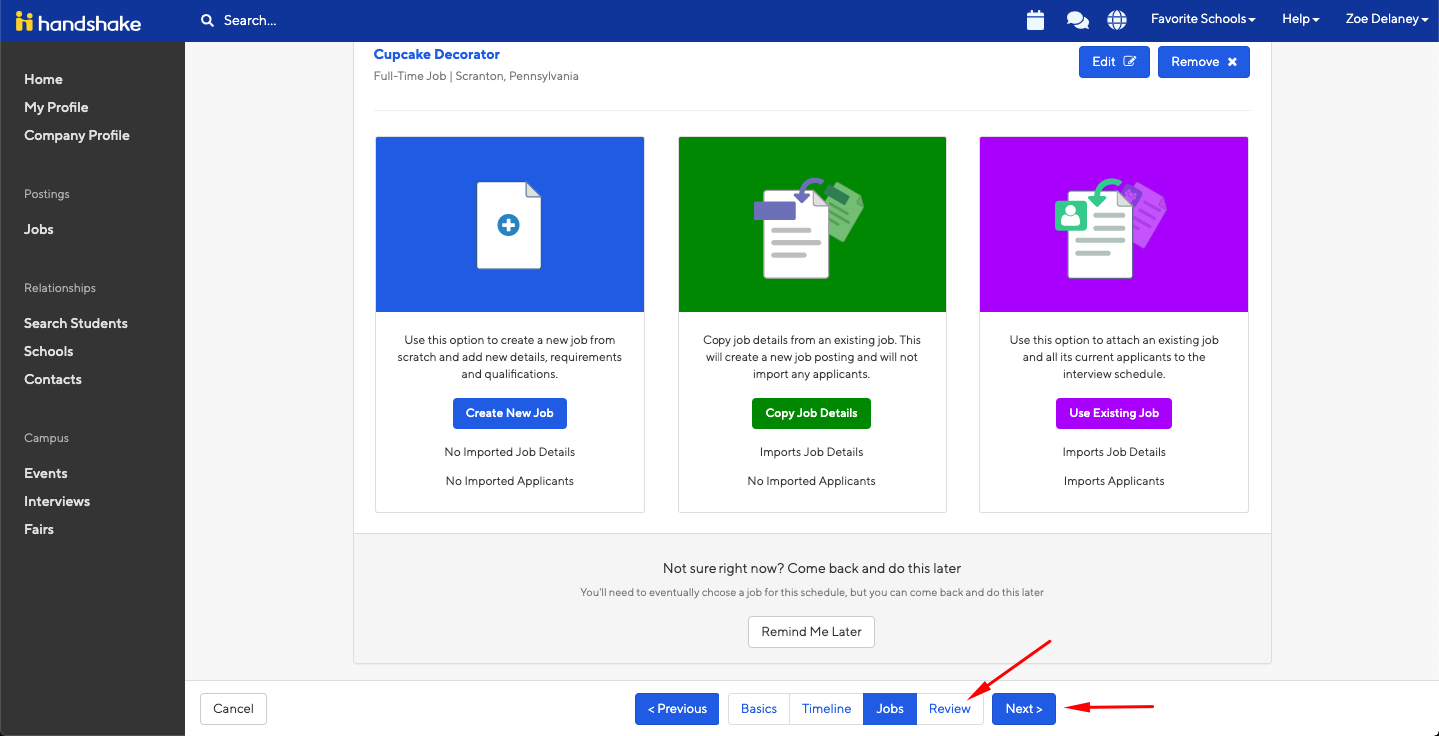 On this page, you will be able to review your interview dates and details and go back to any steps you would like to edit. Click on Edit towards the right of the section you'd like to edit to perform this action. 
When all looks good, click on Request at the bottom of the page to create and request your Interview Schedule.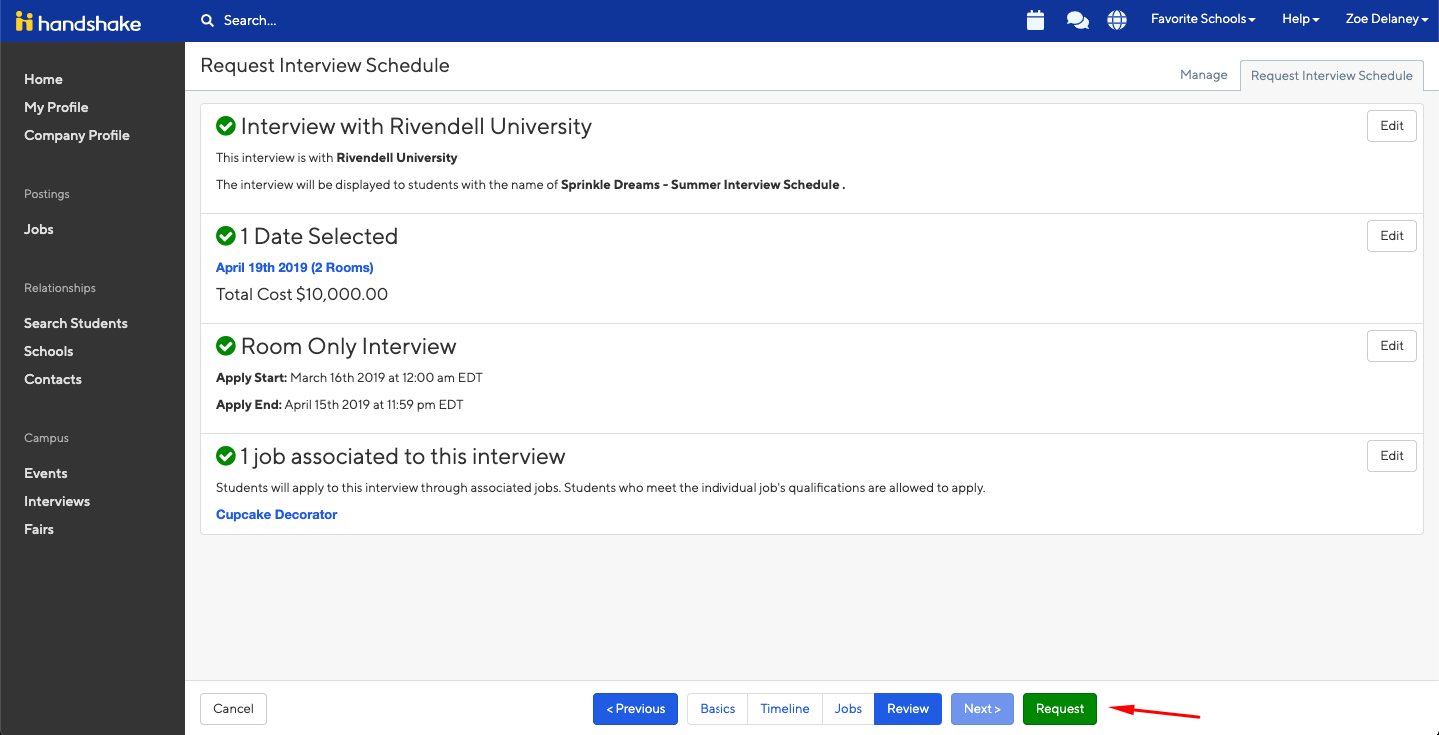 Your interview schedule will now be sent to the university you selected in the Basics section. Depending on the permissions you have at the school, the interview will be automatically approved or it will go into a pending status at the university. You will be notified when your schedule has been approved or declined.