If you still need to request an event on Handshake, check out our step-by-step guide on how to do that here: How to Request an Event in Handshake 
Once you have created an Event on Handshake and received some RSVPs from students, you will be able to have visibility of those RSVPs by clicking on the RSVP tab from your Event. From here, you will have the ability to message these attendees in Handshake!
Please note:
students do have the ability to hide their RSVP from events. You will not be able to view the profiles of, or message any RSVPs that have chosen to hide their attendance. 
if students do not RSVP to an event but checkin to the event, they will be listed under the RSVP tab as well. You will see these students have no date in the RSVP column, but have a time in the Checked In column.  
How to Message to your Event RSVPs: 
Access your Event by clicking on Events in the left hand navigation bar


Click directly on the title of the Event you wish to view 




Once you are viewing your Event's Overview page, click on the RSVP tab towards the middle of this page




As an optional step, you may utilize the filters towards the left of the page to sort and organize your RSVPs. 


Once you have sorted your RSVP list to your liking, check the individual boxes of the attendees you'd like to message. You may also check the very top most box to highlight all attendees. 


Click on Message Students in the bulk actions (located at the top of the attendee list) to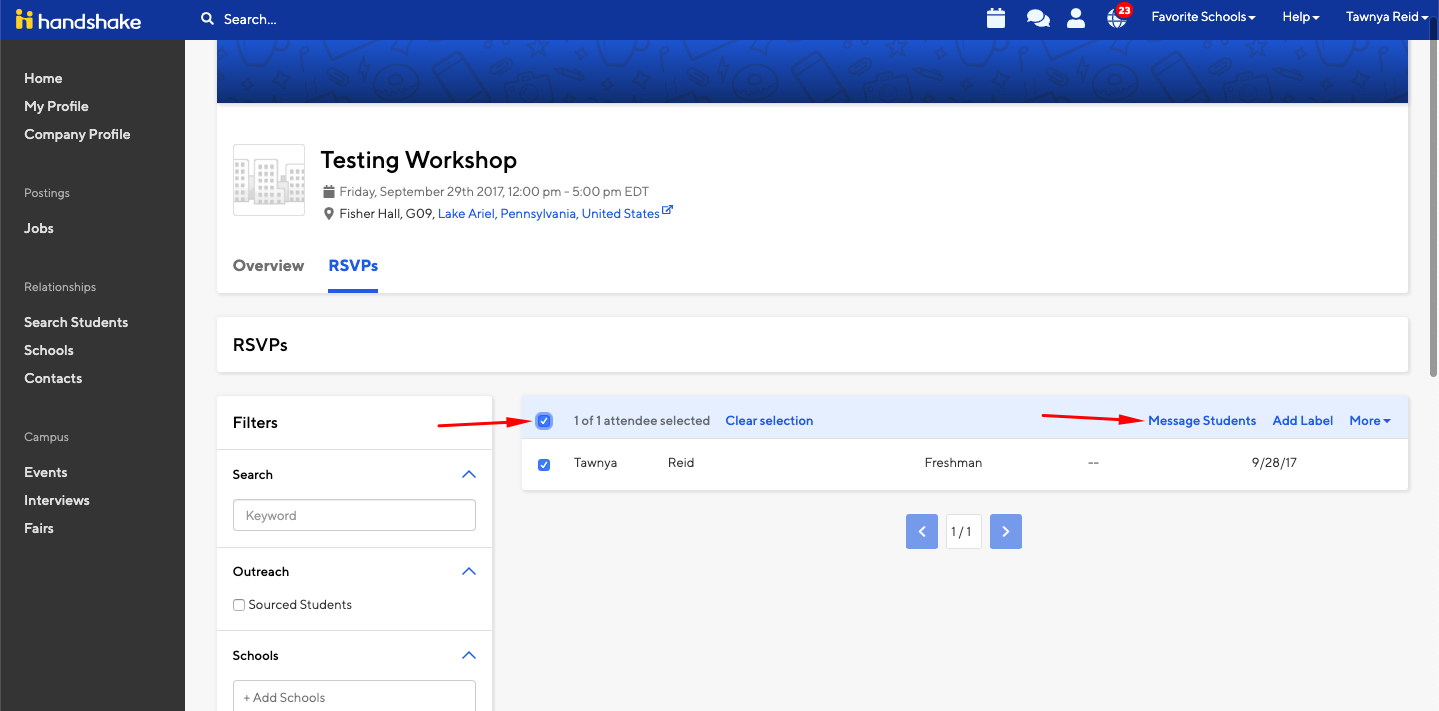 From here, a message box will pop up on your screen and allow you the ability to create your message. You will need to add a Subject Line, as well as your Message


Click on Send to send your message to the attendees 


This message sends separately to each attendee. Attendees will not see any others this has been sent to. 




You can check your sent, received, and archived messages in Handshake by clicking on the small word bubble icon located in the top hand tool bar at the very top of the screen