This article contains FAQs from our Reporting Webinar series during March-April 2018. You'll see the following sections below to help you find certain categories of FAQs.
Saving, Downloading Data, Sharing Reports
Explores
Measures
Dimensions
Filters
Dashboards
Pulling Reports
Getting Help, Resources
Saving, Downloading Data, Sharing Reports
Can you save your work in the insights explorer if you know you will be running those reports routinely? How long is the URL valid?
You can click on the Share button in the upper right hand corner. This will copy a link to your clipboard. You can save this in a Word document or as a favorite on your browser and it will bring you back to the report as you had with the filters you selected. This will keep the filters the exactly the same when you originally created the URL so you will want to update the filters as needed. The URL is valid indefinitely. You can also share this link with others on your campus as well. 
Did I miss where you are finding "Quick Data?"
Not all of the pages have a quick download option but a lot of them do. In the upper right hand corner will have a Download button if the quick download option is available.
Can you download charts/graphs on insights dashboards?
This is something that is top of mind for our product team but isn't something that is available at this time. That being said, this is something that we would like as a feature in the future!
Is there a way to download the reports in dashboard to utilize in a report outside of handshake?
Some dashboards will allow you to do this. When you click on the three dot menu bars on a specific section in the dashboard, if you see the option to download data you will be able to download a CSV that produced the numbers provided. 
Appt survey data is only available as part of the appt data via the quick download, survey data is not available via analytics.
Yes, this is also true for the events, experiences, and fairs quick downloads. Anytime you add a survey to an item in Handshake the best way to see the survey information along with the information it is connected to would be through a quick download.
Can we embed career services links (i.e. to our study abroad website) in handshake and run reports on click counts?  
Yes, you'll want to connect Handshake to Google Analytics and add tracking parameters to your link. Please see this article for more instructions: https://support.joinhandshake.com/hc/en-us/articles/219132667
In reference to the appointment survey data, if you had to switch surveys mid year, which set of data is it pulling or is it pulling all data submitted associated with that appointment
It should pull the information in for that specific appointment. It will list all of the questions at the top and will only populate in the cell that corresponds to that specific appointment.
Can we filter on mass emails recipients?
Mass email data is not available in any insights explorers. You would have to pull the student emails from the mass email quick download and paste them into a filter in one of the explores.
Is there a way we can report on survey results other than downloading the file in excel or csv?
You can view results directly in app from the "Surveys" tab from the left hand manu (not in Insights). You can also pull survey responses into an excel/csv from quick download on the specific item the survey is tied to (the quick download on the appointments tab, for example, includes pre and post appointment survey data).
How can I sort a column in the generated report?
You can click on the column to sort by that field.
It says the Row Limit on a report is 500. How do I increase it so it shows complete info.
Please go to the 3 buttons and select Download All Results. The download limit for ALL Results is 5,000 rows. If you need more rows than that for your report please contact us.
Explores 
I've noticed some issues with how Analytics reports "0" values. Can you share your best practices for that? (For example, we recently were trying to run a list of employers that have never posted a job.)
If you see "0" values you're most likely not using the correct Explore, so it depends on what you are trying to report on. In your example, you will want to use the Employer explore instead of the Jobs explore. Since the Jobs explore is pulling from Jobs first, if that employer doesn't have a job posted at your school they would not be included. However, if you go to the Employers explore you can filter to employers who have a posting_count less than 1. So if you encounter this issue again, try looking at another Explore.
Measures
How do you add the measures to the report?
There is a field to right of Row Limit limit named Totals. You can select this and Insights will add all of the values for you. One thing to note is that it will only count unique values so if a student is listed in two sections it will only count them once. For example, if you are counting the number of students in multiple majors but a student has both Economics and Business Admin, it will only count them once in the total but both of the lines for Economics and Business Admin would include that student in their count.
Are we able to count the number of students in each major in that list?
The name list wouldn't work to do individual counts. You will want to list each of these individually and then combine groups outside of Insights in Excel.
Is there a way to combine the majors - so that each student is listed once with both of their majors in the same field?
Anytime you see the Measure option for a Name List it will combine that item into one cell. 
For some students with multiple majors, those majors are within separate colleges. I do not see a Name List for the dimension of Colleges, could that be made available, so as not to get multiple lines for students' colleges? What if we wanted to find out the colleges of student s who checked in for interviewers  without getting duplicate lines of colleges.
Dimensions
Trying to look at profile completion %, is there a measure for that report? I tried downloading it from the insights, but it was just a spreadsheet with two cells haha.
There isn't a pre-built dashboard for profile completion. That being said, there is a dimension for Profile Completion that you can use to determine this percentage. It is available in the Student explore and the dimension is Profile Completed? (Yes/No).
Filters
Is there a way to filter out a particular label in explore insights? We share our Handshake account with Main Campus and need to run reports for our labelled masters students only.
Every dimension listed within an explore can be filtered on. You will want to hover your cursor over insititution_labels_name and then click on Filter.
Can we filter documents by approved/pending/disapproved?
Yes, by approved or pending. You'll want to start with the Students Explore, then select the Documents field and filter on Status. From there you can set your filters.
Any update on the ability to select AND vs OR when creating analytics filters?
This is possible to do but you will have to use custom filters within Insights. Here is a link to some documentation that goes into this a little bit futher: https://docs.looker.com/exploring-data/creating-looker-expressions/looker-functions-and-operators?version=5.10
Regarding your answer to the AND / OR question, do we now have access to writing expressions? Not sure how to do this via the limited filters we have access to.
Is there a limit to the number of values we can enter in a filter? For example, when I copy results from one report and paste it in a filter in another one, is there a limit to how many I can paste at a time
There's no limit to the number of results you can paste into the filter, but the more values you paste into a filter the longer the page will take to load. If you are pasting in hundreds of values, your browser may ask you if you want to kill the page or wait (you may have to click "wait" a few times with a large number of values). I would also suggest breaking up the original report into smaller subset to paste smaller chuncks at a time.
When writing custom filters are you still limited to the fields shown on the left? or can you pull from any data set?
You are limited to the fields shown on the left, you won't be able to pull in data from a different explorer. You would still have to combine reports from multiple explorers to accomplish that.
The custom filter does work on those customizable institution labels. It would treat the values the same way as a major.
Dashboards
Regarding the insights dashboard, did you say that we can see an overview of employers approved and jobs approved (during a specific time period)?
Yes this is correct! You'll want to select "Analytics" from your home left menu, and then select the Employers tile on the Dashboard page.
Pulling Reports 
For those of us on the East Coast - when is the data actually updated in Explore insights?
Great questions! The update starts around midnight Pacific.
Is there a way to run a report of student documents. For example run by student id with a listing of the type of documents they have in the system
Yes! From the Students Explore you'll want to select ID from the Students field and Name from the Document Types field on the left.
Is there a report that shows how many jobs are in locations of interest?
This is a great question! You are able to pull in the location of the job but there isn't a way to compare that to the job interest locations that students have selected. We will pass this feedback to our product team to see if there is a way to connect these in the future. 
Can we pull graduation year from student explorer to help with problems with school year?
Yes! You'll want to use the School Year field. 
Can you explain how 'Registered' and 'Checkin" work differently in Reports. Also if we have students registered, is there an easy way to move those all to 'Check in'?
Can you show how to calculate a percent of columns. Example if I have specific labels or even student year status. How can I calculate students witih a login against the student count to get a percent.   
First you'll want to select the Calculations button when building your report.  You'll see a box where you can enter your formula - you would just choose which fields you want to use for the formula. You can add a title for this new field and format the percentage too. After adding that you'll see a new green column showing percentages.
Here are screenshots: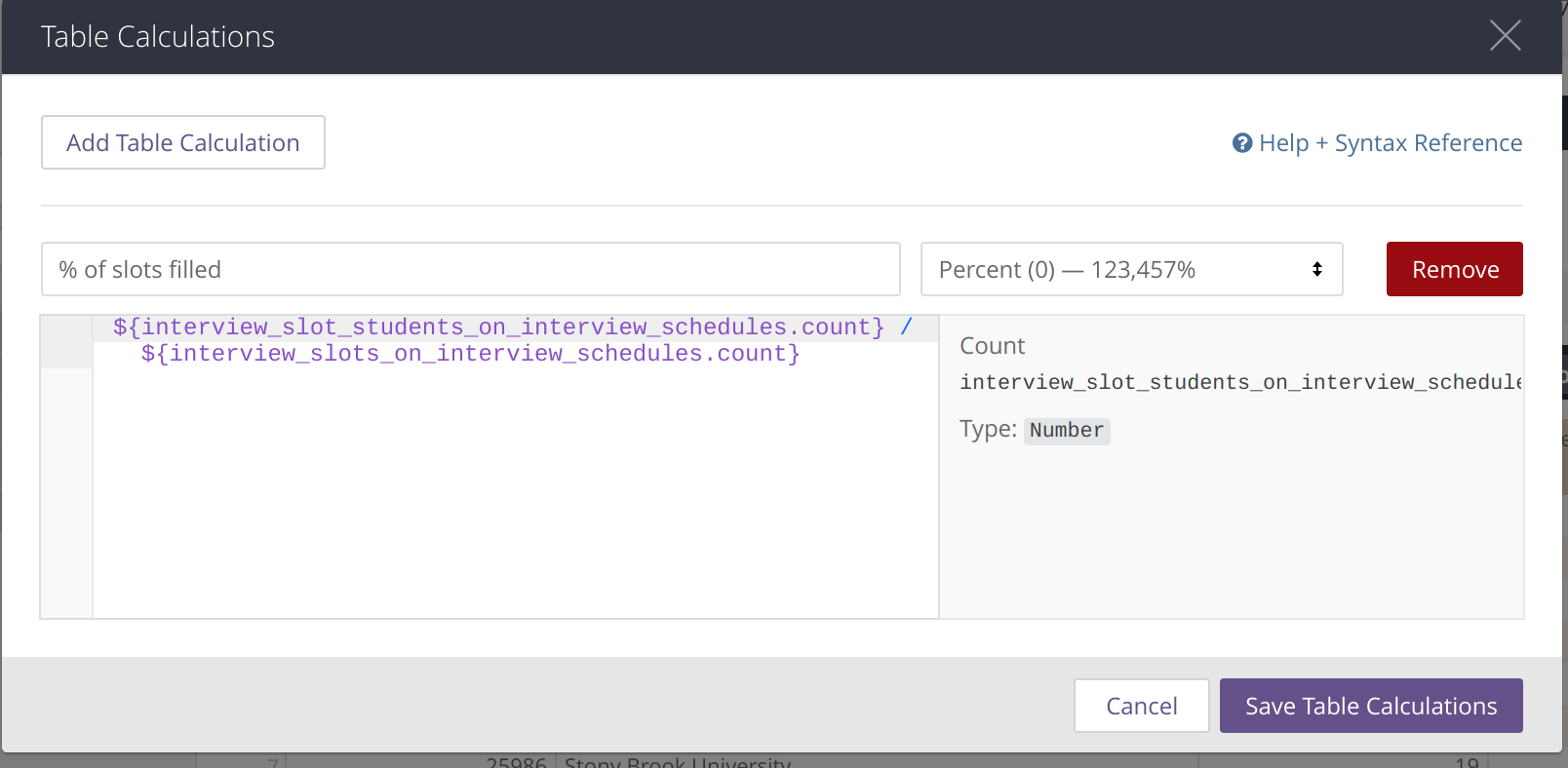 And here is a reporting example: https://app.joinhandshake.com/analytics/explore_embed?insights_page=ZXhwbG9yZS9nZW5lcmF0ZWRfaGFuZHNoYWtlX3Byb2R1Y3Rpb24vaW50ZXJ2aWV3X3NjaGVkdWxlcz9xaWQ9eUdXQ3k1TnNVdVlMZEREOUd1VjMwNSZlbWJlZF9kb21haW49aHR0cHM6JTJGJTJGYXBwLmpvaW5oYW5kc2hha2UuY29tJnRvZ2dsZT1maWw= 
I would like to pull a report for a certain subset of students - identified by a label - to see the events (workshops, etc) each student attended during this semester. I need to put together a report listing each student and then showing the names and dates of the events attended. Some of the students will have been 'checked in' by the import process.
For this report, you'll first want to filter the student label with the Student Attendee Institution Label Name Field. With this filter you can select which label you'd like to report on. Next you'll want to select the following fields: Name from the Events field, Name from the Event Types field, Start Date from the Events field, and Checked In? under the Attendees field.
Here's an example of this report: https://app.joinhandshake.com/analytics/explore_embed?insights_page=ZXhwbG9yZS9nZW5lcmF0ZWRfaGFuZHNoYWtlX3Byb2R1Y3Rpb24vZXZlbnRzP3FpZD1aRHlsWmJUaDZTMkE1UWFiYXAxMG9CJmVtYmVkX2RvbWFpbj1odHRwczolMkYlMkZhcHAuam9pbmhhbmRzaGFrZS5jb20mdG9nZ2xlPWZpbA== 
The support articule on How to import Attendees to created event or fair does not show how to import from event only shows hoe to import from career fair.
 The following article includes information for importing both Events and Career Fairs. You would use the "identifiable_type) to indicate whether the item is an Event or a CareerFairSession
Best report to run engagement (appointments, events, etc. by major) to report back to an academic department for a fiscal year.
We recommend starting with our pre-made report templates and adjusting the fields and filters you need for your report. You can find all the templates here: https://support.joinhandshake.com/hc/en-us/sections/204202028-Reporting 
What about reporting on university employees with employer accounts? eg how many active and their details so we can audit who has access and archive users who are no longer employees?
There isn't a way to run anything like this at this time. You can view activity on the employer level but not by the user lever. This might be something we can expose in the future but there are no plans for this at this time.
FDS - internship tracking. Is there a way to track unpaid vs paid internships if it's not a question we ask in the FDS? is that data tracked elsewhere in HS via the internship postings?
You can report on it if it is a job that the student has applied to in Handshake. There is a filter for Salary Type. The two options for this is either Paid or Unpaid. However, if the student didn't apply in Handshake you will have to add this as an additional question when a student fills out their FDS.
Any tips on running reports from Experiences Internship Supervisor survey results?
The best way to pull this is from the Quick Downloads from the Experiences page.
In Insights, is there a way to pull one report that includes data from what I presume are different tables in the db? For instance, job type for ocr interviews?
You can do this but you will have to merge the reports using a vlookup in Excel. For your example, in order to do this you would want to include the job_id in both report and then you can use a vlookup to merge the two data sets. That being said, this is something we are looking to address in our next round of Insight updates.
Getting Help, Resources
Will there be a way to contact you by phone in the future if we are having trouble?
Please refer to your Handshake agreement that should include your Support service package and whether you have phone support included. If you do not see this listed in your agreement please contact your Handshake Relationship Manager. Aside from that you can always contact us via this form and indicate that your business impact level is critical and we'll get back to you within an hour during business days.
Templates
Check out our pre-made templates so you don't have to build reports from scratch: https://support.joinhandshake.com/hc/en-us/sections/204202028-Reporting
Recorded Webinars
Check outhttps://hs.joinhandshake.com/teachme for our recorded webinars on Reporting.
Training Course
If you'd like to take our Reporting training course, please visit: https://joinhandshake.talentlms.com/trainer/course/id:152