We are excited to announce that our Product Team is releasing a newly redesigned Employer Management page! While the workflow will remain essentially the same, there are some key changes to help improve and speed up the process for your staff, detailed below. For more information on the new Jobs page, click here.
How to Switch to the New View
Click on Employers on the left of Handshake, and at the top of the screen, you'll see this: 

Simply click on "Update Available" to read more about the new page, and if you want to switch, click on "Update Now" in the lower right of that popup:
Please note if you update to the new view, you will not be able to switch back to the old view.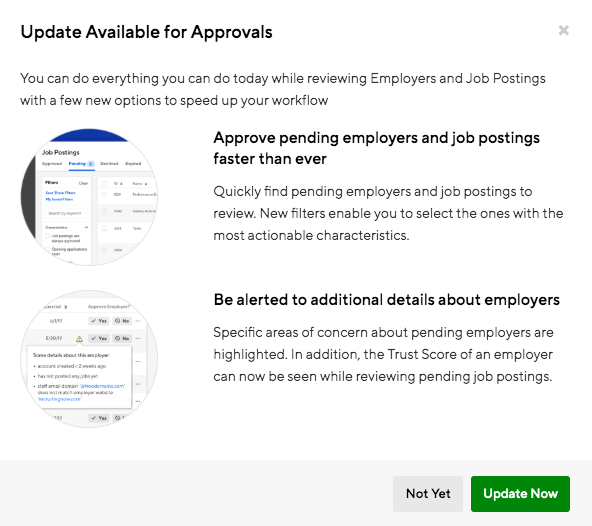 Employer Status
To reduce time spent on selecting status filters, we've updated the Employer management page to have status tabs. When you click on Employers from the left menu column in Handshake, the Employers page view will default to your Pending Employers: 

Simply click on Approved, In Progress, or Declined to see relevant Employers for each status. 
Review Flagged Employers
Thanks to everyone who shared feedback on the desire to more easily review Approved & Flagged Employers! We listened to you and added a Flagged tab, which will allow you to easily see all employers both Approved at your school & Flagged: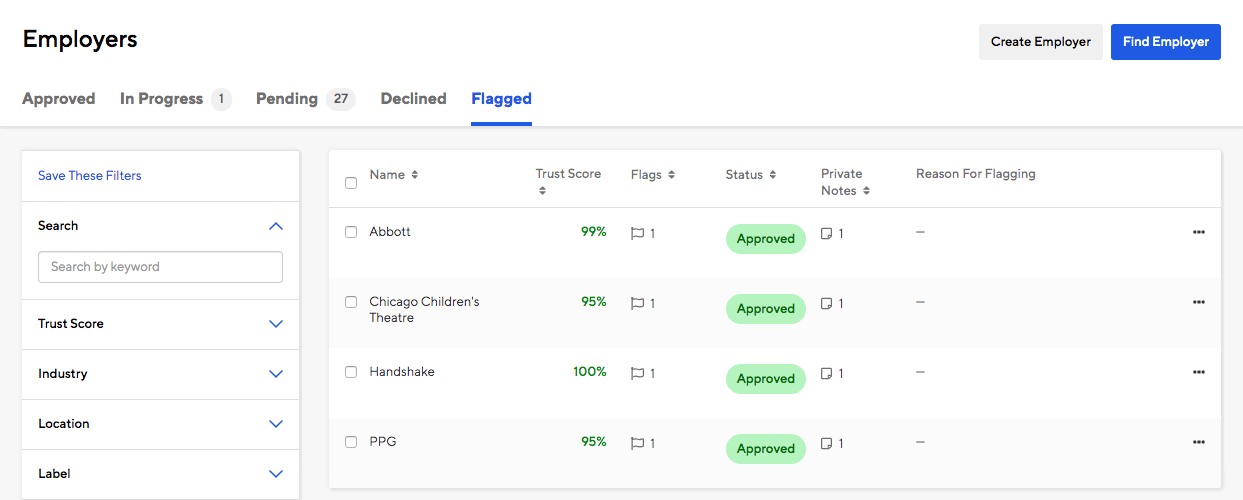 To review the flag, click on the Employer name, then click on the link to view the flag from the company profile. 
You can use the three dots to the far right for quick access to reach out to the Employer, add/remove labels, assign to yourself, or reset approval to Pending/In Progress to allow for reconsideration: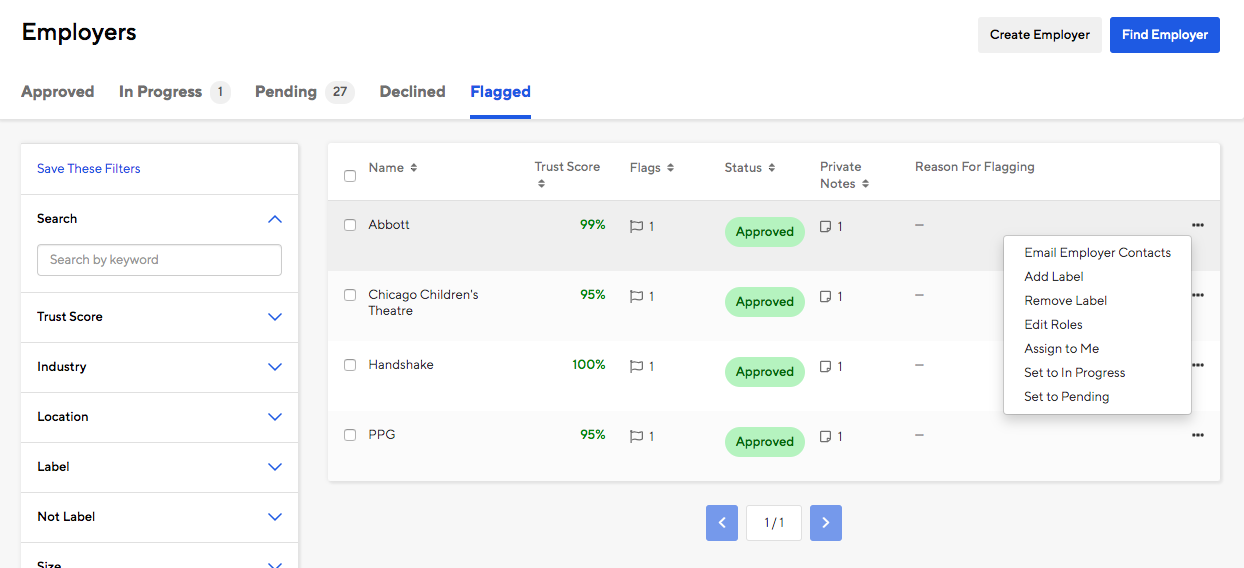 More Quickly Vet Pending Employers
When viewing the Pending page, you'll see new columns of information listed to help you get a more a complete idea of the Employer, without having to click into the Company Profile: 

We added the company website column to allow you to quickly access that link. 
The yellow triangle indicates there are additional details we think you should be aware of, which include: 

an unconfirmed email - this indicates that there is an employer staff member that hasn't verified their email address
non-matching email domain - a non-matching domain could be for a number of reasons, but we want you to be aware of this with the potential for fraud. Some scammers will use a lower case "L" in place of an "i", for example: @happyllfe.com vs @happylife.com
no job postings - a lack of job postings could mean that the employer is new to Handshake, but if the employer has been on Handshake for a while and not had any job postings, this could raise concerns.
the employer has at least one flag - flags are placed by other Career Services or Student users to share concerns
View More Information for Declined Employers
When your staff decline an Employer request, they will be prompted to enter an optional reason for the decline. 
Adding this detail helps your colleagues be aware of concerns, as well as helping us at Handshake better understand what's important to you.
If you do not wish to enter a reason, simply click "Decline".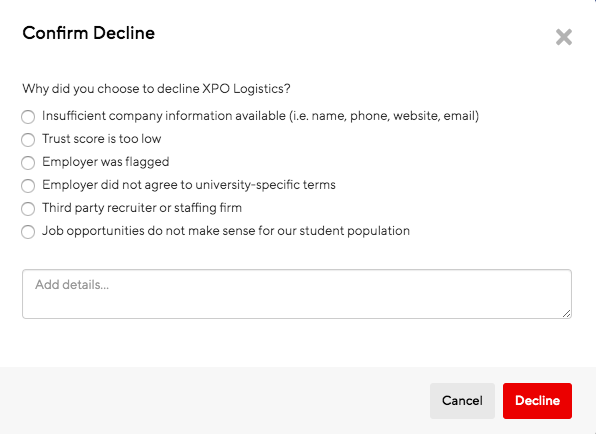 To review previously declined employers, simply click on the Declined tab, and the "reasons" will appear in the Reason column: