This workflow is intended for Handshake's Premium partners. If your account is not Premium, please use this resource instead How to Request an Event.
To begin, log into your Handshake account and click on Events in the left hand Navigation bar. 
From here, you'll be able to see a list of Events that are currently approved in your network.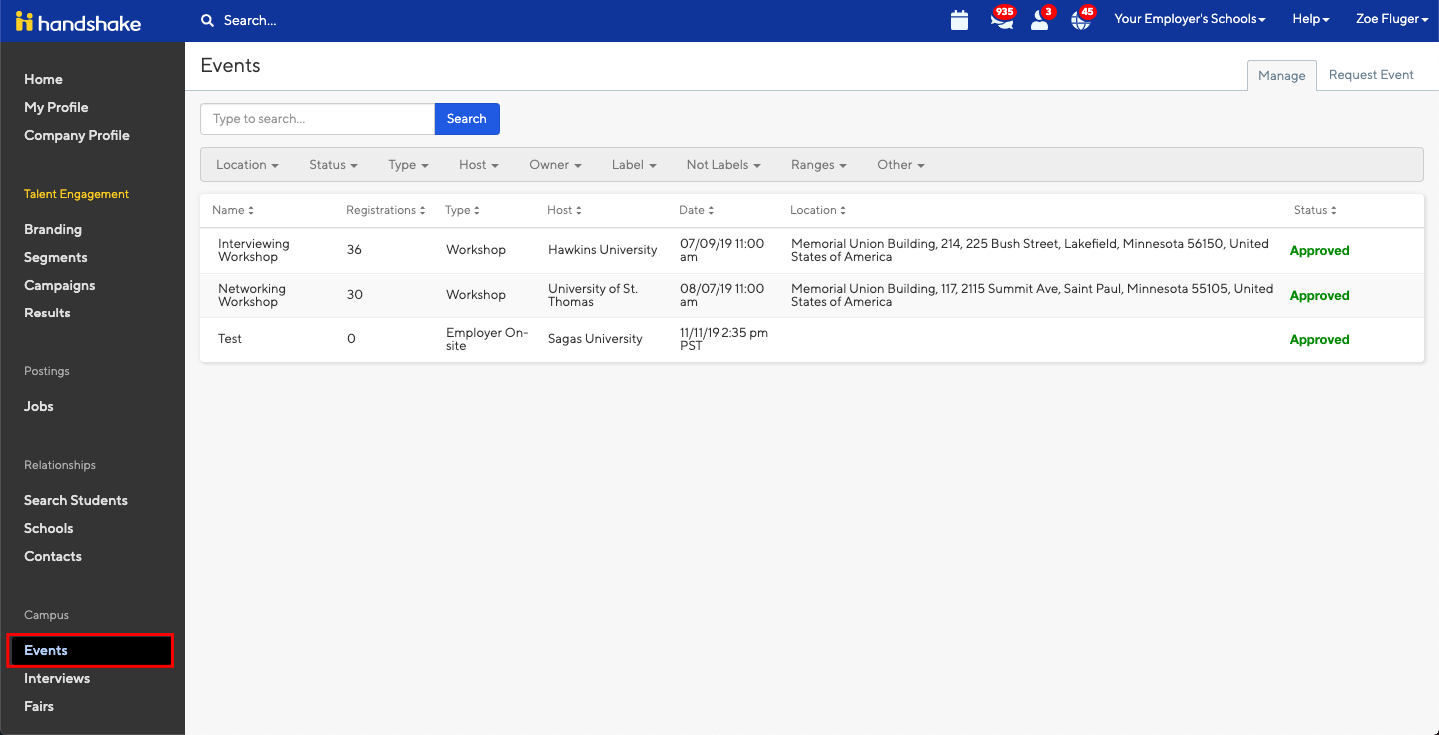 To create a new event, click on Request Event in the right hand corner: 

This will open up the event creation window. There are three different types of events you can create through Handshake. Let's break these down! 
On-Campus Event
An On-Campus event means that you'll go to one school for this event, and you'll working directly with that school to secure a space on campus for your event.
Examples of these include: Info Session or a Panel.
Because you'll be working directly with one school to host this event, you'll want to make sure you list this school in the Host School section when creating this event. 
Once you fill out the rest of the information for this event and click Save, this event request will send directly to the Host School for them to approve.

The school will need to approve this event on their end in order for students to view and RSVP to the event.
We recommend working directly with the Career Center at this school for any assistance in regards to the event itself. 

Off-Campus Event 
An off-campus events means that you, as an organization, will be hosting the event somewhere that is not on campus. Examples of this could be at a restaurant, or a coffee shop, or maybe at your own office! 


Two different ways you can invite students: 



Invite students from specific schools:

You can still request certain schools approve this event, which would result in only students at those schools to be able to attend. (e.g., if you were located in the Chicago area, and you wanted to invite only a list of schools based in Chicago). Think about this as making your event invite-only. 
To do this, you'll need to add those schools into the Schools section of your event. This way, once schools approve your event, any students at that school will be able to find your event and RSVP. In other words, any students that attend schools that are not added to this event would not be able to view or RSVP to that event. 






Invite any students from all schools in your network: 

This option would make your event public. In order to do this, you will need to check the box under Visibility, next to the option that states Allow any Handshake student with a link to this event to view and RSVP. 


Making your event public will make it so it will not show up in specific school's career networks. Handshake students will not be able to find your event organically-- they will have to be invited and sent a link. In this case, if you select this option, you'll want to create a Segment in order to reach out to specific students to invite them to come out to your event. You can learn more about Segments and Campaigns here. 
Virtual Event 
This option is pretty straight forward! This is your organization hosting an event virtually. You may do this through Webex, Facebook Live, Youtube Live, etc. It's up to you! You'll simply be using Handshake as a way to market the event.
Virtual events in Handshake are meant to be used primarily for the purposes of marketing the event, with the primary audience of Handshake Users. As the event takes place with an external URL, those outside of Handshake should be sent the event details directly through a separate marketing avenue.
Inviting students for a Virtual Event functions the same way as an Off-Campus event. Review the options listed above on how to either make your virtual event public to all schools or published only to specific schools.
We do recommend s

ending a campaign to promote the event, especially if no Universities are added (this is the only way students and alumni will know about it as it is not publicly listed).
Check out our How-to video on Creating Events below!