Premium employer partners with Event Manager have the option of setting up a Check-in Kiosk for in-person events and fair booths.
With Handshake's event check-in functionality, students can check in by entering their email address on your device or with their phone by scanning the QR code. 
If you're looking to check-in students for virtual events, use the Virtual Event Check-In Guide!
Please note: Premium features are for Handshake Premium accounts only. For more information, please check out this resource.
Topics:
Kiosk requirements
To setup and launch the check-in kiosk, you'll need the following:
an active Handshake employer account: if you get an error "You do not have permission to do that" when you try to save or launch, follow up with your company profile's Owner to request access.

 

internet & browser enabled devices (tablets, iPads, laptops, etc): we recommend you to have more than one device to avoid congestion!
a supported browser: We recommend Chrome or Firefox for the best experience, but the check--in kiosk is supported on the most recent versions of: 

Chrome

Firefox

Safari

MS Edge

an internet connection: is required to setup and launch the kiosk but is not required during the event

If connectivity is slow or unstable during an event, the kiosk will continue to work and store check-ins in your system in offline mode.

If you've collected check-ins in offline mode at an event, you'll need to reconnect your device to the internet to sync these check-ins with Handshake.
If you shut down your device without uploading the data, relaunch the kiosk on the same device and the check-ins will be uploaded automatically to Handshake.

a paper print out of the QR code: recommended for employers with high traffic student volume and those who cannot bring device

Setup a kiosk
1. Click on Events or Fairs from the left navigation bar in Handshake.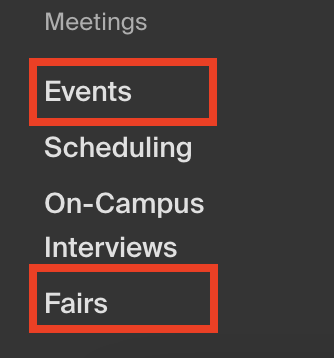 2. From the list, click on the name of the Event or Fair you would like to use the kiosk for (the workflow for both are identical and will work for on-campus, off-campus, or virtual events).  
Tip: For Fairs, filter on "Show registered only" to identify relevant fairs!
3. Click on the Check-in Kiosk Setup tab. 

4. Customise your kiosk:
Enter a Custom Kiosk Headline–the default text is "Welcome to the booth! We look forward to talking with you."
Select relevant active job postings from the dropdown menu to display for attendees. After checking in, students are prompted to select jobs they are interested in.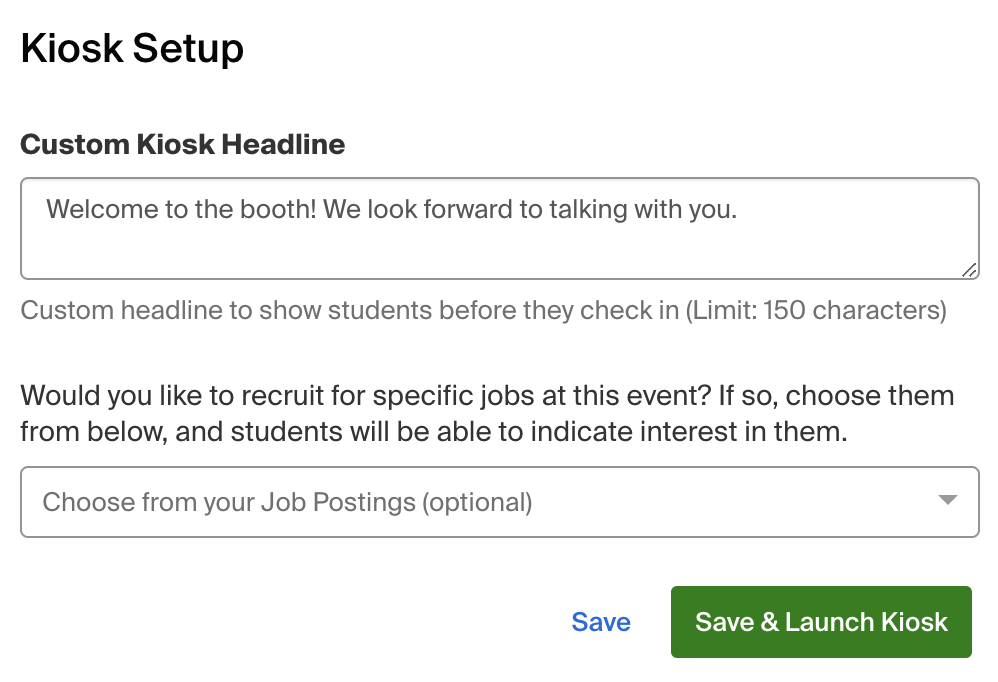 5. Click Save to only save your changes, or click Save & Launch Kiosk.
Tip: we highly recommend to print the QR code before launching the kiosk, as well as having a few copies available - this enables multiple students to check-in at the same time! 

Launching the kiosk
1. Navigate to the specific Event or Fair, then click on the Check-in Kiosk Setup tab.
2. Confirm your customisations, then click the green button Save & Launch Kiosk. 
Note: For security purposes, this will automatically log you out of your Handshake account on this device. If you log back into your account on the same device, the kiosk will not work, and you will need to re-launch it.

3. A popup will appear that informs you about what to do with a weak connection or offline mode. Click Okay to proceed with launching.
We provide offline

check-ins

for locations with weak or no internet access. 

QR code check-ins rely only on the student's mobile connection. 
The text of this prompt is: 
"Weak Connections & Offline Mode
Sometimes WiFi connections at events can be unstable. When that happens, this kiosk will continue to collect information in offline mode.
If the kiosk is closed while in offline mode, you don't have to worry. Your information will be safe. Just use this same device to navigate back to the event page when your internet connection is restored, and your information will be uploaded."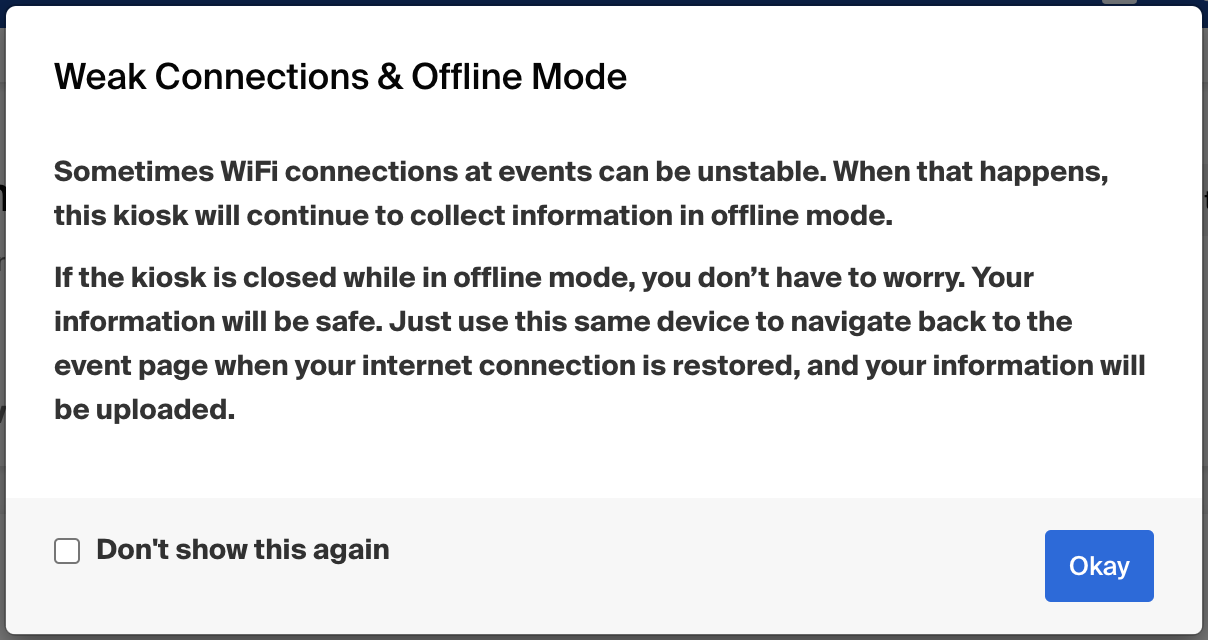 Here's an example of a launched kiosk with the default text for the headline: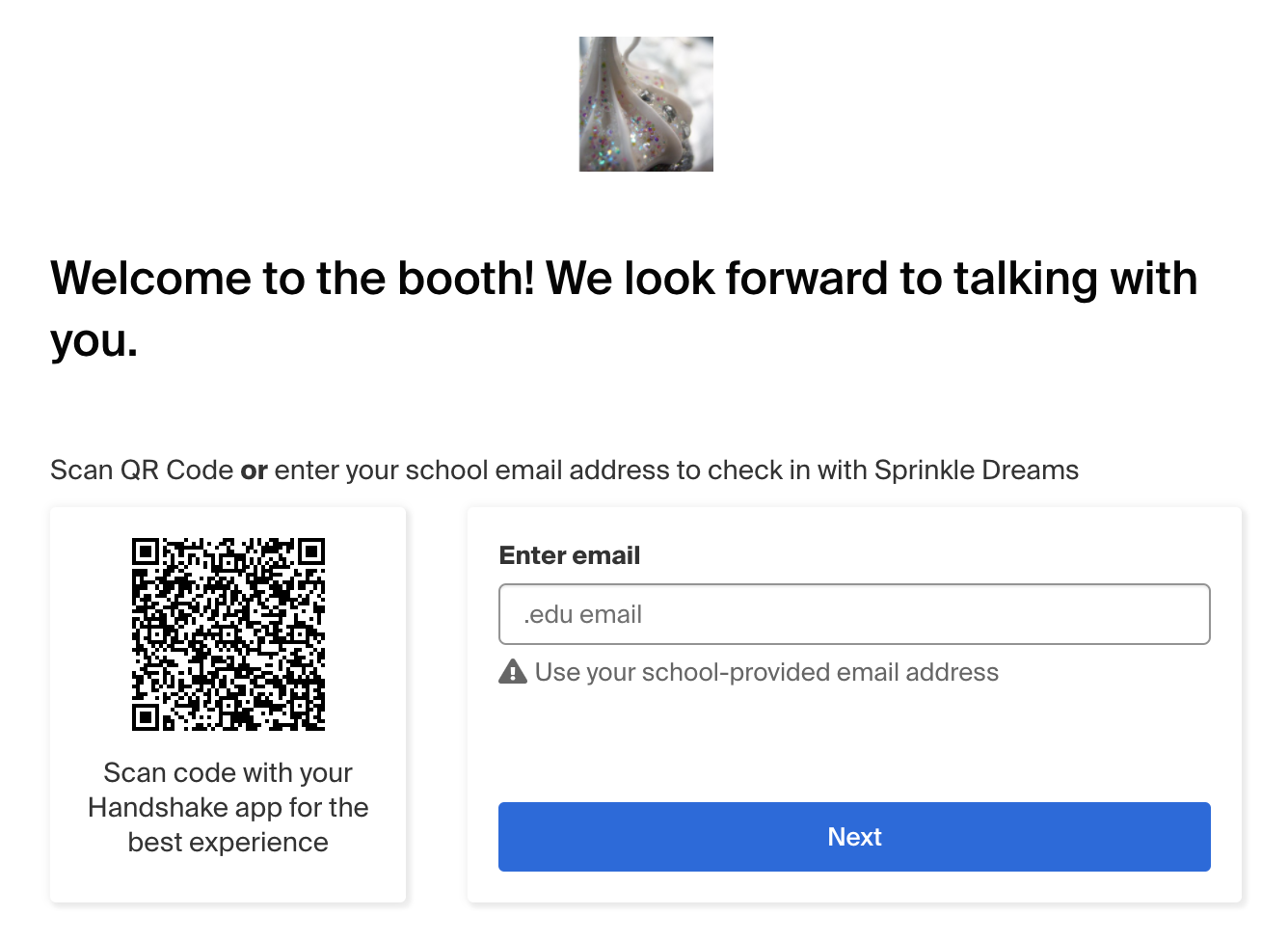 Students will be ready to check in - ensure that you have the kiosk launched on all desired devices. To check out the student experience, refer to our student-facing article Check-in with an Employer at an Event or Fair.
Before the event or fair
Make sure to do a quick test to confirm check-ins are showing up:
Launch the kiosk, enter a test email, and verify check-ins are showing up in the RSVPs table 
If you notice any problems, give your Handshake POC a call and we can help troubleshoot right away, before students show up!
During the event or fair
Always have a kiosk launched, even if you have QR Codes printed
QR Codes are awesome, and will help fast-track students, but it's always a great idea to have a back-up device with the kiosk launched, so students can enter their email address on your device.
Don't try to have multiple browser tabs working at the same time
Make sure you're not doing two things at once on the same device. If you log back into Handshake while simultaneously trying to use the kiosk, check-ins won't be recorded.
You can be logged in on different devices - e.g. have one account running on your laptop, and another on your iPad! 
On a separate device, sign in to Handshake and navigate to the Event, and click on either View RSVP List or the RSVPs tab. From this view, you're able to view and select students who RSVP'd or checked in.
Checkins are immediate, but there may be a slight delay in displaying the checkin. If the student didn't RSVP in advance and isn't appearing in the list after checking in, try refreshing the page after 2-3 minutes.
Take Note of Participants to Followup With
After the event or fair
Follow up with students
You are also able to follow up with students by sending them a message. For more information, please review Accessing and Messaging Event RSVPs.
Note: You are only able to message students who have an active Handshake account.
If wifi was shaky, make sure to re-launch the kiosk on the same device
If any check-ins got stored in offline mode, they'll get synced back in at that time.
Check-ins are stored locally on the device used to check students in, so make sure to re-launch on that same exact device!