Please note: Premium features are for Handshake Premium accounts only. For more information, please check out this resource.
Allow Owners and Administrators to configure employer-wide settings based on how your team operates.
How to Configure Global Settings
1) As a Company Owner or Administrator, go to the Company Settings tab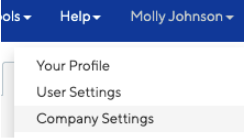 2) Click on Global Settings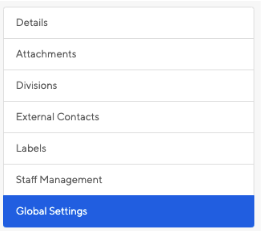 3) Configure Settings for your Employer

What does each Global Setting do?
Disable Applicant Status Messaging for all users
Applicant Status Messages are automated responses sent to applicants when their applicant status changes. If enabled, they are activated and edited by each user within your employer:

If you disable this option, you will remove this feature across all users within your employer (the "Applicant Status Messaging" tab will disappear, and no messages will be sent to students in the future). 
We recommend doing so if you already keep candidates updated through your Applicant Tracking System (ATS). 
Disable "Apply on Handshake" option for all jobs
When users post jobs, they can choose whether to direct applications to Handshake, or to your Applicant Tracking System:

By disabling this option, all new jobs must be directed to your Applicant Tracking Systems. Moving forward, users who create new jobs will see this explanation: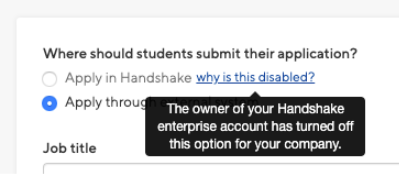 Allow Students to Message Public Staff
Today, users within your employer can mark themselves 'Public to Students'. This allows students to find and view their profile from your company page: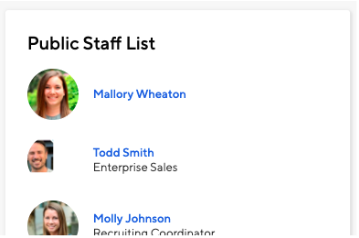 If students are allowed to message these staff members, they will see this option from their User Profile: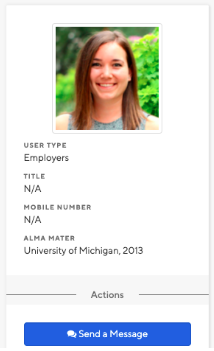 Auto-approve staff accounts with correct email domain
By selecting this option, new staff members who request access to your employer who match your email domain exactly, will be automatically approved. By disabling this option, only Owners or Administrators can grant access to new staff members.