We will collect work authorization information directly from the student during the job application process to increase transparency for employers and improve the application experience for students. Prior to submitting their first job application, each student will be prompted with the options below:
Are you legally authorized to work in the United States?
Will you now or in the future require visa sponsorship?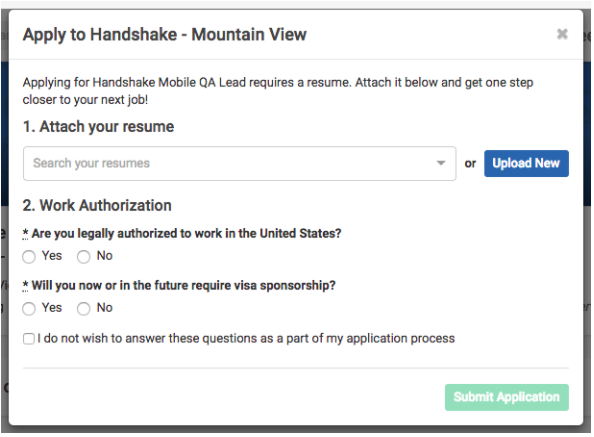 Students also have the option to opt out of completing these questions. All students will receive these questions the first time they apply for a job after the date this update is rolled out. Once these questions are answered the first time, they will be stored in the user's settings. Please note:
The answers to these questions will drive whether or not a student is fully qualified for a position. We will no longer use Visa status in determining a student's eligibility for a job posting. We will instead use the answers to the two questions in the application process.
To help surface jobs for students without U.S. work authorization, we'll first ask you whether your job requires it. This will help increase access to opportunity for all students on the Handshake Platform!
When creating job postings, if you select a location in the United States, you will be required to answer (Yes/No) the following question:
Does this job require U.S. Work Authorization?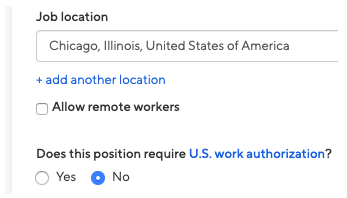 If you select "Yes", you will be prompted to answer the following questions: 
Would you sponsor a work visa for the right candidate?
"Are you willing to hire candidates that are temporarily authorized to work for a defined period in their field of study (e.g. for an internship under OPT/CPT)?"
Note: jobs that have already been posted prior to 8/8/19 will assume sponsorship is required, but allow the employer to edit that setting.
If the student's work authorization does not match your set preferences to your job, the student will still be allowed to apply, however they will see the following message when viewing your job:
This employer has requested US sponsorship, and this job is not sponsoring candidates
Employers are less likely to interview you if your work authorization doesn't match their preferences.