If you've already created an employer account and you'd like a student account as well, you're welcome to sign up!
There are some considerations prior to signing up for a student account:
If you still have access to your .ac.uk email address, we recommend using this email to sign up. This makes it easier to connect with your institution.
If you do not have access to your .ac.uk email address, we recommend to reach out to your institution's Career Services office to see if there is an alumni account set up for you; if not, the institution may have a preference as to which email address you use (such as a personal email instead of your work email address).
Once you've identified the preferred email to use moving forward, you'll need to take the following steps to sign up:
1. If you are signed into your employer account, you'll need to sign out by clicking your name in the top right corner of the page, then clicking on Sign Out .
2. When you sign out, the browser will likely remember your email address, so you'll need to click on Switch Accounts toward the left of the page: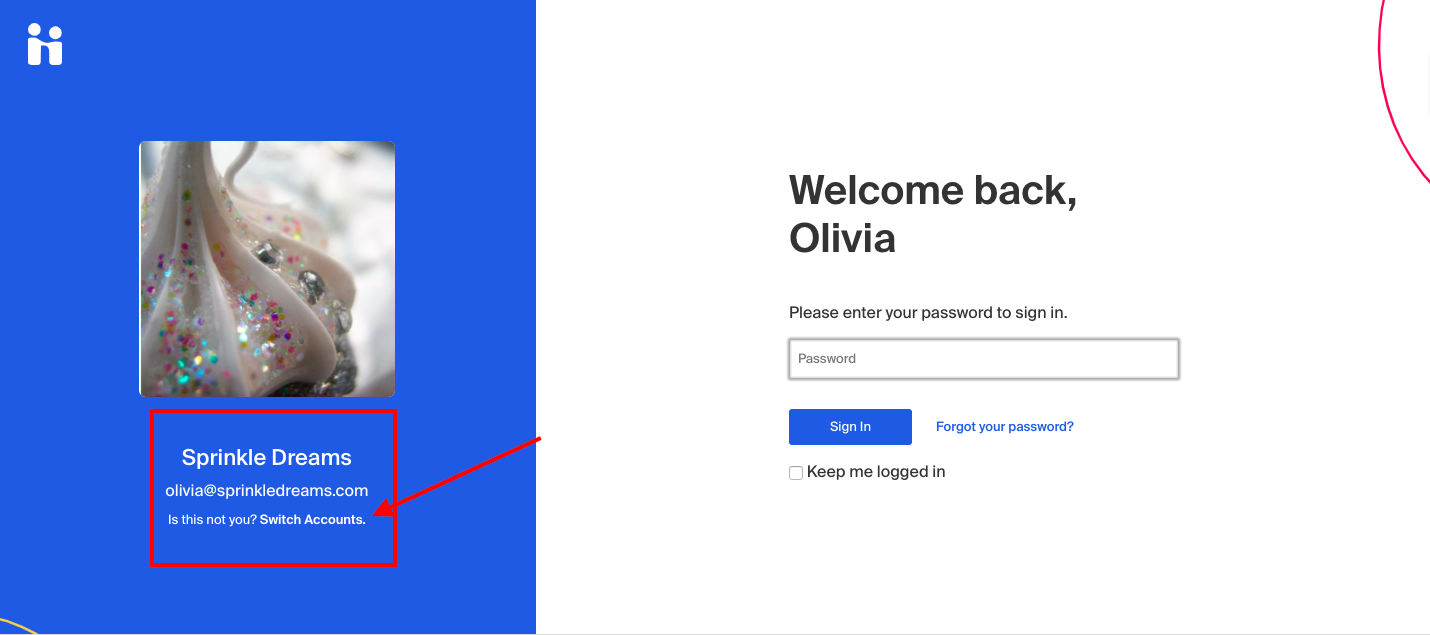 3. On the resulting page, select your institution from the dropdown menu. The dropdown will only show the first 25 institutions in alphabetical order, so just start typing the name of your institution if it isn't listed: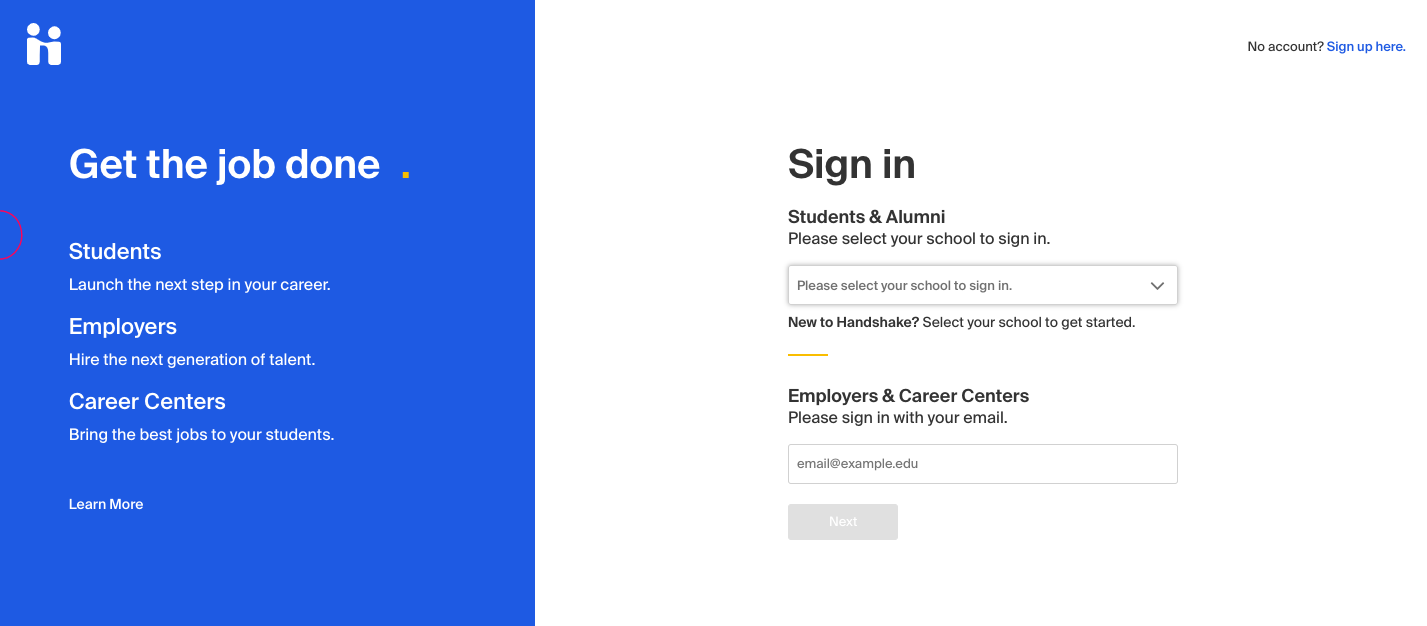 4. You'll be prompted to enter in your email address. Use your old university email address if you still have access, otherwise, enter in the preferred email address: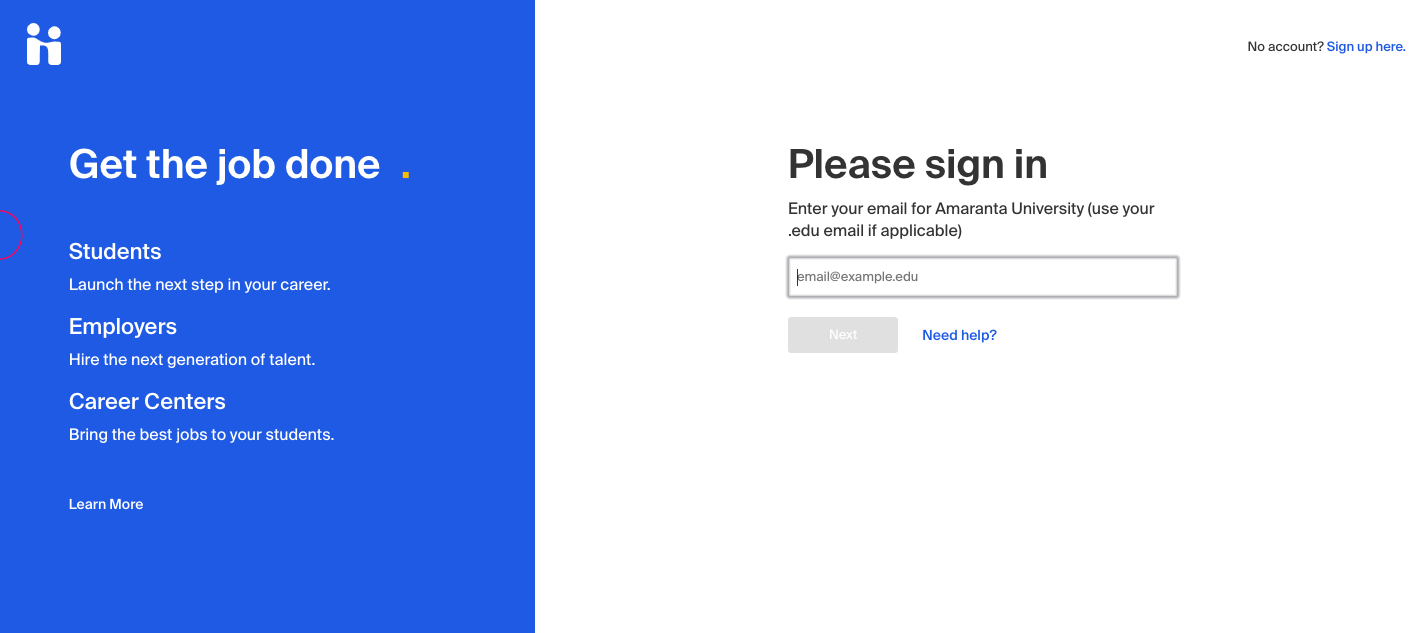 5. There are two potentials at this point: either your institution will already have an account on file for you with that email, or you will need to set up a new account. Both scenarios are outlined below. Scroll below these scenarios for step 6.
If your institution has created an account for you already:
You'll see a message that says "Welcome, FIRST NAME", above a blue button that says Get Started . Click this button to proceed.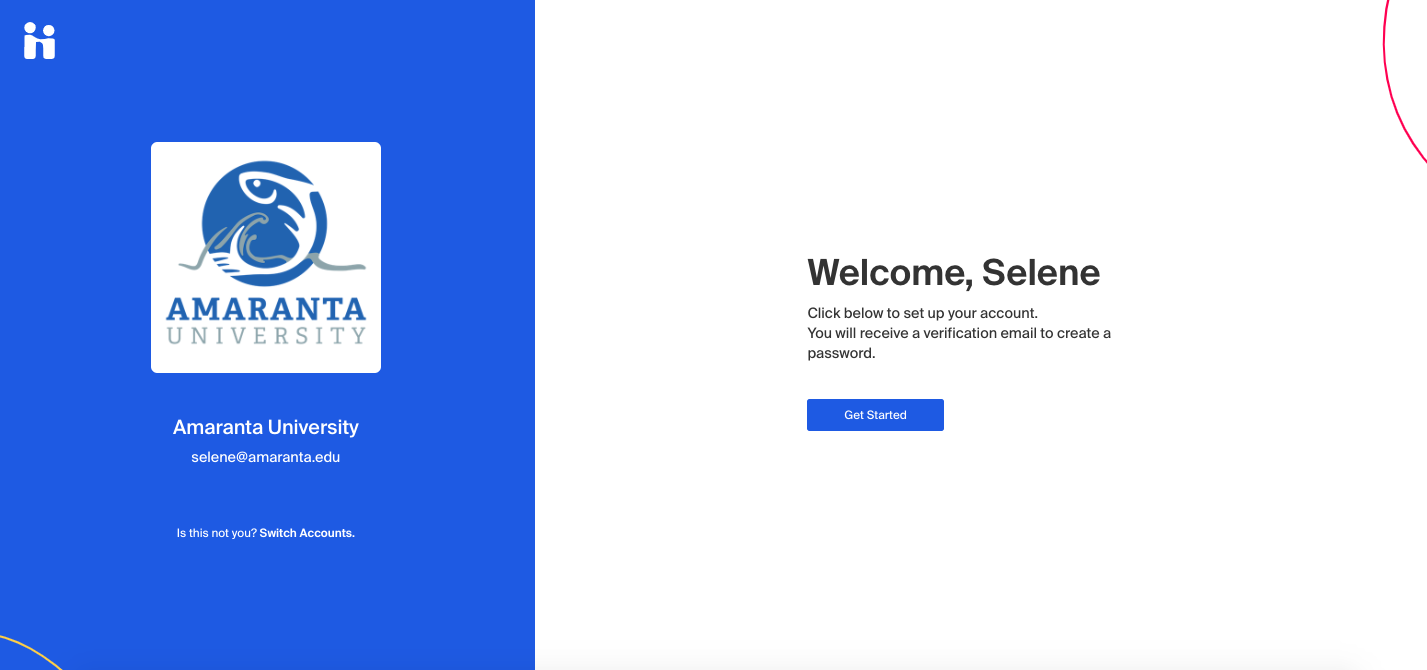 An email will be sent to your email address allowing you to set up a password. The email will look like this: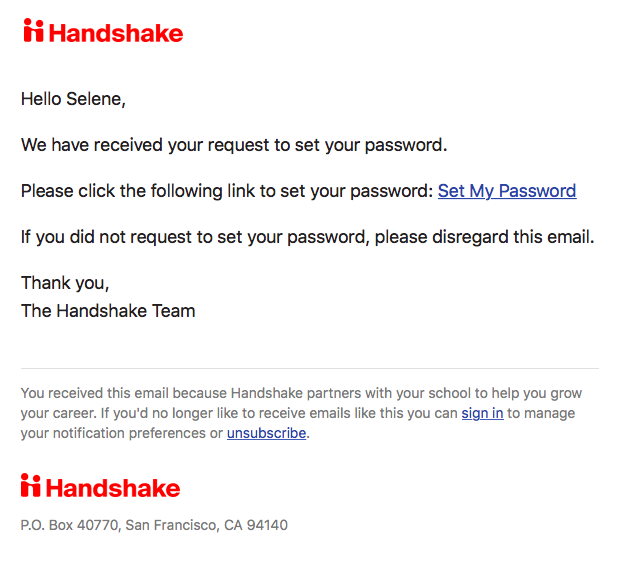 Click the link to set your password, and it will load to a page where you will need to enter your password and re-confirm the password, then click the blue button Next :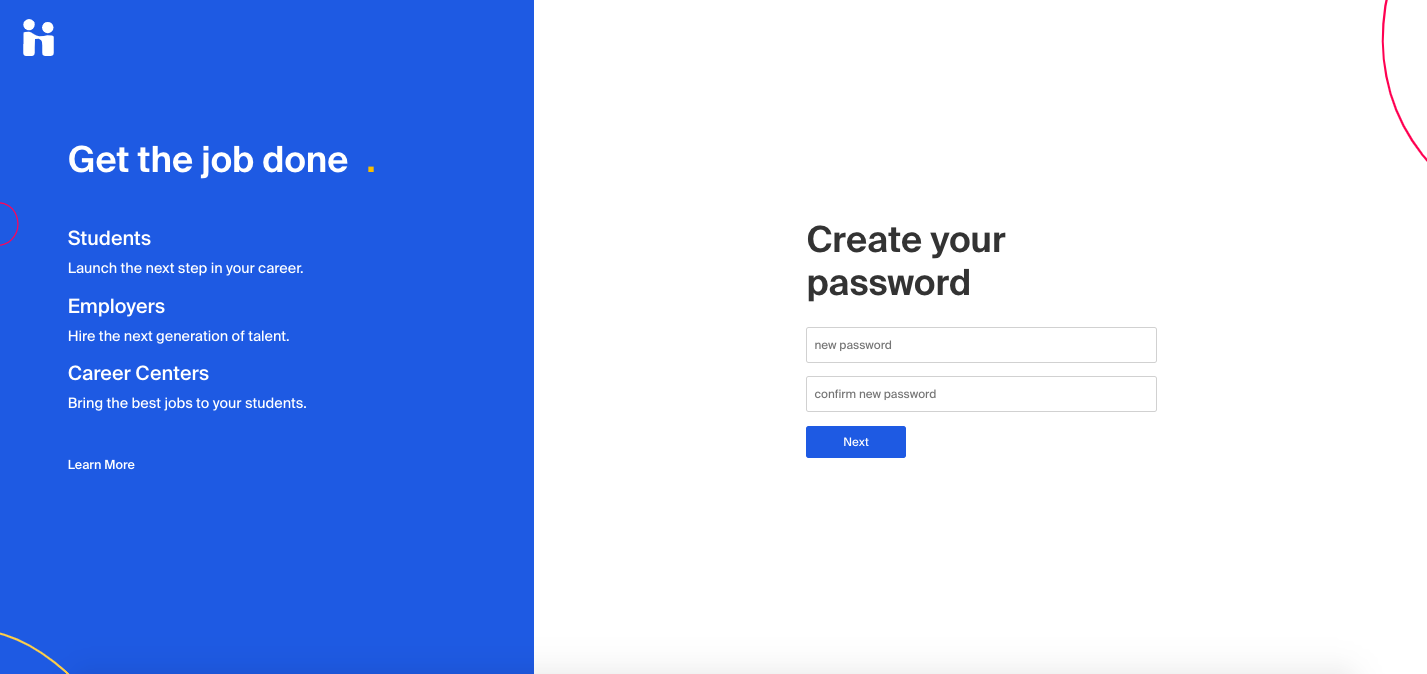 If the passwords were matching, you'll see a message that confirms setup. Click the blue button Sign In :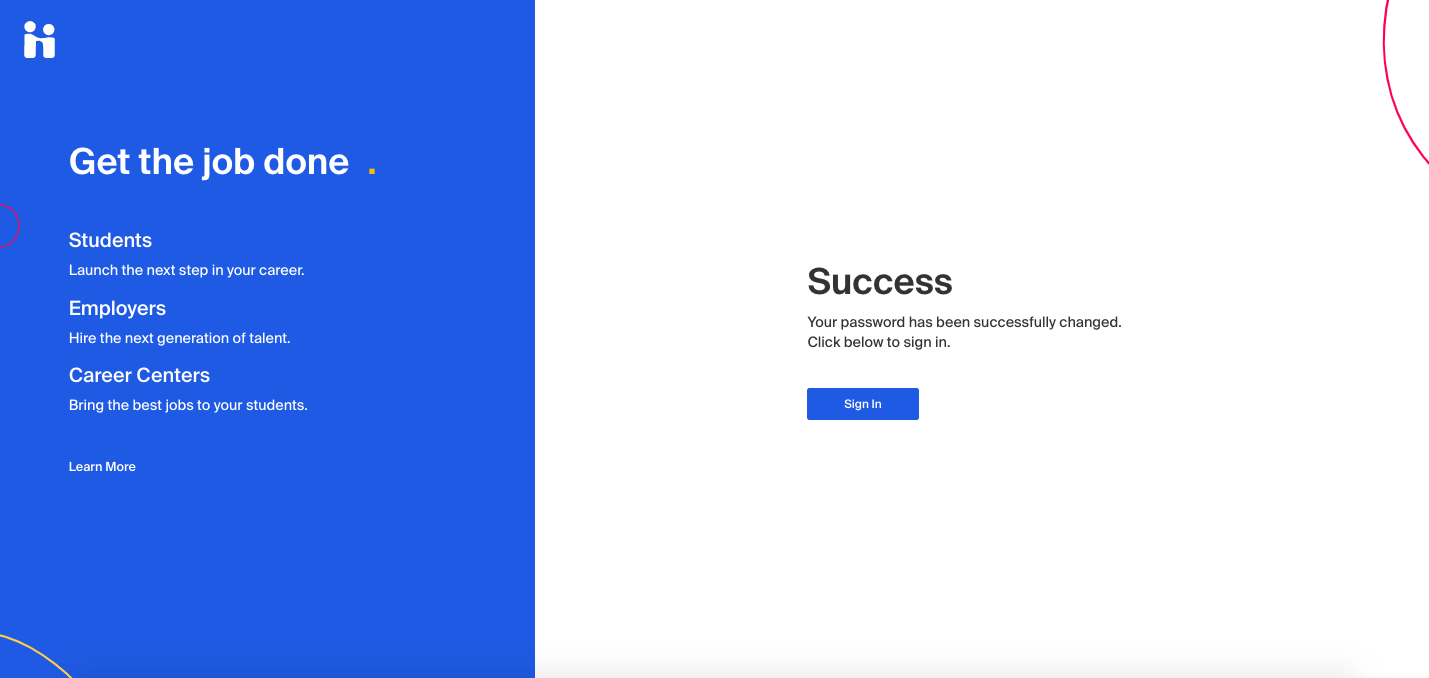 Enter your password once again to be signed in: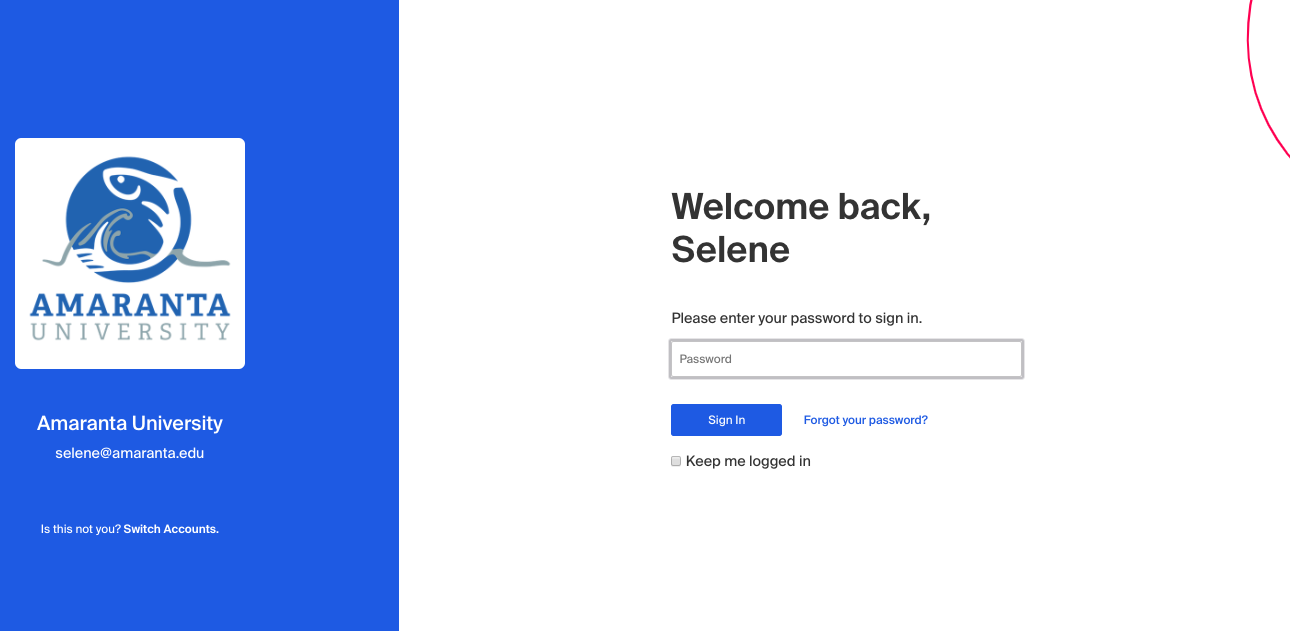 Once you are signed in successfully, you'll be prompted to review the Terms of Service and Privacy Policy, and determine if you want to receive emails from Handshake. If you agree to the Terms of Service and Privacy policy, click on the green Get Started button to start using Handshake.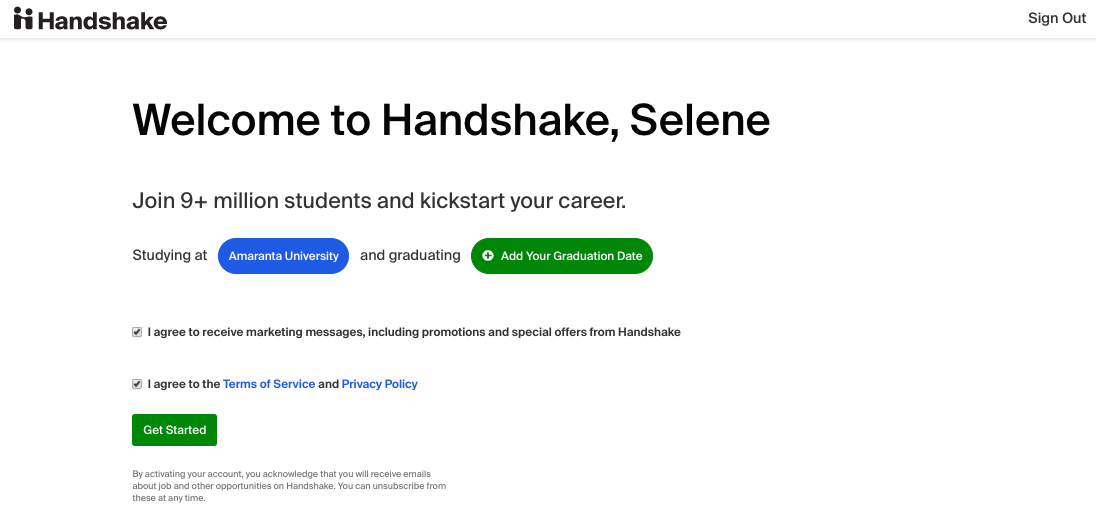 Once you click on Get Started, you can proceed to step 6 below.
If there is no account on file for your email:
You'll see a message confirming there is no account on file. On this page, select the option I'm a Student or Alumni :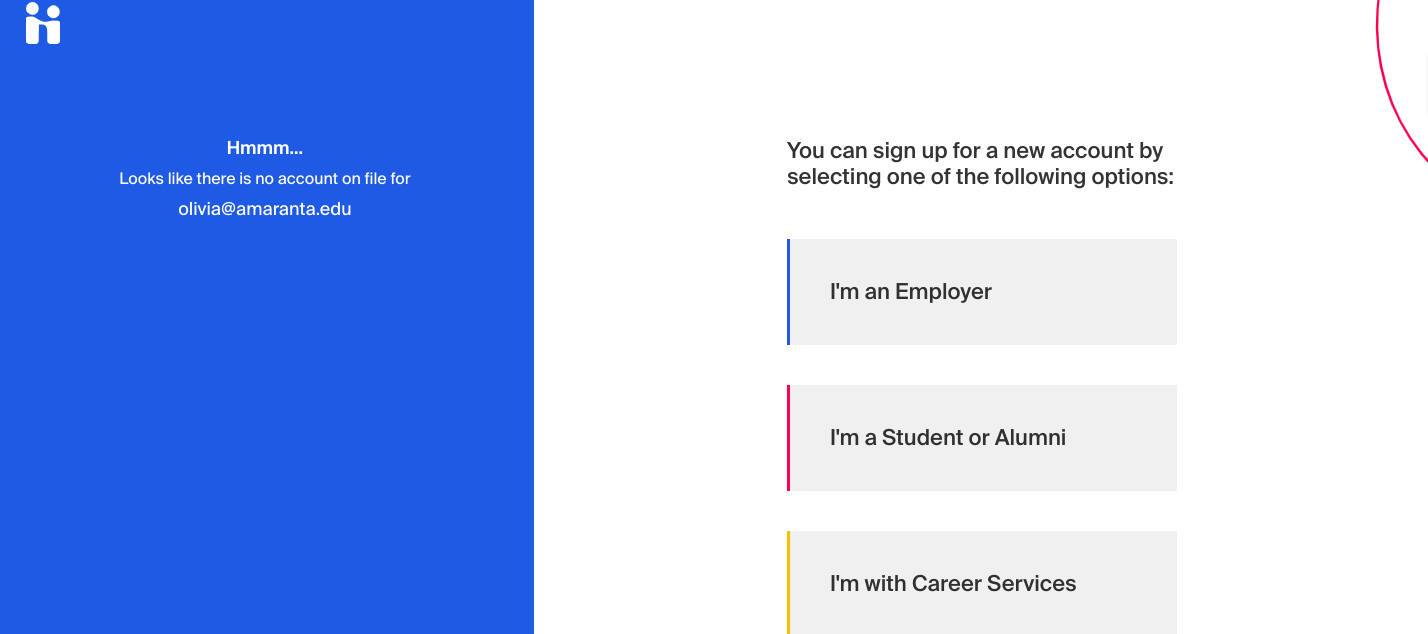 On the following page, fill in the fields:
Institution name
First Name
Last Name
Email address
Major
Grad Date
Password & confirm password
Review the Terms of Service and Privacy Policy, and check the box if you agree
Once this is completed, you can click on the blue button Create Account :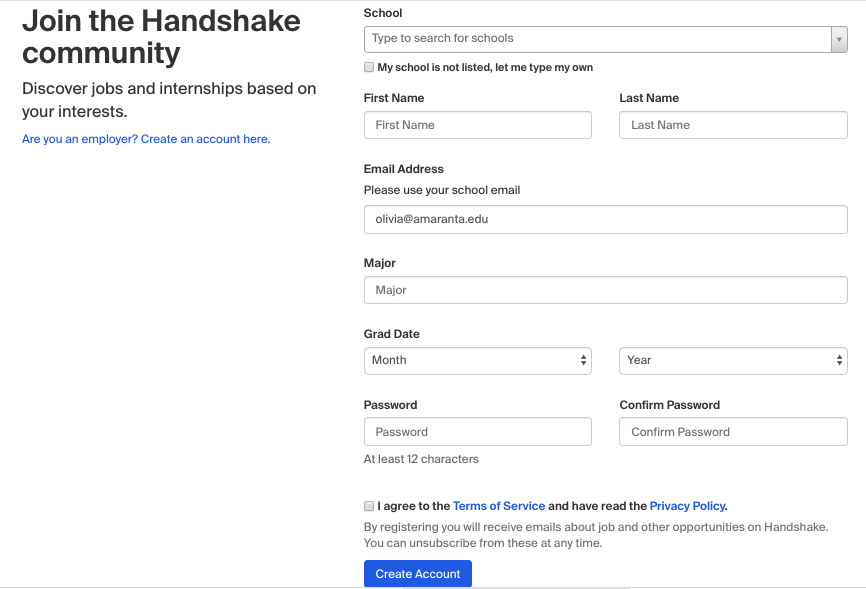 A confirmation email will be sent to the email address you used. You'll need to click the link in the email to confirm your account and begin using Handshake.

The email will look like this:
When you click the link, your email address will be confirmed, and you can proceed to step 6.
6. Select the desired privacy settings: Community, Employers, or Private. For more information on these settings, refer to Profile Privacy Options in Handshake .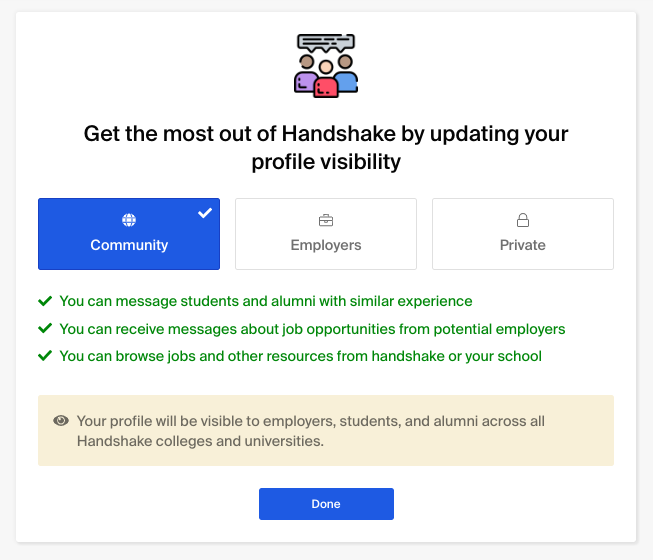 7. You will now be able proceed with the remainder of on-boarding, which you can learn more about here: About Student On-boarding .