Handshake offers a tool to institutions to allow students and Career Centres to manage internships (depending on the institution, this may be credit-bearing internships only) called Experiences.
When students submit an Experience, they can manage it through Handshake and create learning objectives to track their progress. The submission process is followed by an approval process with the institution and often with the employer. Throughout the experience, you may be prompted to provide evaluation updates via email as well.
*If you've received an approval request, and you are not the person that should be approving the request, you'll need to contact the institution directly to have a Career Services staff member change the experience approver.
Experience Approval Requests
If employer approval is required by the institution to track the internship, you may receive an email requesting approval for an experience if you are listed as the student's Supervisor.

Here's an example of what the approval request will look like: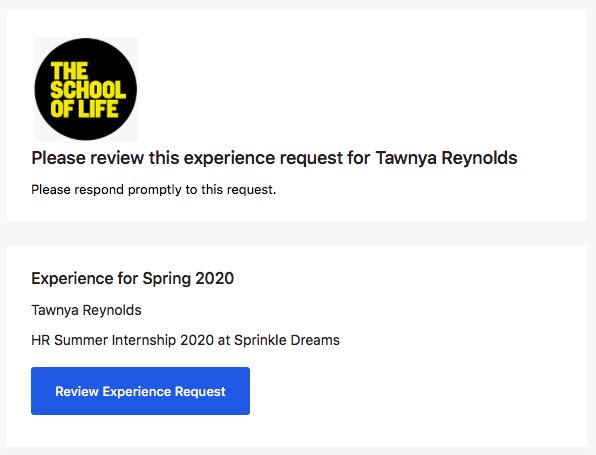 Simply click the link to view the request and approve/decline it. You don't need to be signed in or have a Handshake account in order to process the request.
Here's an example of what the request may look like: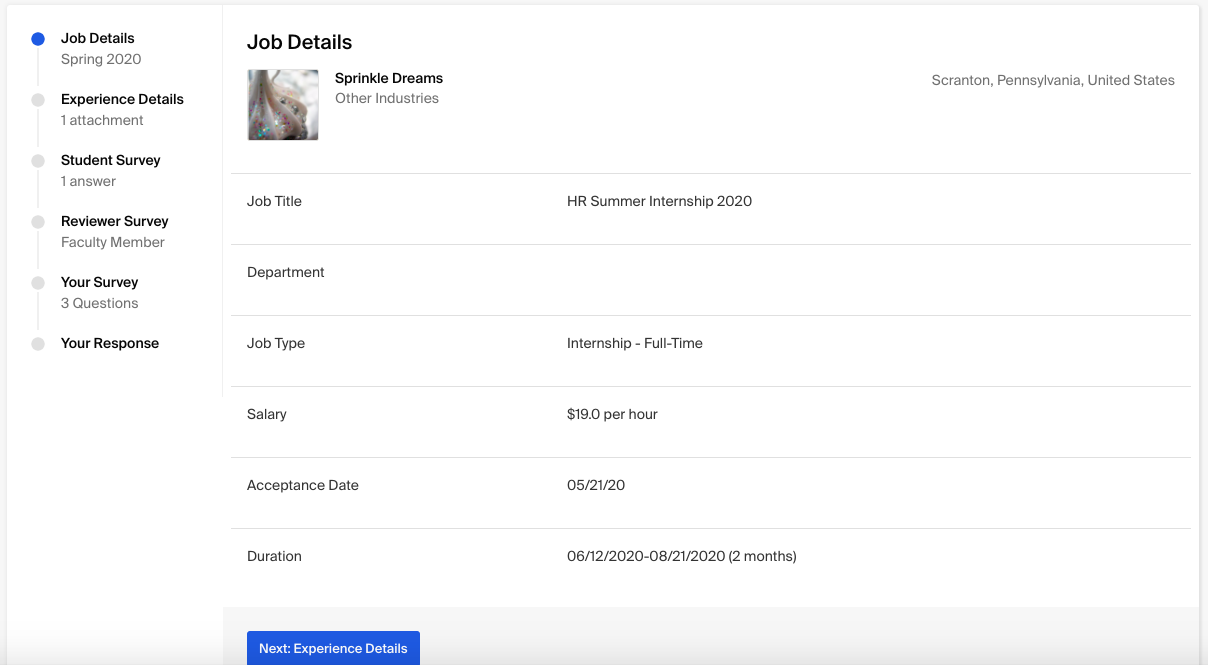 Review the details on each page and proceed through by clicking the blue button toward the bottom of each page. On the last page (Your Response) you'll be able to either approve or decline this request.
Experience Evaluation Requests
Once an experience is kicked off (started), institutions may prompt for an evaluation. The standard schedule is a mid-experience evaluation and final evaluation, but this can vary based on institution needs.
If you need to fill out an evaluation, you'll receive an email similar to the example below (the verbiage may read mid-term or final, but the rest is the same):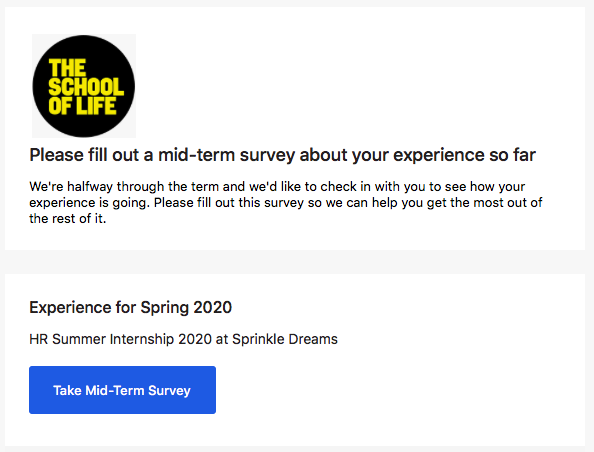 Simply click the link to open the evaluation and submit your responses.
The question prompts will likely vary from institution to institution, so complete the prompts accordingly. Once you've completed, use the blue button toward the bottom of the screen to submit your answers.
Note: If you're missing an expected approval or evaluation email, or if you've received the email and the link has expired, you'll need to contact the student's institution for a new email to be sent to you.