Handshake partners with institutions to send timely and relevant email messages to students who have not yet logged into Handshake. These students are referred to as "unactivated".
The purpose of these emails is to engage with unactivated students throughout the year and encourage them to start using Handshake.
🚀 Fact:
Activation
campaigns have historically performed up to 4x higher than industry benchmarks and have led hundreds of thousands of students to start using Handshake!
The content of these campaigns varies depending on what resonates most with students. Some examples of content we've featured in past campaigns include:
Curated job recommendations
Curated lists of employers to follow
Tips on navigating your job search
Suggestions for getting the most out of Handshake
Opt-in for Activation Campaigns
To manage your opt-in preferences for activation campaigns, navigate to the feature preferences section in Handshake by clicking your name in the upper-right corner of the page, then selecting Institution Settings from the dropdown. On the left side of the page, click Feature Preferences.
Indicate your institution would like to participate in our Activation campaign by selecting On - then click the blue button Save Changes to update. 
💡Note
: you can opt in or out of these emails at any time.
When you opt in, your unactivated students will be included in campaigns moving forward. If you opt out, we'll remove your unactivated students from future campaigns.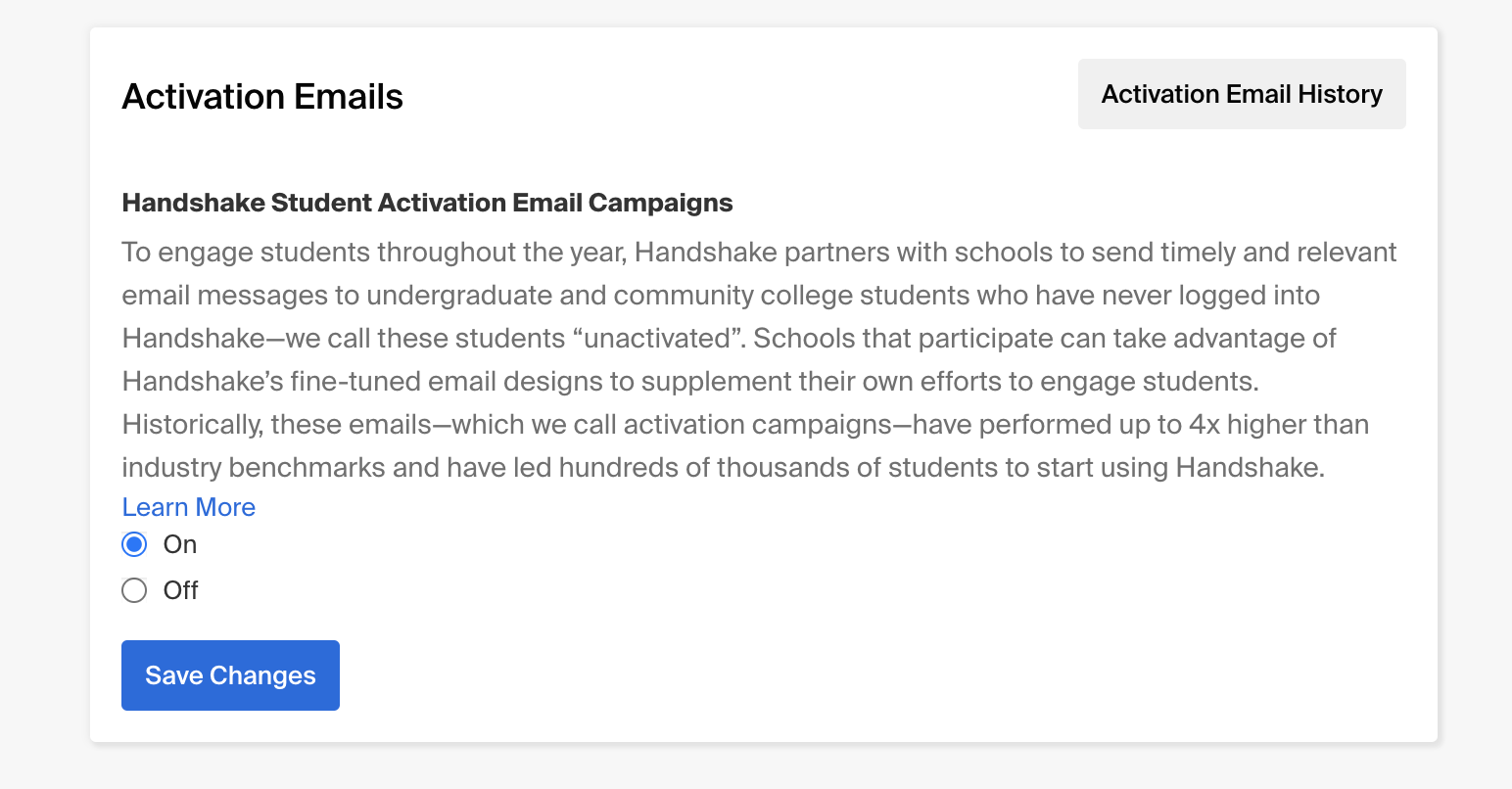 Only individuals who have the "Manage Feature Preferences" permission can opt into these campaigns. To learn more about this permission, refer to "Handshake Point of Contact" Permission for Career Services.
Frequency of Activation Emails
Once you opt into activation campaigns, all unactivated students are added to the campaign on a rolling basis.
Activation campaigns are sent biweekly and typically consist of 4-5 emails to encourage them to log into Handshake.
Once a student logs into Handshake, they are removed from the campaign.
When a new activation campaign is launched, all unactivated students are included, receiving all 4-5 emails biweekly, unless they log into Handshake. If an unactivated student receives all of the campaign emails and doesn't log into Handshake, we won't email them again until the next iteration of the campaign launches. 
Handshake updates activation campaigns roughly three times a year — before the start of the autumn, spring and summer seasons to ensure emails are fresh and engaging.
💡Note
:
if a new unactivated student is added to Handshake after a campaign has been launched, they'll start receiving the activation campaign emails the following launch.
Check out some examples of past campaigns below:
Activation Email 1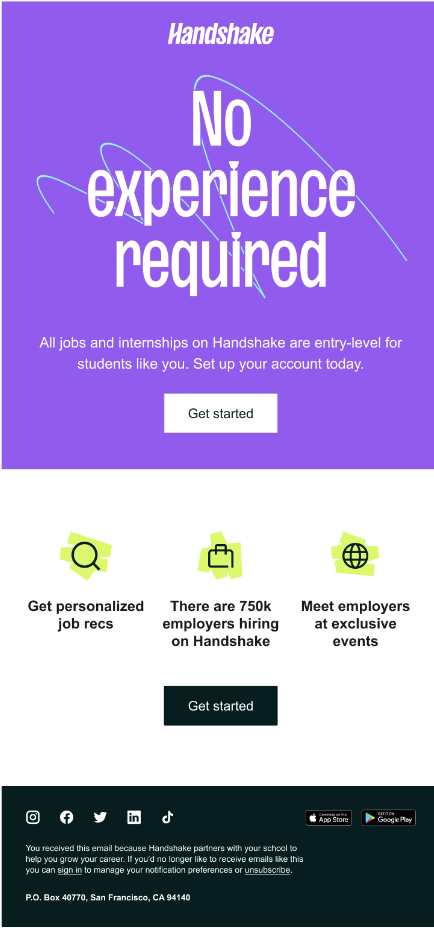 Activation Email 2

Activation Email 3

Activation Email 4

Activation Email 5