So you talked to your CSM and decided you'd like to do a Candidate Analysis - you're in the right place! Candidate Analysis allows you to upload a list of external applicants from your ATS to identify those who have interacted with you on Handshake. 
Note: if you haven't yet connected with your Handshake CSM, please reach out to them before starting to use this tool! 
Navigate to Analytics > Applicants > External Applicants, and click Get Started to begin the process of importing your file (step-by-step instructions included below).
Handshake anonymises the information imported to preserve your data privacy.

Candidate accounts will only be displayed if the candidate has an active, public student or alumni account. Accounts that aren't activated or are set to private will not be included.

 
This feature is available to Premium partners only. For more information, check out this resource!
Topics: 
How to upload applicant lists
Step 1: Prepare your file 
The headers noted below are mandatory and must be present in your file.
Create a spreadsheet in a CSV format with the following headers: 
First Name
Last Name
Email Address
| | | |
| --- | --- | --- |
| First Name | Last Name  | Email Address  |
Note: the file cannot exceed more than 10,000 Applicant records. If you need to analyse more records, you'll need to separate the file into multiple uploads.
Tips:
Before preparing your list, discuss with your Customer Success Manager which categories of candidate data to analyse:

Interns, Full-Time Early Talent Roles
Stage in the recruitment funnel:

Candidate Leads
Applicants
Qualified Applicants
Applicants who received Offers
Hires

We recommend uploading files based on the most recent hiring season, typically 4 months to a year. For example: All Summer 2024 Intern Applicants. 
Upload candidates that graduated from an academic institution in the past year or are currently enrolled in an academic institution.
Be as descriptive in your file-naming as possible (e.g., 'Handshake_2023_fulltime_offers.csv').
Step 2: Upload your file 
1. Click Analytics from the left navigation bar. 
2. Click the External Applicants tab located under the Applicants section. 
3. Click the blue button Get started.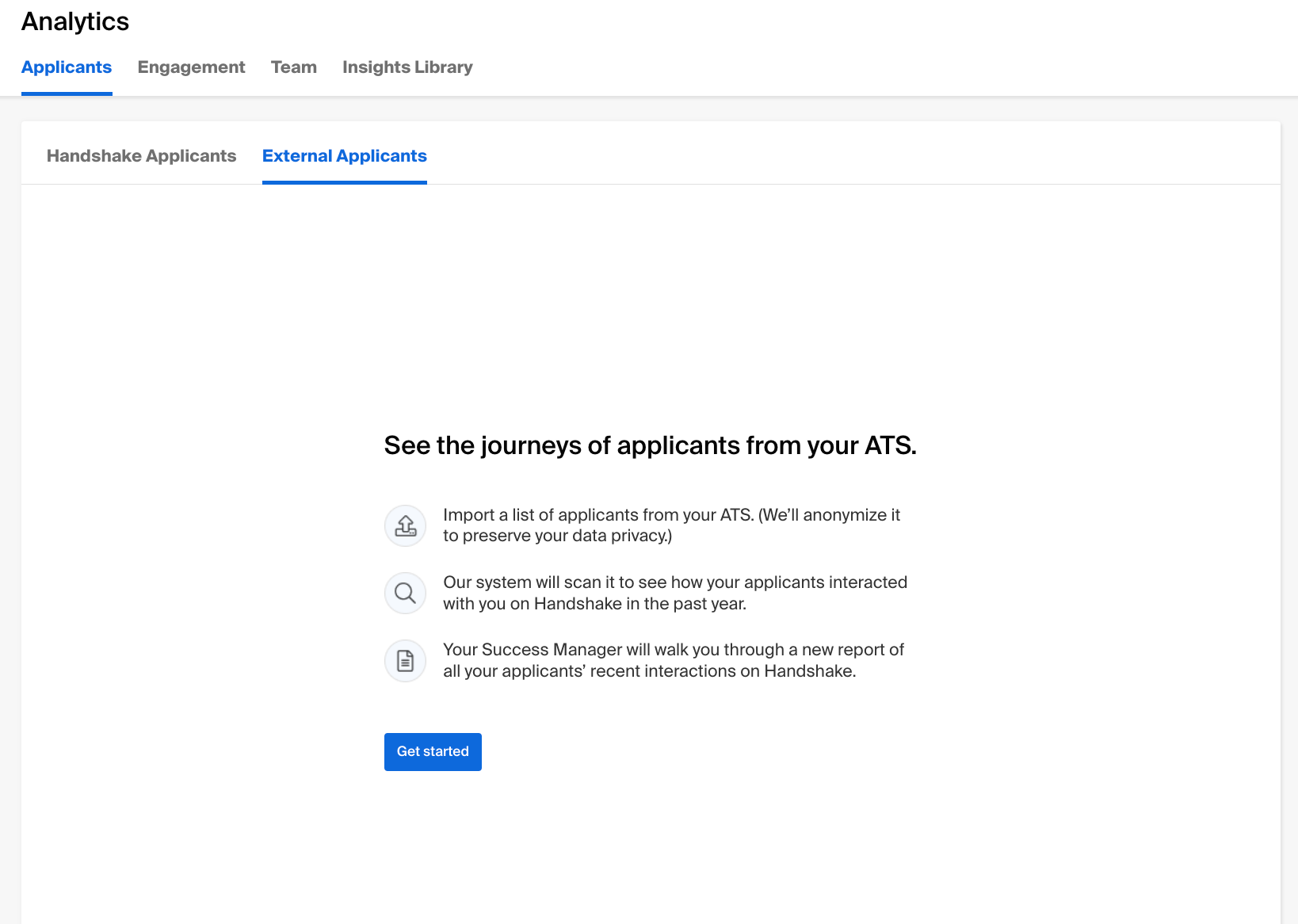 4. A pop-up will appear with our Data Privacy Policy. Click the blue button I Understand in the lower-right corner to proceed. 
Note: to stop receiving this message, check the box for Don't show this again.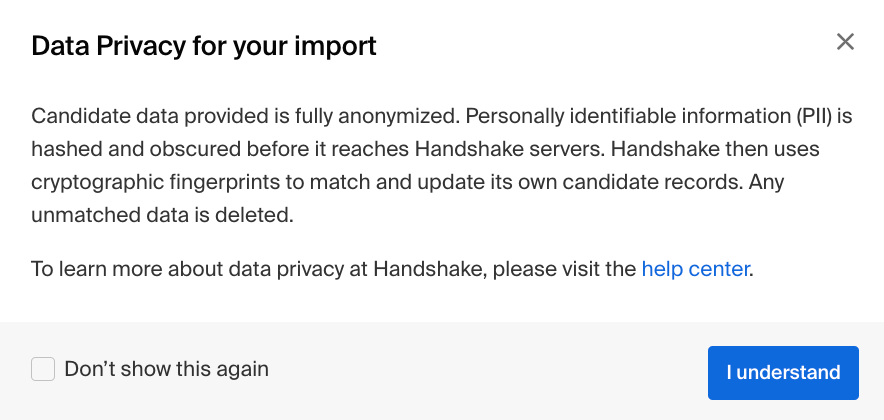 5. Click Select file in the lower-right corner of the page to upload the anonymised .csv file to Handshake.
To obtain a sample file, click the white button Get sample file.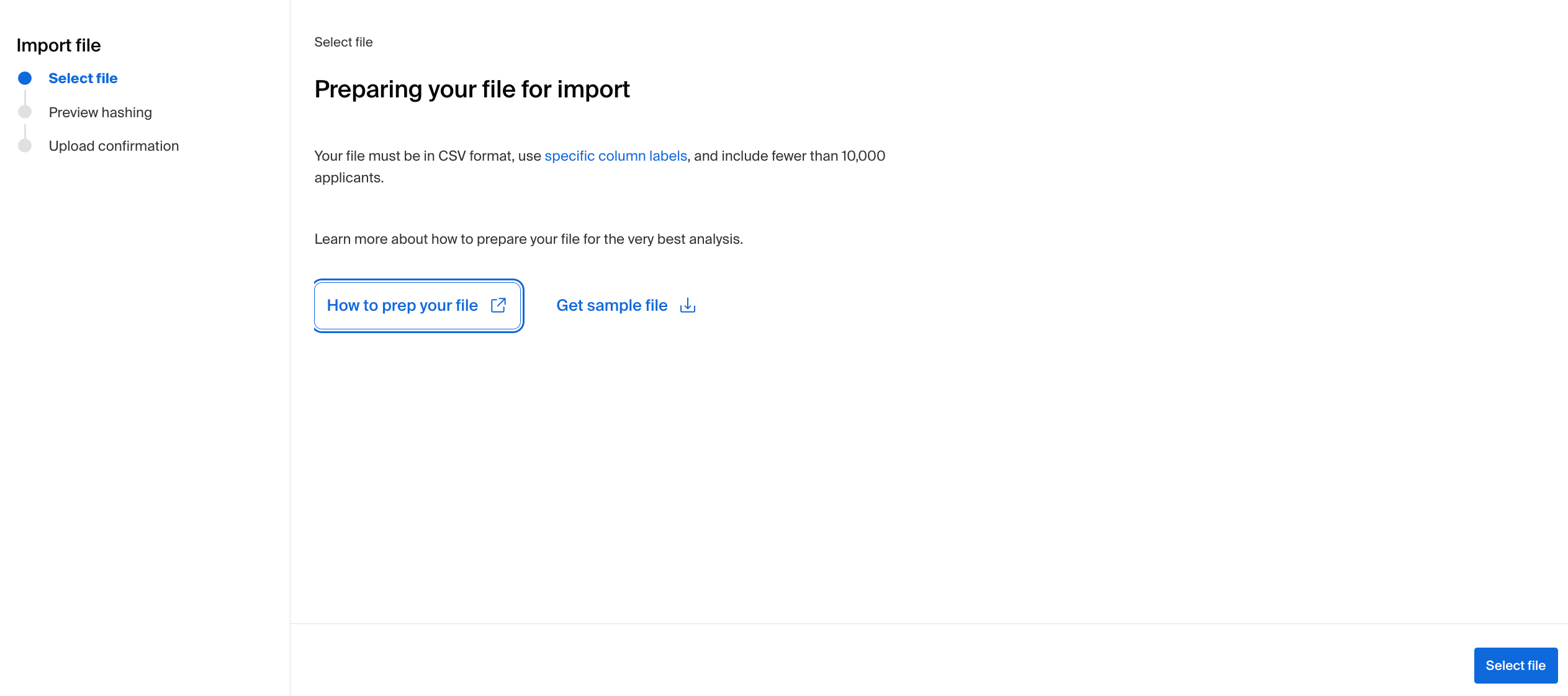 6. The message "Anonymising your CSV data" will appear.
7. Once the data has been successfully hashed, click the blue button Import hashed data to import your data into Handshake for analysis.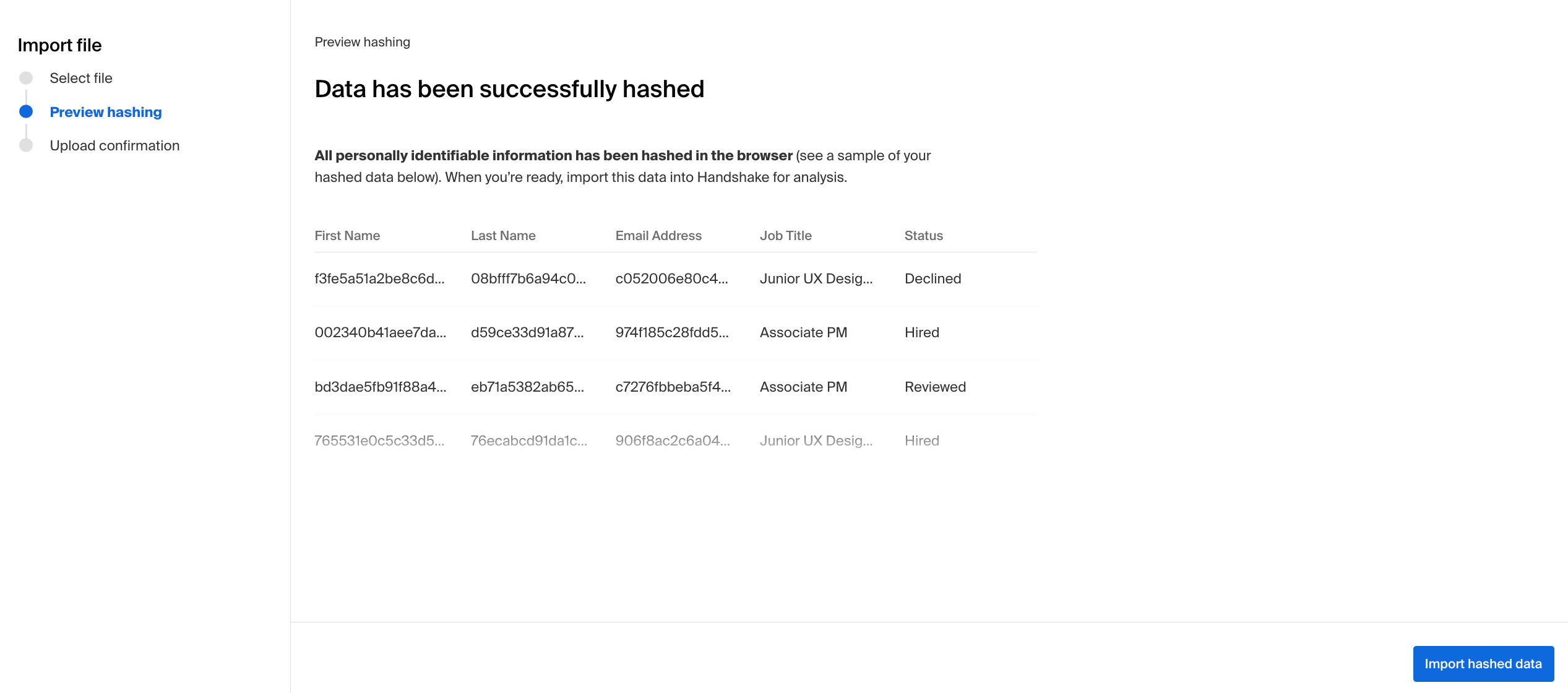 8.  Handshake will begin to search for candidates with matching hashed values.
First, Handshake will search using the hashed candidate email against its own database of hashed user emails.

Next, all remaining records not found by email are searched using hashed names.
9. Handshake will retrieve details on your historical interactions in the last 24 months with these matched candidates. Results will be shared with you through your Customer Success Manager. 
Handshake does not report on candidates that you have not interacted with in the last 24 months.
Because of limitations inherent in the matching process, the results may be incomplete.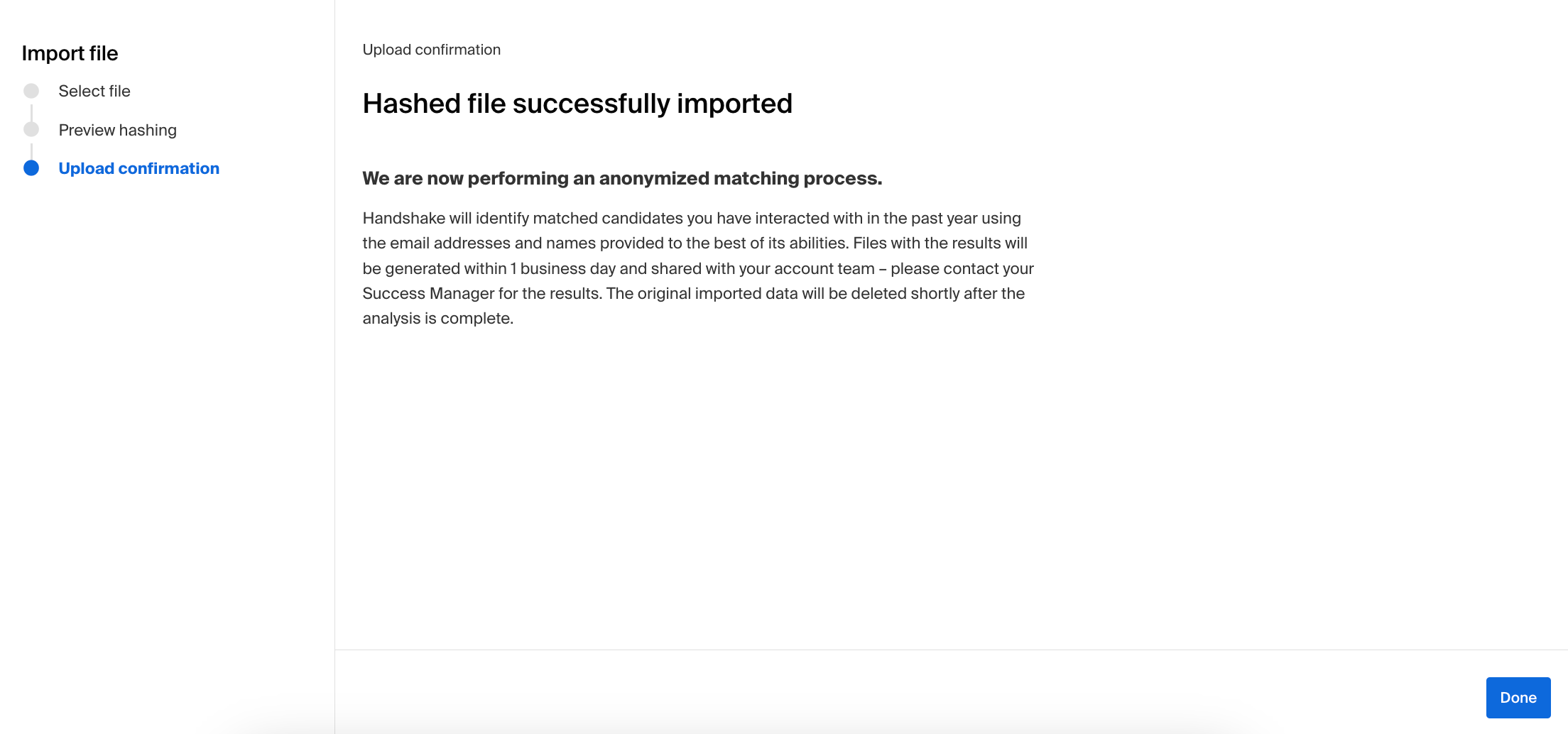 To ensure that employer-provided hashed data is not stored in perpetuity, Handshake regularly deletes all uploaded files.
How Handshake anonymises candidate data
Once you have prepared a file with a list of applicants and have validated its format, Handshake will anonymise all fields in the file that could be used to identify the exact candidate. Specifically, Handshake will run an SHA-256 hashing algorithm on the First Name, Last Name, and Email fields in the file. This process will transform plaintext names and emails into 64-character hexadecimal values that are functionally impossible to decrypt.
As an example, "John Doe" would read as "6cea57c2fb6cbc2a40411135005760f241fffc3e5e67ab99882726431037f908" after hashing. You will be able to view a preview of these hashed values for verification before any data is transferred to Handshake. 
File validation and hashing take place in your browser on your computer. Handshake does not receive any data from your local system until after hashing and you explicitly click the button to upload. 
What happens to your hashed data after it is uploaded?
Handshake will start matching student/alumni accounts with the hashed fields. Handshake will identify the matching values produced by the hashing algorithm against its own set of hashed data, in the same way that web passwords are securely validated.
Handshake compiles an output report summarising your historical interactions with the matched Handshake accounts in the past 24 months. This output report is emailed to your Handshake success team.
Once the above process is complete, the original hashed file is deleted from Handshake's system. Handshake keeps the original file for only as long as needed to match Handshake accounts. Unmatched records are never shared or stored.