Please note: Employer-hosted Meeting Scheduling is part of the Virtual Events Module - if you do not currently have this package, check with your Customer Success Manager for more information! Premium features are for Handshake Premium accounts only. For more information on our Premium offering, please check out this resource!
Scheduling employer-hosted meetings is a great way to connect with students/alumni following an event or fair!
Within the Scheduling tab, you'll be able to see existing schedules by using the tabs Active, Expired, or All, as well as create new schedules quickly.
Topic Menu:
Create a new schedule
1. Click Scheduling from the left menu column, then click Create schedule in the upper-right corner of the page.

2. Fill in the details for schedule creation:
Hosting Details

Handshake Virtual Session: using Handshake Video
External Virtual Sessions: add video links to the sessions once created

Type of Session

Quick Screen - 15 minutes
Quick Screen - 30 minutes
Interview - 45 minutes
Interview - 60 minutes

Day of Meeting
From & To start and end times
Timezone
Details for students

Block Title
Block Description
3. Click Submit in the lower-right corner of the page to save your schedule.
Managing a schedule
Once the schedule has been created, the Block Title and Block Description may be edited by the creator by clicking Edit Schedule in the upper-right corner of the page. Other details (day, time, video hosting, etc.) may not be changed. If these need to be changed, you'll need to create a new schedule.
Sessions may only be managed individually. To access the manage menu, click the three dots to the far right in the session row. Schedule creators and interviewers will have slightly different managing capabilities.
Schedule creators
Schedule creators will be able to:
Add an interviewer or Change interviewer
Invite a candidate
Mark session unavailable
*Add video link (if the schedule is hosted externally)
Creator menu options prior to an interviewer and candidate being added:

Creator menu options after interviewer and candidate have been added:

*If the schedule is being hosted externally, creators may add a video link:

Note: once a link has been added, it will disappear from view and location will appear blank, however, the interviewer is able to see this link!
Interviewers
Once an interviewer has been added, the interviewer will be able to access the edit menu with the options to:
Cancel Meeting (only if the session has been taken)
Invite or Remove a candidate
Change Interviewer
*Add video link (if the schedule is hosted externally)
Interviewer menu options prior to the session being taken:

Interviewer menu options after a session is taken:

If the session is hosted externally, the interviewer may add a link:

Once the link has been added, it cannot be changed:

Launching a scheduled session
Interviewers will be able to launch video up to 60 minutes prior to the scheduled start time to test audio/video quality.
Some employers may have particular settings to adjust (such as permissions or whitelisting), which you can read more about here Handshake Video Requirements & Troubleshooting (Employers).
When the interviewer is ready to launch Handshake Video, click Launch Video in the Location column.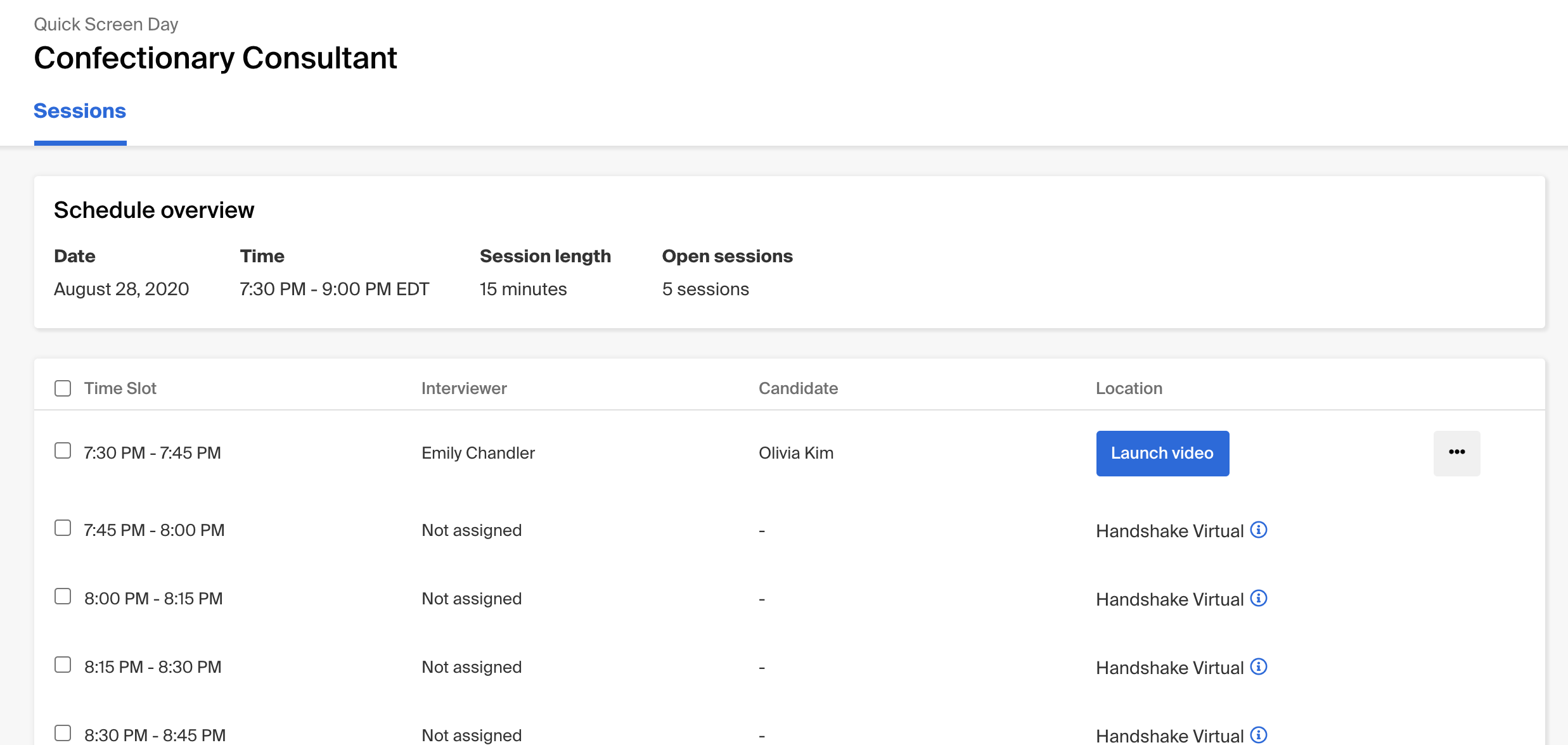 Click Join Now to launch the session.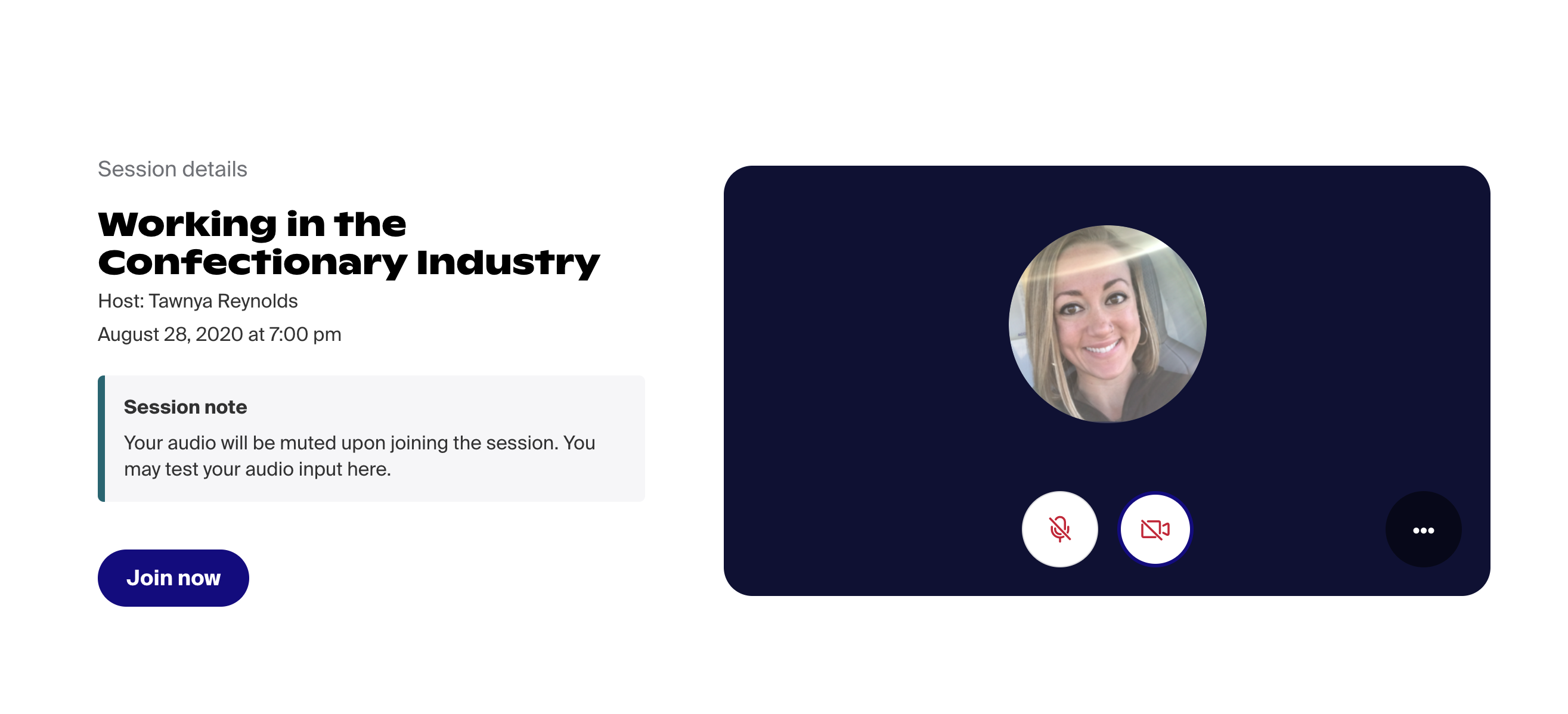 Audio and video settings can be adjusted (and problems can be reported) prior to joining by clicking the three dots menu in the lower right of your picture or video.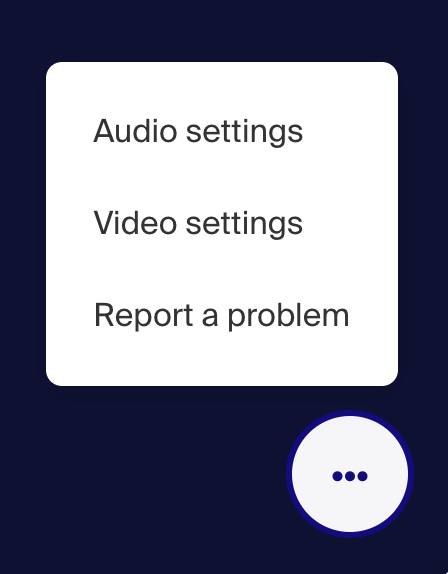 This same menu can be accessed via Settings in the lower-left corner of the window once the session has been launched.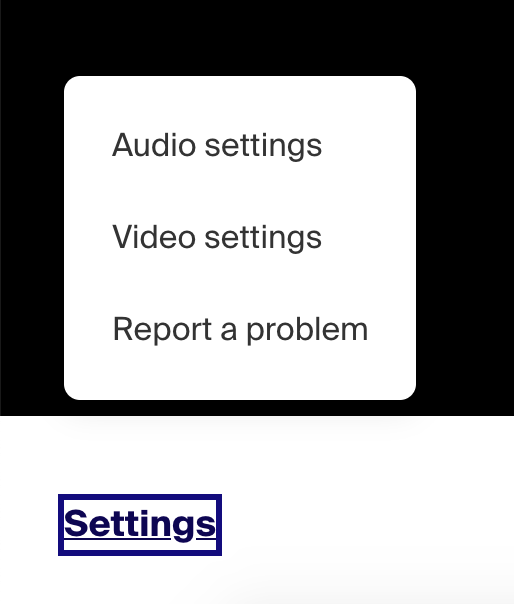 To share your screen in the session, click the desktop computer icon, to the right of the video icon. You'll be able to share your entire screen, a specific application window, or a specific browser tab.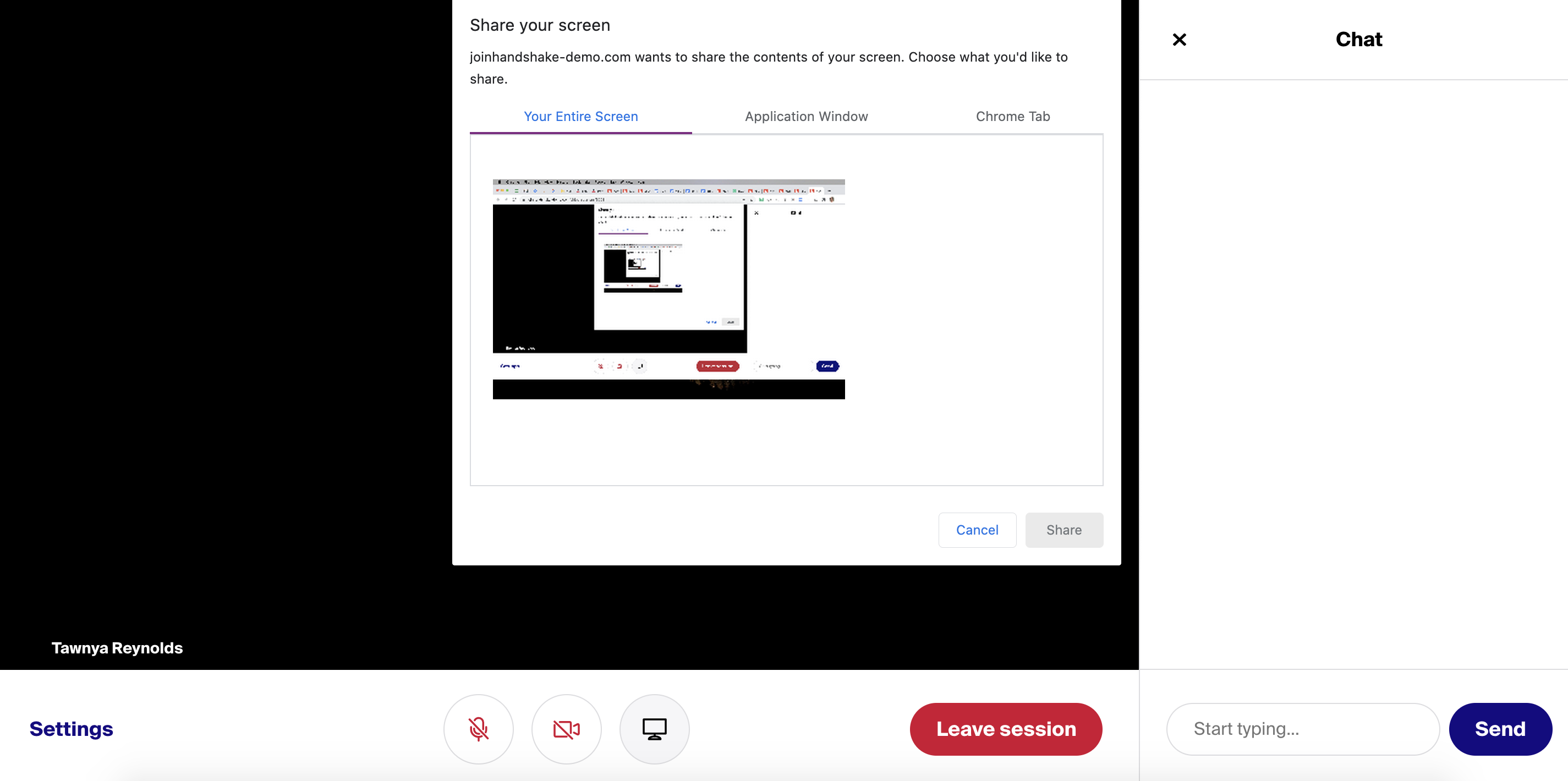 When you're ready to end the session, click Leave Session, then End Session for All.