Creating a staff file is the fastest way to upload and update your Career Services staff in your Handshake system. To upload a data file, you have to ensure it is formatted correctly. This article will help you understand what the different fields are that we can upload into Handshake, and how the entries must be formatted.
To start, download the SAMPLE FILE linked in this article - it includes all the different fields you can use. You'll notice that each field has it's own column - make sure that the the headers match exactly! If a header isn't the same in your file as in our example, Handshake won't be able to identify it and it will be ignored! We recommend that you copy and paste from the example file into a blank excel sheet to ensure the formatting of your headers is correct.
Required Fields: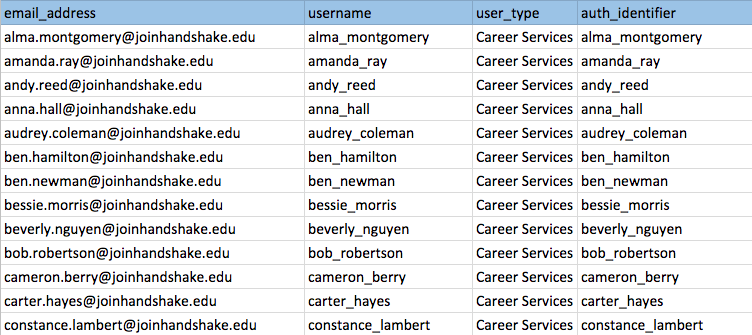 Every staff file you upload must have these four fields (five if you're adding new users). Let's talk about each of them.
email_address: This is what a student uses to login using Handshake authentication. It is a required field and most file imports will require the email address. The email *must* be unique within Handshake - it cannot be duplicated.
username: This is the identifier that your school uses. This should be 100% unique and unchanging. For some schools, this is the same as email, while other schools it is the card ID or UID.
user_type: This field will always be "Career Services" for a staff file. Easy! But please note that it must be capitalized and plural!
auth_identifier: This field is whatever students use to sign in to your Single Sign On system. If you aren't using SSO, this should *NOT* be included in your file.
Note that an auth_identifier must be unique to your school; A staff cannot have their auth_identifier on both their student and staff account.
first_name: The staff member's first name. This field is required for new Career Services profiles.
Recommended Fields:
These fields are recommended, but not necessary. You can choose which ones to include, and the list below will give you some information about each one. The more fields you include, the more detailed your staff member's profiles will be upon first log in! You can always include these with a later file upload, enter them in manually, or have your staff update these fields themselves.
last_name: The staff member's last name.
preferred_name: The staff member's preferred name. Do NOT include last name as this will cause duplicates.
middle_name: The staff member's middle name
bio: The staff member's bio
mobile_number: The staff member's phone number.
role_names: The different roles (or permissions) you'd like to give to each user. The list of accepted role values is listed below. You can include as many of these roles as needed for each staff member, but if you are including multiple roles, they will need to be formatted as a semi-colon separated list. If you want to learn more about how roles function in Handshake, check out this article.
Applications: The "Applications" role grants permission to do all actions off of the "Applications" tab, including signing up students for interviews, accepting them for interviews, extending job offers, and downloading resumes.
Career Fairs: The "Career Fairs" role grants access to all the features of the "Career Fairs" tab. It allows users to register for Career Fairs, as well as pay invoices for attendance.
Events: The "Events" role allows school staff members to post, approve, delete, and edit events. All school staff users can view attendee lists for events and open check-in kiosks. Only users with the "Mass Emails" role can send mass emails to event attendees.
Interview Schedules: The "Interview Schedules" role allows school staff members to use the features of the "Interview Schedules" tab. This includes creating, editing, and approving interviews. They can also assign students to interviews and put both students and recruiters into interview time slots.
Jobs: The "Jobs" role allows school staff members to use the features of the "Jobs" tab. This includes the ability to approve, decline, edit, and post jobs. Edits to a job only affect the version of the job posted at your school. Employers retain control over the original job, which can be posted to many schools.
Manage Employer Page: This allows for users to edit information on the company profile, such as description, logo, industry, social media, and other information that provides additional information and legitimacy to the company profile.
Manage Labels: The "Manage Labels" role allows company staff members to create new labels for applicants.
Manage Staff: The "Manage Staff" role allows users to change the roles of other staff members within the company and which permissions have been granted.
Posts: The "Posts" role allows staff members to post statuses for their school.
Request Access to Schools: This permission allows for the user to request approval for the company to post jobs, events, and attend career fairs with a new university that the company is not already connected to.
View Student Profile Photos: This will allow for a student's profile photo to appear, and by turning off this permission, a student's information will only show on the profile, and their picture will be removed.
How to Upload your Staff File:
Once your file is prepared, delete any instructions so that the fields are the top row.
Click File > Save As > CSV.
Use the importer tool to upload/edit your appointments.
You will want to use Job Type = staff.
Inviting Staff to Handshake:
Once you've uploaded your staff into Handshake, they'll be provisioned with Handshake accounts. However, we will NOT send any communications to your staff telling them that they have an account. This will allow you to upload all of your staff at once and then roll out access on your own schedule. When you're ready to have your staff log in, you can direct them to follow these steps to access their accounts...
Navigate to your Handshake login page
Enter your email address (do NOT use the SSO option)
You'll be prompted to set a password and then be given access to your account