To ensure that your school's appointment settings are properly configured for drop-ins, we've included some configuration tips below to ensure a seamless student experience.
The Student Experience
This is the Check-in Kiosk login screen, where username or email address can be entered. A Check-in Kiosk can be enabled by going to Appointments > Check-in Kiosk > Launch Check-in Kiosk
Next, a student will see a What are you checking in for? page. This will show Appointment as an option, and any events you may have coming up.
After selecting Appointment, students will see an option to select Drop-in Appointment. This will also show any scheduled appointments this student has.

Next, students will need to choose an Appointment Category.

In order for a category to appear here, it must contain Appointment Types with 'Drop In Enabled' checked. In this example, we'll click School of Business.
In this example account, the appointment categories Alumnus and School of Business are the only two Appointment Categories in school settings that contain Appointment Types with the Drop-in Enabled? box checked.
Any appointment type that is drop-in enabled but does not have an appointment category specified will be listed under "All Appointment Types". If you do not want this option to show, make sure all drop-in enabled appointment types have a category.
Students will then need to choose an Appointment type. Again, the Appointment Types listed here will be associated with the category that they chose in Step 4, and must have Drop-in Enabled checked.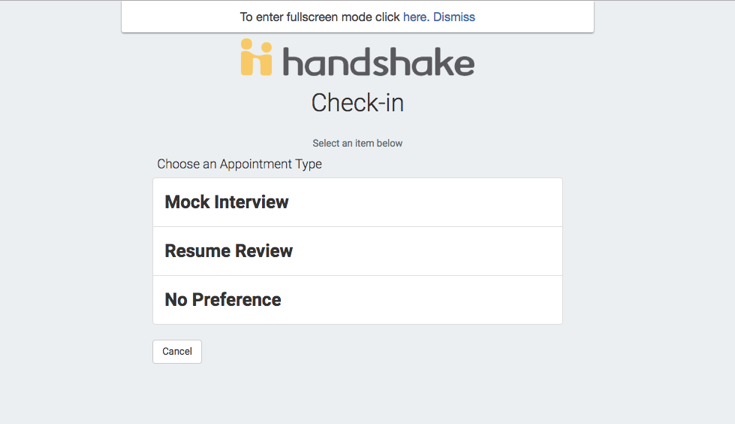 After the Appointment Type is selected, the check in process is complete!

The Career Services Appointment Settings Experience
Now, we'll review the school settings needed to achieve the student experience above.
To access your Appointment Settings, click your name > School Settings > Appointment Categories.
Each category has associated appointment types. To view/edit the types associated with a category, click Edit next to the Appointment Category. In the example below, we've clicked Edit next to School of Business. In this example, the types Mock Interview and Resume Review have Drop-in Enabled. So, in step 5 above, they will show in the Check-In Kiosk. The Drop in NOT enabled Test Appointment Type will NOT show up as an option in the Check-In Kiosk.
Next, we'll visit the settings for Appointment Type. These are in School Settings > Appointment Type.
If we select Edit next to the Mock Interview Appointment Type, we'll see the that this Appointment Type is associated with the School of Business Appointment Category AND the Alumnus Category., and that it's Drop-In Enabled. This means, Mock Interview will appear as an Appointment Type in the Check-In Kiosk if a student selects Either School of Business or Alumnus as their Appointment Category.
Note: If you're having trouble with the kiosk logging you out, check out these two helpful tips!
If the kiosk is logging you out after a few seconds...When you launch the check-in kiosk, make sure you don't have any other Handshake tabs open. If you find that you do, close them immediately. If you leave the "Keep me logged in" box unchecked when you launch the kiosk, any additional open Handshake tabs will get logged out and cause the kiosk to shut down after a few seconds.
If the kiosk is logging you out after several minutes...If you are experiencing this problem, you'll want to make a quick change when you're first logging into Handshake as a whole. After you've entered your email address on the login screen, you'll be taken to a screen to enter your password. Below the password box, you'll see a checkbox that says "Keep me logged in". Check it. By default, Handshake will log you out of the system after a certain period of time for security purposes. Checking this box stops that from happening and will allow the kiosk to continue running. If your career services team logs in using SSO, consider setting up a non-SSO password to log into Handshake - our Support Team will be more than happy to walk you though this process.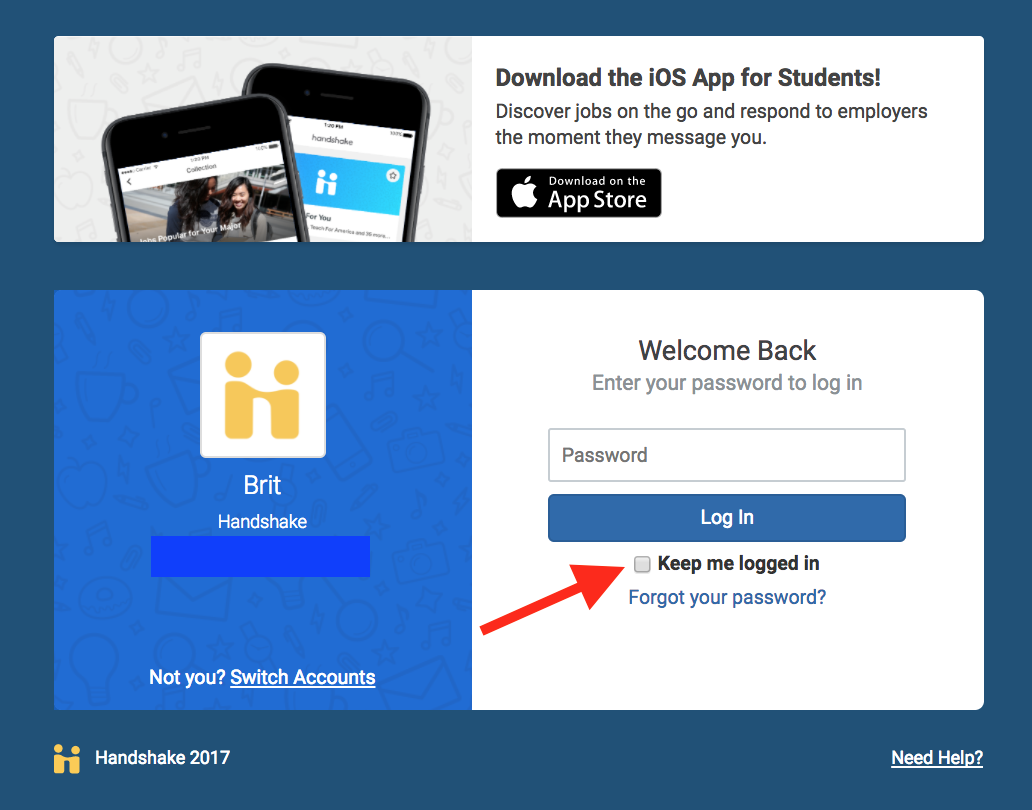 The Waiting Room
The waiting room is a way to keep track of the students that check in for drop in and scheduled appointments. When a student checks in for an appointment they will be added to the waiting room in the order that they check in, separated by scheduled and drop in appointments. To start an appointment with a student in the waiting room click Start Appointment. To cancel a drop in appointment with a student in the waiting room click Cancel Drop-in.
Handshake recommends that you keep the waiting room open in a separate tab when you are taking drop in appointments. If you have a place to have the waiting room visible in the lobby of the career center, it is a great way to let students know where they are in line for appointments.

To open the waiting room:
Click Appointments on the left navigation bar
Click Waiting Room from the tabs at the top of the screen




Example of the waiting room:


The waiting room will refresh every 10 seconds to help ensure that you know when your next appointment has arrived!