A flip flop (or back to back) schedule is where the employer would like a student to see two different interviewers during their time on campus.
In Handshake, this process looks like this:
A student signs up for one interview slot but is seeing two different interviewers. 
Halfway through the interview slot, the student switches rooms to interview with the other recruiter.
This works well for the student signing up for the slot as they know how long they will be at the interview and what room they will be going to in order to start the interview.
Building a Flip Flop Schedule:
1. Build the time slots to cover the entire duration of the student's time with the company. If the student is seeing two recruiters, each for a half hour, build 60 minute time slots. Remember, the student is only selecting one time slot.
2. At each time, add as many slots as you will have rooms interviewing concurrently. In this example, we have two rooms: Fisher Hall 117 and Mechanical Engineering - Engineering Mechanics Hall 112 so we have two slots at each hourlong time period.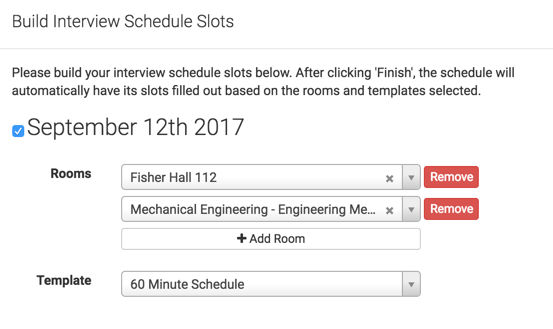 3. Sort your time slots by room, assign your Interviewers to each slot. All interviewers who will see each student should be assigned to the slot. To do this, sort your schedule by room, bulk edit the slots in each room by adding the correct interviewers in the correct order.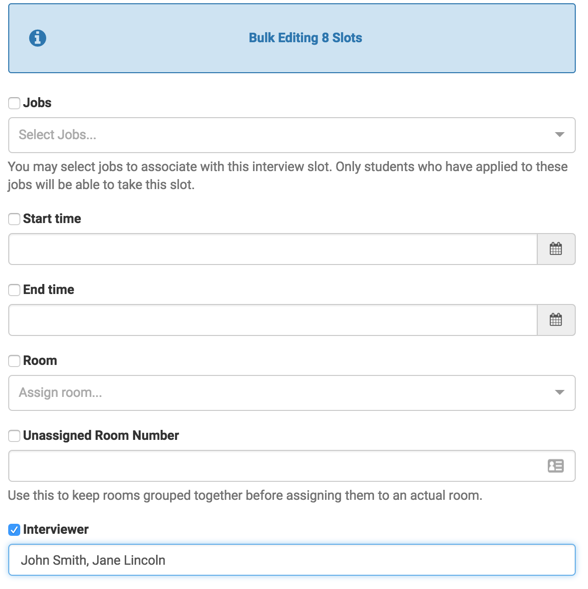 You should now have multiple interviewers in each time slot. In the example below, we have assigned two interviewers per time slot but a different order for each room: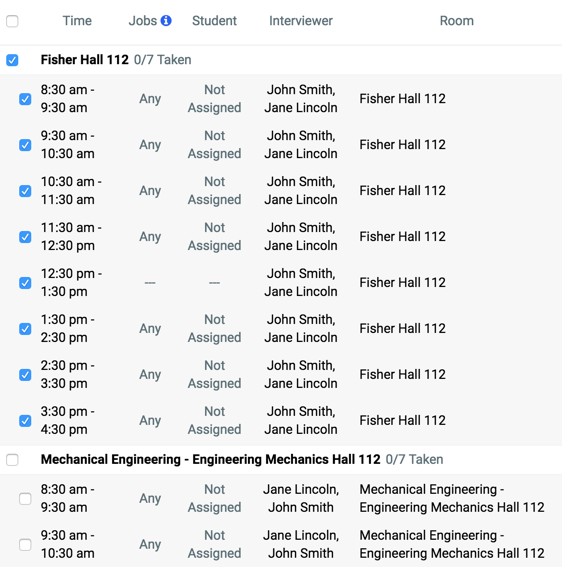 Your schedule is complete and ready for student sign up!
How to Print a Flip Flop Schedule Interview Packet:
In order to get each recruiter the list of students he or she will be seeing, you can print the schedule a couple different ways.
If you print the schedule by day, you will print all slots as they appear in the schedule above:
| Slot | Student | Room |
| --- | --- | --- |
| 7:00 - 7:30 | Student 1 | Fisher Fall 117 |
| 7:00 - 7:30 | Student 2 | Mechanical Engineering 112 |
| 7:30 - 8:00 | Student 2 | Fisher Fall 117 |
| 7:30 - 8:00 | Student 1 | Mechanical Engineering 112 |
| 8:00 - 8:30 | Student 3 | Fisher Fall 117 |
| 8:00 - 8:30 | Student 4 | Mechanical Engineering 112 |
| 8:30 - 9:00 | Student 4 | Fisher Fall 117 |
| 8:30 - 9:00 | Student 3 | Mechanical Engineering 112 |
If you print the schedule by room, you will be able to have the list of students starting in each room for their interview schedule:
| Slot | Student | Room |
| --- | --- | --- |
| 7:00-7:30 | Student 1 | Fisher Fall 117 |
| 7:30-8:00 | Student 2 | Fisher Fall 117 |
| 8:00-8:30 | Student 3 | Fisher Fall 117 |
| 8:30-9:00 | Student 4 | Fisher Fall 117 |
| Slot | Student | Room |
| --- | --- | --- |
| 7:00-7:30 | Student 2 | Mechanical Engineering 112 |
| 7:30 - 8:00 | Student 1 | Mechanical Engineering 112 |
| 8:00 - 8:30 | Student 4 | Mechanical Engineering 112 |
| 8:30 - 9:00 | Student 3 | Mechanical Engineering 112 |