About
We created Handshake communities in order to connect universities and colleges around the country going through the same processes while implementing or using Handshake. The group connects over 600 career services professionals using Handshake! We've seen community users share and receive lightning fast and high quality responses because of how amazing and supportive our users are. If you aren't a member yet, you can request to join and post to the group!
Join
If you'd like to join one of the communities, please join the most relevant community to you. It is advisable to only join one group, so please choose which label applies most directly to your stage in Handshake.
Handshake Implementation Community - Click Here to Join!
Join this group if you're currently in the process of implementing Handshake for the first time.
Handshake Users Community - Click Here to Join!
Join this group if you've been using Handshake for some time and have completed the implementation process.
Preferences
Make sure to adjust your email preferences when you join the group. When you click one of the links above to join a group, you'll be prompted with a pop-up box that looks like what is pictured below: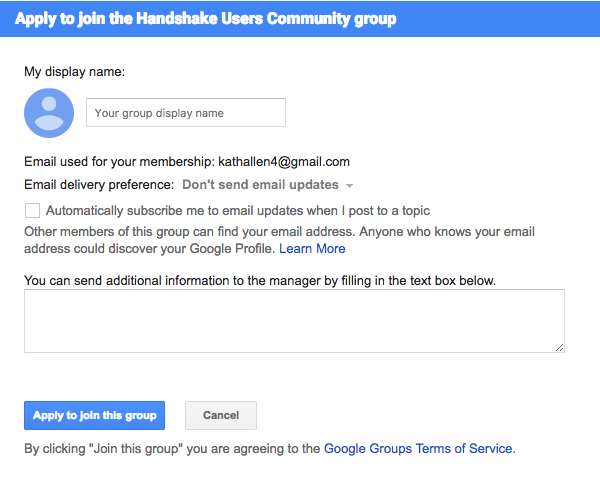 On this page, you can choose your group display name (your full name), your email delivery preference, and add a note about your school for the Handshake Communities moderator to review. Also, we suggest that you click the box to "Automatically subscribe me to email updates when I post to a topic" so that you'll receive follow-ups on threads that you create!
Changing Email Preferences
If you'd like to change your email preferences after you've already been accepted to the group, please visit this article!