You can filter your view of interview schedules by career center, if your school has multiple career centers listed in Handshake. 
Pro tip: you can check to see if your school uses multiple career centers by going to your school settings, then look for Career Centers. If you only have one career center then you will not see the option for Career Centers. 
To view your interview schedules at a specific career center, first select Interviews in the left hand menu.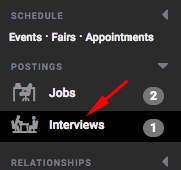 Your view will default to all career centers, but you can change the view by selecting Edit This.

Selecting Edit This will allow you to choose the career center you'd like to view. 

Troubleshooting tip: If you are attempting to edit the room availability but are unable to, make sure you have chosen a career center. You cannot edit room availability while viewing All Career Centers in Handshake.