You can enter a First Destination Survey response for a student with the following steps:
1. Navigate to the First Destination page in the left-hand menu: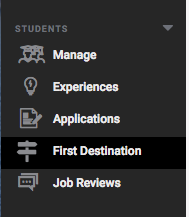 2. Select the relevant First Destination Survey:

3. The Student Tracking page will be auto-highlighted:


4. On this page, scroll down to see the Student Recipients section:

5. Select the student whose response you are documenting:

6. On the page that populates, can select the Submit a new response button:

7. Enter the survey responses on behalf of the student. 
These details are not required, but optional with that response:
Graduation Date - The date the student will be graduating or has graduated.
Education Level - The degree the student is completing or has completed.
Post-Graduation Email Address - An email where the student can be reached after graduation, so they can receive any updates about their response or further insights.
Knowledge Source- You may use this field to keep track of your source for this information. This will autocomplete with sources that have been used on other responses.
Status - Either "In-Progress" or "Submitted"
First Destination Response Type - What is the current status of this student's career outcome search? After answering this question, any additional questions for that type of outcome will appear.