Fair check-in Information and details provide opportunities to learn more about the students that have checked-in to your in-person fair sessions. You can take additional actions such as messaging students and adding labels to students as well.
This feature is available for Core Employers and Premium Partners. For additional actions as a Premium Partner, please refer to Messaging Event and Fair RSVPs.
Table of Contents:
Fair Check-in Information and Actions
1. Click on Fairs in the left navigation panel, located under the Meet section.
2. Select the fair that you've registered for.
3. Click on the Students tab.

4. You'll be directed to the list of students that have checked-in to your fair session. On this page, the student's name, school year, major, graduation date, session that they've joined, and indication on whether they've checked in will be provided.
5. You can select all students by checking the box in the top left, above the list of students. Or you can select individual students by checking a box by each students name. 

6. Once you've selected the students, you can use the top right of the students list to use any of the following actions:
Message Students
Add Label
More

Remove Label
Download CSV
Download Resumes
Download Resumes: Zip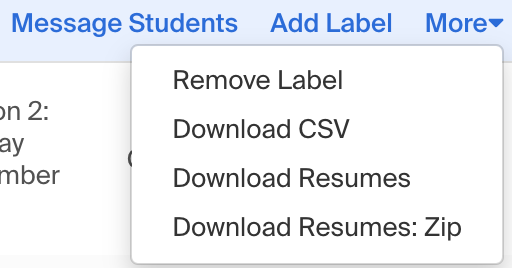 7. If you'd like to download the check-in information, click Download all check-in, located above the students list in the top right corner.

This will download a spreadsheet with the check-in details including the specific date and time that students have checked-in.
Booth QR Codes
Students must check-in in order for their information to be provided in the check-ins download. Schools will typically provide QR codes for students to scan. If a student still needs to check-in, you can print a QR code as well.
1. You can access the QR code on any tab for the specific career fair. It will be located in the top right, of the page. Click Print booth QR code to proceed.

2. A pop up box will appear. If you're hosting more than one session, you will select which session you'd like the student to check in to. Then you can select downloading the QR code as a PDF or a PNG.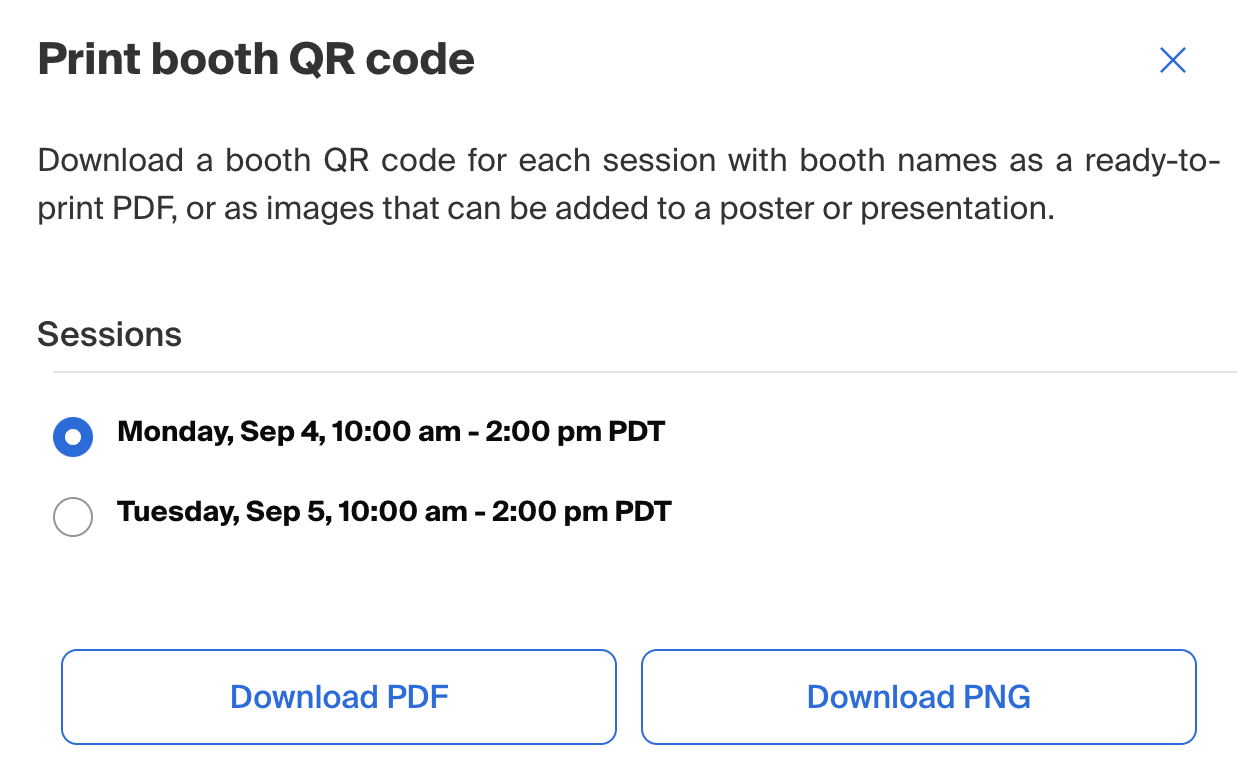 3. You will be able to print the QR code, or you can provide the QR code to the student using your device as a display screen.