Coco is an AI-powered tool specifically designed for students and young professionals on Handshake. Presented as a chatbot, Coco provides free and personalized career guidance, and is always ready to help!
Coco can help with goal-setting, planning, career research, industry information, interview prep, and much more!
Coco is an AI tool and while it strives to provide accurate and helpful information, it might not always be perfect. It's always a good idea to double-check any advice or guidance you receive!
Coco is currently in beta. If Coco isn't an option for you at this time, this means your school doesn't have the tool yet. Coco will be available to all in the future!
Access and Interact with Coco
Click Beta Coco on the left navigation menu in Handshake.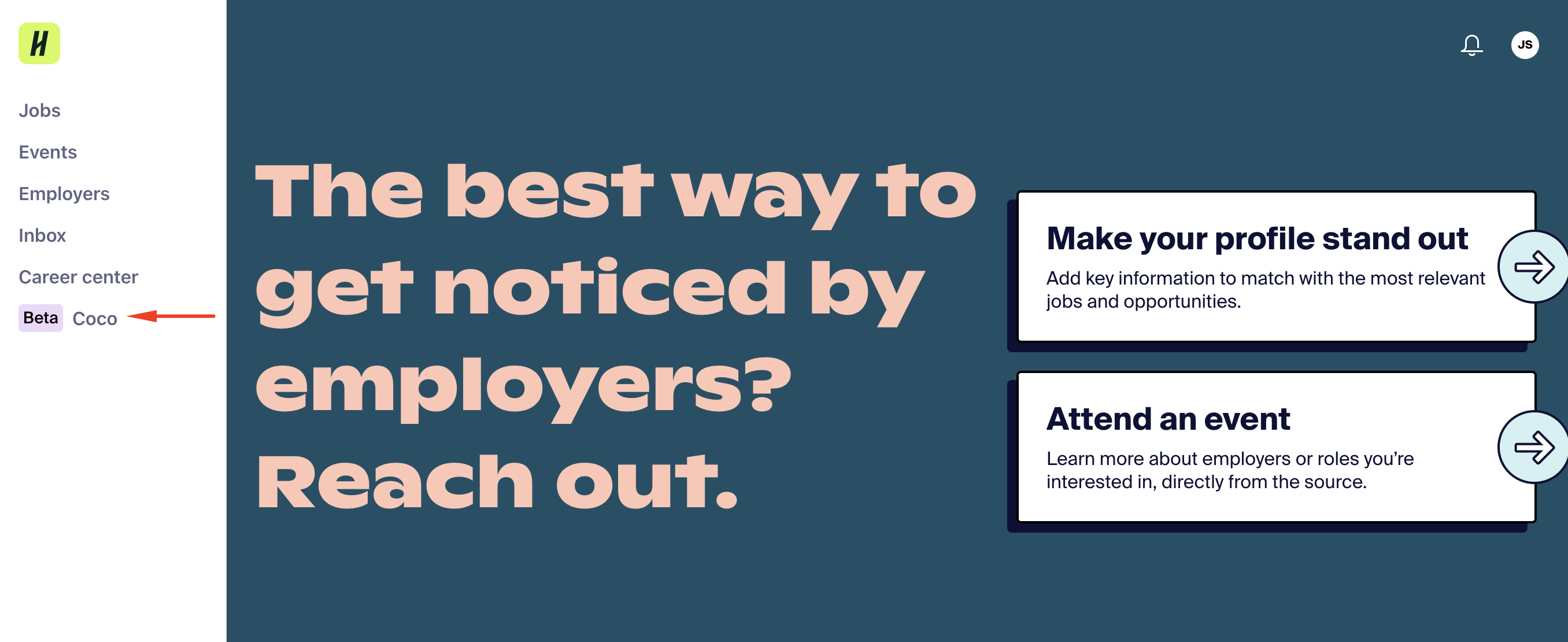 💡Note
: if it's your first time accessing Coco, a "Meet Coco" message will appear as a pop-up. Click the button
Get Started
to start exploring Coco!
By completing this step, you're agreeing to Handshake's Terms of Service and Usage Policy. For more information regarding Coco's usage and content policy, refer to
Handshake's Coco Usage and Content Policy
.
To review Handshake's Terms of Service, refer to
Terms of Service
.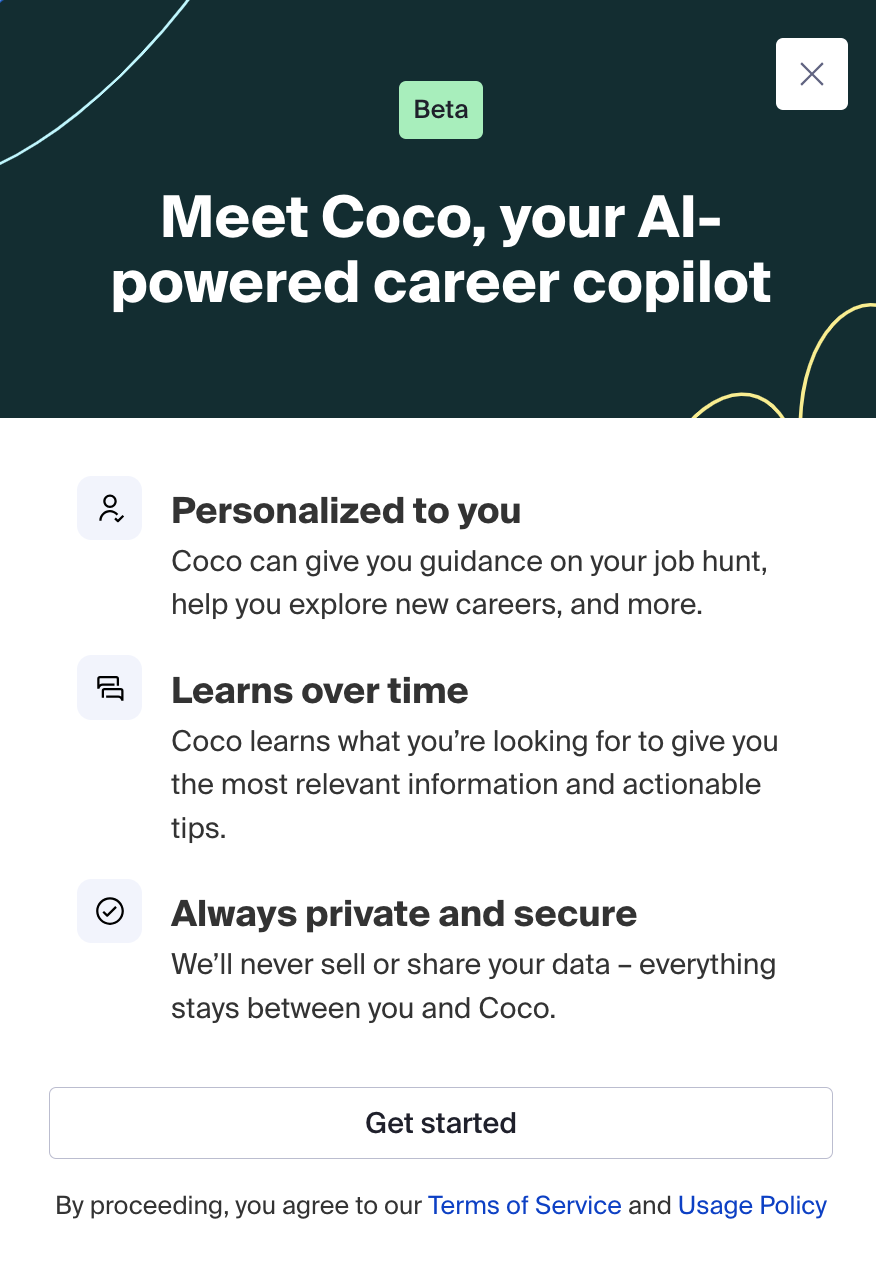 On the chat page that opens, start interacting with Coco! You may choose from one of the pre-determined conversation topics, or type your own question in the text box, located at the bottom of the page. 
If you choose one of the pre-determined conversation topics, your inquiry is automatically sent. 
If you type your own question, press the "enter" button on your keyboard, or the up-arrow located in the textbox to send.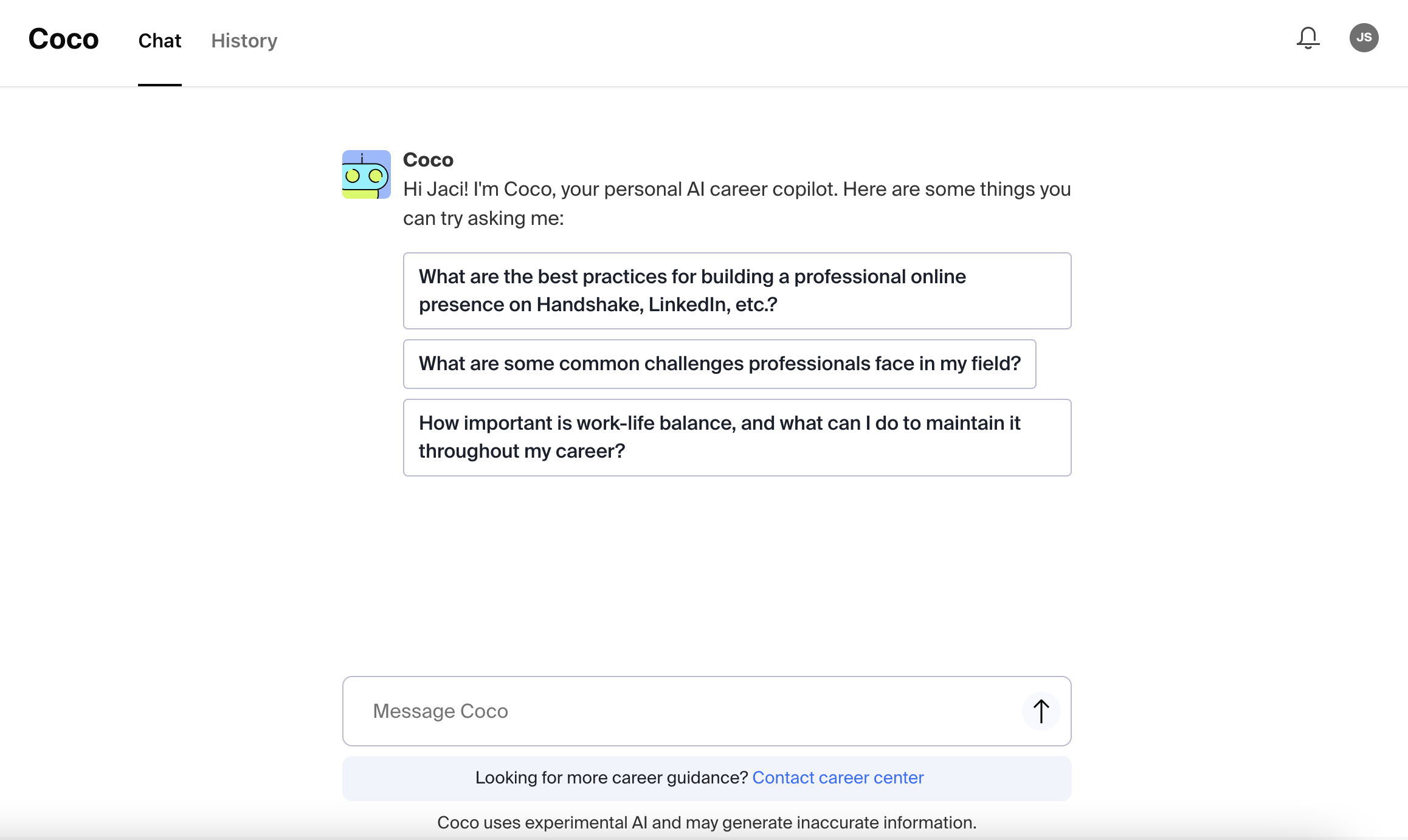 Tip: for career guidance, or to connect with your school's career center, click the blue link Contact career center, located below the textbox.
Once a question is prompted, three dots are displayed to the right of Coco's chat icon - this indicates Coco is thinking, and is about to provide a response!
Coco's response is presented in the center of the page - from here, you may continue the interaction by choosing from one of the pre-determined prompts, or by typing your follow-up question in the text box. 
One of Coco's unique features is suggestions. Each question results in a response and additional suggestions to keep the interaction evolving!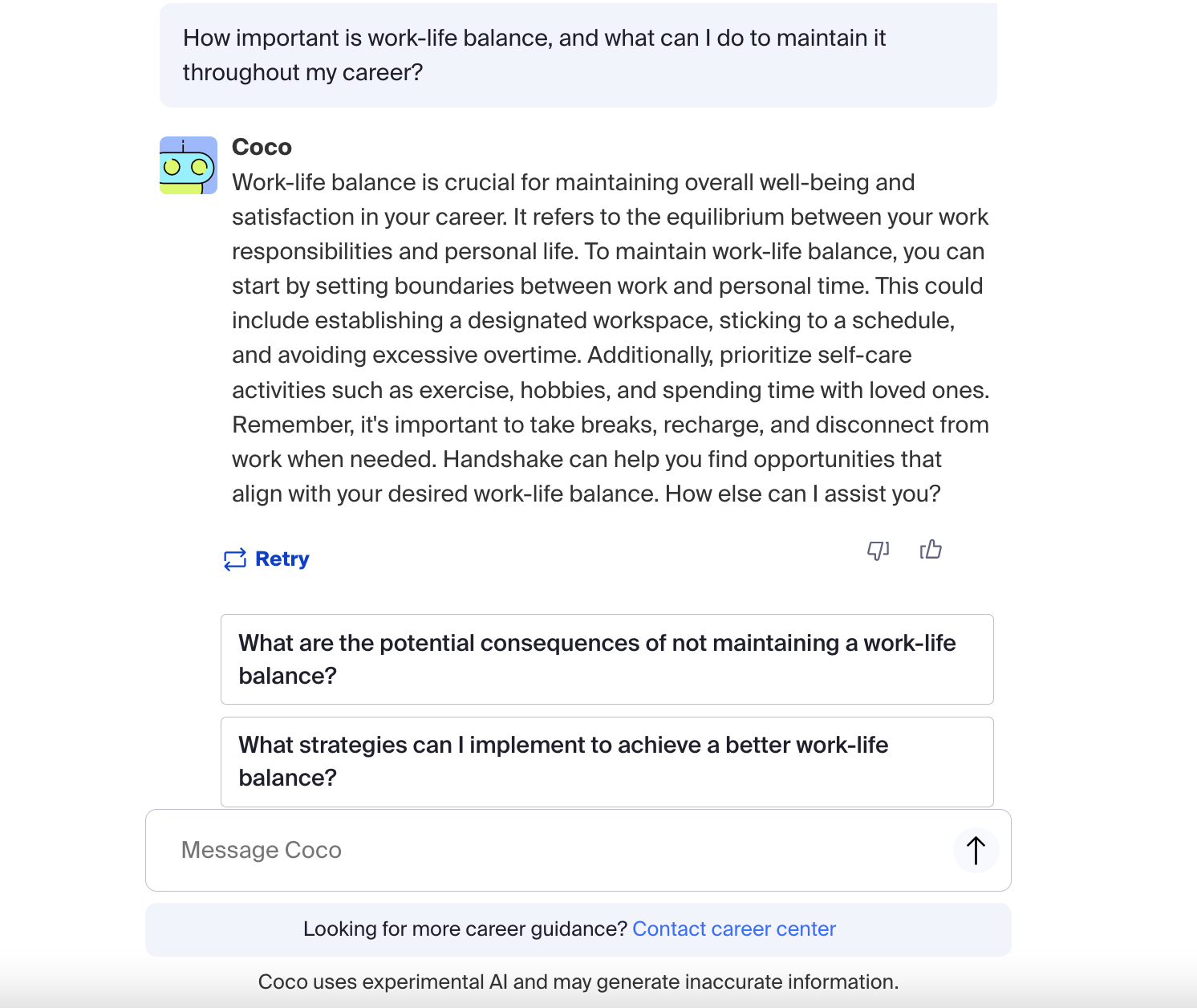 As you receive responses, you can provide feedback to help Coco understand which responses are most helpful, and which aren't - Click the thumbs up icon if the response was helpful, or the thumbs down icon if the response wasn't. 
You can also generate a new response by clicking the blue link Retry.
Tip: when interacting with Coco, remember it's designed to be helpful, informative, and fun! 
Past Interactions
To access past interactions with Coco, click on the History tab, located in the upper-left corner of the chat page. All interactions are listed with the most recent at the top.
Click on an interaction to open the conversation and review any past information.