Select Resources under the communicate section on the left hand navigation bar
This will take you to your Resource Library where you can manage the articles posted to the students at your university

Sort by

Status

of the article:

Drafting or Published

Sort by the

author

of the article to view which staff members have posted which articles

Bulk Actions on All Results

This option will allow you to send a mass email to students about multiple articles
To create a new article:
Click

New Article

in the upper right hand corner

Basics:

This step at the bottom of the screen will allow you to enter basic details about the article

Note: Pinned order will reorder the way the articles are displayed in the resource library

If no order (weight) is added, article will display in order they were created​​

Content:

You can copy and paste content from a document you have created outside of Handshake in the editor
Important note: If you're looking to upload a file for your resource/article, you can skip this step, or add any extra information you want to about the attachment. We'll add the actual attachment after we build the article - look for the section "Adding a file/attachment to your article" later in this article.
Requirements:
You can target items in the resource library to certain groups of students. You can choose who will see this article based on school year, GPA, major, colleges and labels that you have added at your institution.

Feel free to leave this blank for an unrestricted article!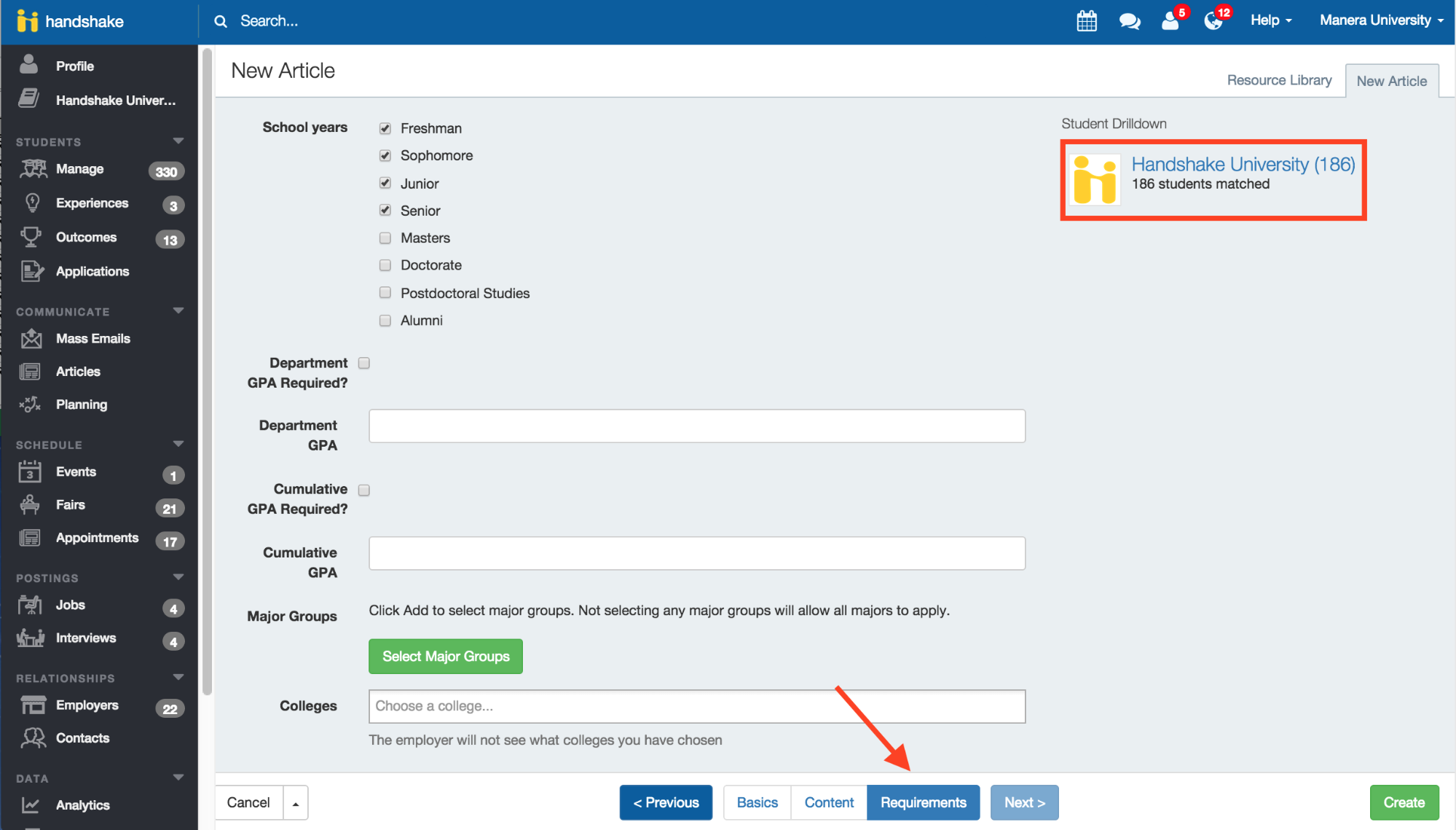 Click
Create
when you are ready to create this article, make sure in the basics section you have changed the status to Published if you would like this to be visible to students
Adding a file/attachment to your article
If you want to include a PDF or powerpoint or other file, you can do that now.
First, on the overview page for your article, click Attachments in the left sidebar
Select "New Attachment
Upload your attachment and click Create
Head back to your article - the attachment has been added!
Example of Resource library item: