As an employer, you'll likely frequently perform searches in Handshake. For example, you might find you often search for students who meet certain criteria (such as "Juniors with Advertising majors and a GPA above 3.5"). To save time, you can save your searches so you can quickly and easily repeat them in the future. Any time you conduct a search in Handshake, you're able to save that search for later use.
Important Note:  When saving a search, please be aware that you are not saving your search results. You are saving your search criteria. To save the results of a search you run, you'll need to download them just after you've run the search. If you re-run a saved search at a later date, your results will likely change as searches are always run on the current data contained in Handshake.  
There are many areas in Handshake where Employers can create and save searches. While the search criteria available will vary depending on the data you're searching, the steps you will follow to create and save a search will be similar.  
We'll use a search of Students for this example.
First, create your search:
 
Click

 

Students

 on the left hand navigation bar.
You will see on the left of the screen a list of filters you can use to create the criteria for your search (filters in other tabs in Handshake may be located on the top of the screen). Filters include items such as school year, majors, GPA ranges etc.  

Select

 the criteria for your search.  You will see the list of students change as you define your search criteria.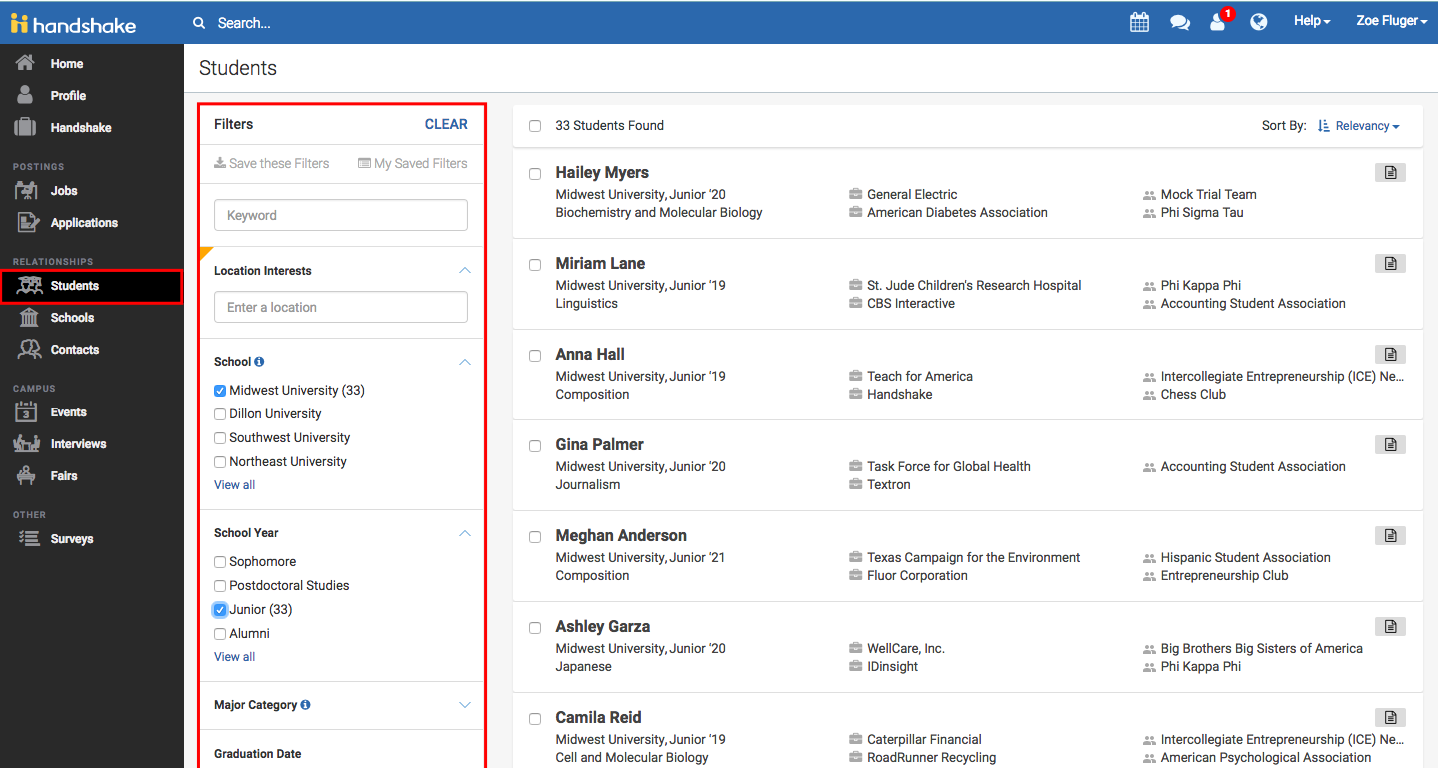 When you've finished defining the search criteria, you're ready to 
save your search
.
First, let's review how to save your search results (in this example, saving the resumes of the students who met your search criteria).​
 
Next, let's save the search criteria so we can easily run this search again in the future. Remember, by saving your search you are saving the 

criteria

 for the search, not the data the search yielded. The students meeting this criteria could possibly change from day to day.

Click

 Save these Filters towards the top of the filter box.

 


A Save Current Search window will appear.  

Enter

 a 

Name

 and 

Description

 of your search and 

click

 

Save

.

​




To conduct a saved search (one you have previously saved):
Click

 

My Saved Filters 

towards the top of the filter box.




You will see a list of searches you have saved.  

Click

 the saved search you'd like to run.

Your search results will appear.