To better inform students about what is expected when requesting a Handshake account we will be allowing career services users to add a message to the student registration page. We will be releasing this on February 15th, 2018. 
To add a User request custom message and link:
Go to your school settings details page
Add a User request custom message, make sure to include details about what is expected of students and alumni when registering for an account! 
Add a User request custom link to direct students to an external site that they need to visit before being approved in Handshake 
Add a User request custom link label to identify this link for students
Add a User request additional info label to let students know what additional information they need to include to be approved as a user in Handshake

Note: If you add a user request custom message it will appear where you see the Handshake standard message, "Your school may have already created an account for you, which is pre-filled and ready to go. This account will be registered under your school email address (your .edu email address). Please try logging in using your school email first." 

Student instruction updates:
How to sign up for Handshake will be replaced with the information below on February 15th, 2018.
To register for a Handshake account: 
To get started on Handshake go to yourschool.joinhandshake.com - this is very important so you get connected to the correct school
If your school is not currently using Handshake you can visit https://app.joinhandshake.com/login
Click

 Sign Up for An Account at the bottom of the page
Click

 the 

Student / Alumni 

button.
Fill in

 your personal information and create a password.
Tip:

  When asked to enter your email please use your .edu email address if you have one.
Please 

read 

our 

Terms of Service 

and

 Privacy Policy

 and 

check 

the

 

box

 to agree to the terms of service before you 

click 

Submit.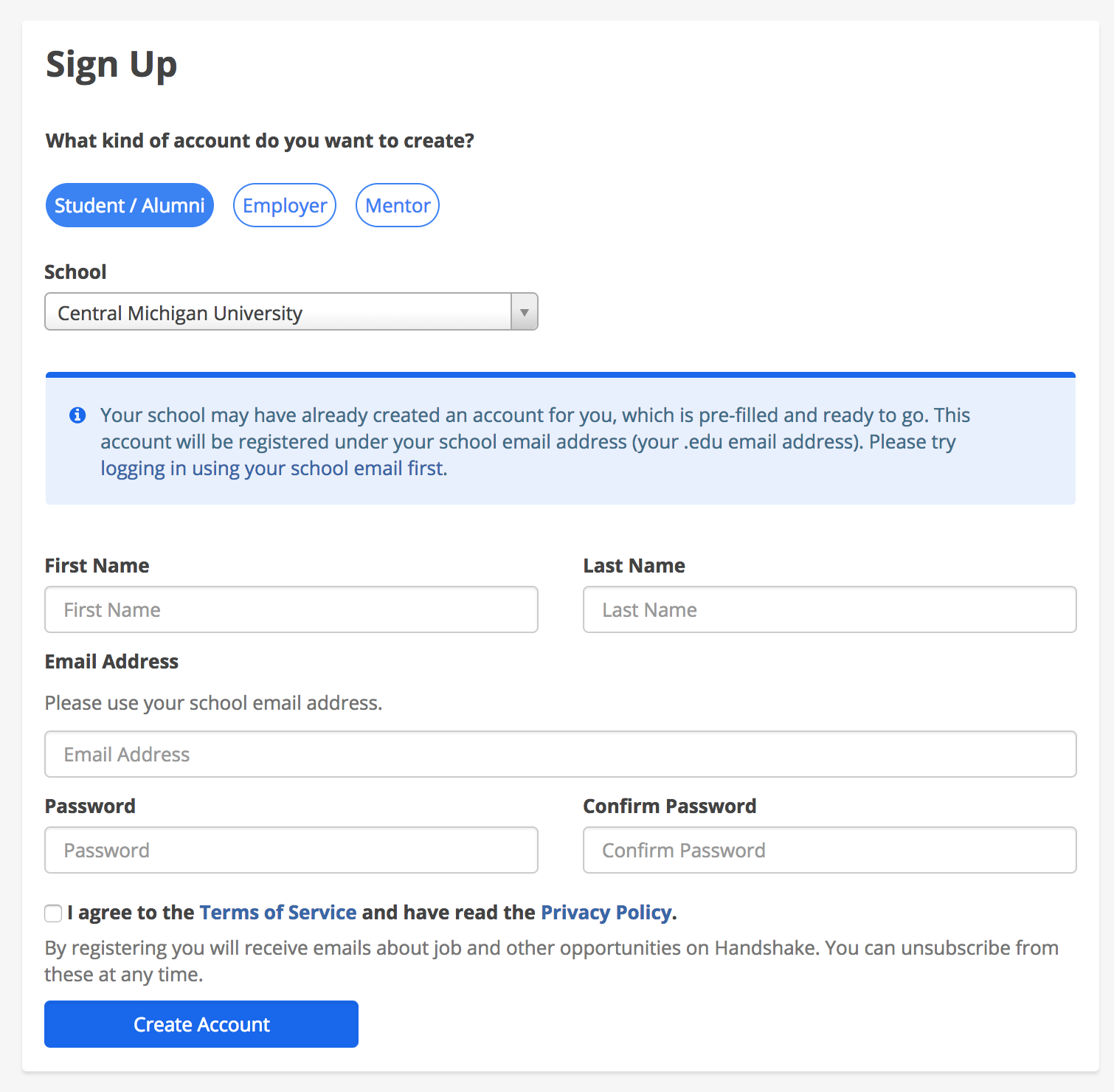 Next, you should see a screen asking you to confirm your registration.
To confirm your registration, 

click

 on the 

link

 that you received in your email.

Tip

:  If you don't find your confirmation email, please

 

check your spam folder

. 

To prevent future e-mails from being sent into your spam folder add handshake@notifications.joinhandshake.com to your contacts.
If you still have difficulty please

 

contact us here. 
Once you've confirmed your email address, you are registered as a student and may now log in to complete your Handshake profile! If you only see Fairs and your profile on the left hand navigation bar you will need to reach out to your career center to be linked to your school. Learn more about getting connected to your school here.