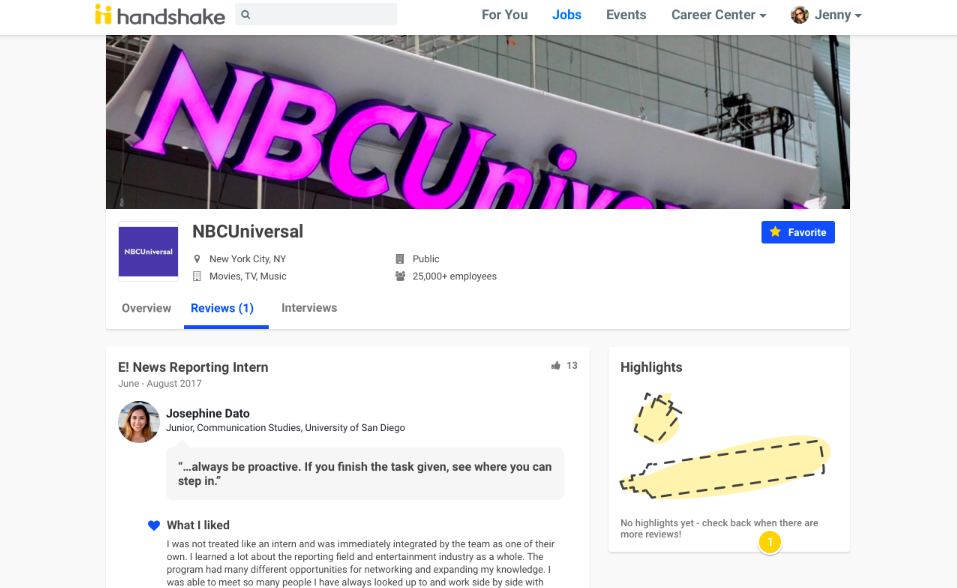 Why Reviews?
Why collect review data?

While sites like Glassdoor are already popular with students, career centers get no insight into this data. Handshake bridges this gap, and in so doing bring tremendous value to both career centers and students.

What's the benefit to students?

More informed career exploration and decision-making

Get advice specific to the companies and roles you're interested in

Gain insight into company culture, mentorship, learning etc. that is often harder to gauge

How do reviews benefit career centers?

Get comprehensive data on internship and co-op outcomes, enhancing student lifecycle reporting

Build relationships with new employers that your students love

Enhance your career counseling efforts by referencing tangible stories of student experiences

 
Collection of Reviews
How are reviews collected?

Reviews in the past, and currently, are collected via the summer experiences survey.  This survey starts with asking students "What did you do this past summer?" and allows students to select non-work experiences like "Research" and "Taking Time Off". Read more on this below.

Career Centers choose a survey send date, and on that date, Handshake emails students inviting them to fill out the survey to share their reviews.

In the future, reviews will be collected via a survey form within Handshake. You may find screenshots of the form

here

.

We send out a Summer Experiences Survey - can I collect that all in one go with reviews?

We have specifically included in the reviews collection form the most commonly asked questions in Summer Experiences Surveys

Our form starts with asking students "What did you do this past summer?" and allows students to select non-work experiences like "Research" and "Taking Time Off"

All of these results will be easily available in Insights for reporting purposes
Content Moderation Process
Can you provide an overview of how the review process works?
Check out our separate FAQs article on Content Moderation

here

!
Reviews Status
What does "pending" mean?

The "pending" status means that a review has yet to be moderated by Handshake. This is the default status for all reviews until they have been through our moderation process. Currently only Handshake moderators have the ability to change the status of a review from "pending" to "approved" or "declined."

We aim to have an SLA of 3 - 4 business days

If a review remains in "pending" after 3 - 4 business days, it will be because the review was submitted for an employer that does not exist on Handshake, since reviews are shown on employer pages.  

Who determines the status of a review?

Handshake moderators determine the status of each review, after it has been through our moderation process.
Career Services Reviews Functionality
Where do I see my student's reviews

Your school's reviews may be found in the "Reviews" tab on your left navigation bar

Can staff receive alerts when reviews are flagged?

We do not currently have this functionality, but will circle back with our plans in this regard.

For multi-office campuses, can we get the ability to filter by schools?

We do not currently have this functionality, but will circle back with our plans in this regard.

Can career services see pending reviews? Or only once they are approved/declined?

Career Services can see

all

reviews from your students, regardless of the status of the review.
Employers
Where do employers see their reviews in Handshake?

Employers will see their reviews on their company pages, exactly as students see them. They will also be able to flag and reply to reviews on that same page.

Will all contacts at an employer be notified when they get a new review, or just one point of contact?

By default, all recruiters for a given employer will receive in-app (not email) notifications every time a new review is published.

They will have the option to opt-in to email notifications on an individual basis if they so choose. We will make this clear to them in our communications to employers and Help Center resources.

What happens if a company has chronic bad reviews? Does this impact their trust score?

We want to address instances where it appears that students are consistently having bad experiences at a given employer. Currently, we do not have a default consequence for chronic bad reviews. We also have no plans for the quality of reviews to impact employer trust scores at this time.

What if reviews are left for employers not currently on Handshake?

If reviews are left for employers without a Handshake account, we currently have no way of displaying that review in product.

However, with 250k+ employers currently on Handshake, the vast majority of reviews are attached to Handshake employers.

What if reviews upset an employer?

We've found the vast majority of submitted reviews to be thoughtful, constructive and high-quality. None of the employers we've spoken to have raised issues with example approved reviews we've shown them. On the contrary, they're excited about the ability to engage with students in new ways.

If an employer believes a review does not meet our Content Guidelines, they are able to flag that review for secondary moderation. Employers also have the ability to reply to reviews, a great opportunity to proactively address feedback and show students they are engaged and listening.
Students
How will reviews be presented to students?

Reviews will be shown on an employer's job profile and employer profile
Is there any way for a student to write an anonymous review?

Fully visible:

Display full name, photo, school, school year and major

Semi-anonymous:

Hide full name + photo, but display school, school year and major

Students can choose to share their reviews publically, or keep it private to only their career center.

For students who share publicly, they have two options:

After talking to students, the overwhelming feedback was that totally anonymous reviews were significantly less valuable. This is because some context around the reviewer is important for understanding if a review is relevant to a student. For example, an English major at a small liberal arts college may find a review from an engineering student at a large state school interesting, but less relevant to them personally.

Can students make their reviews visible only to other students and not employers

We are making it clear to students that if they choose to share their reviews publicly, they should expect that employers will be able to see it. Because even if Handshake limited access to "just students," employers could well still see their review (for example, by asking one of their interns to show them reviews via the intern's student account). We are optimizing for ensuring we do not create a false expectation of privacy by a student.

Do students at my school only see reviews from other students at my school?

Students will be able to see reviews from all pilot schools across the Handshake network. This is a core principle of our Reviews feature. We believe that harnessing the power of the network will provide a significantly more valuable experience, for students to be able to see reviews from a far broader set of employers and job functions. For example, if you are a student at a technical school in Arizona, but are interested in working in design in New York, you will likely benefit from reviews shared by design students at a school in the New York area.
Opt-In 
We're introducing an opt-in in the Reviews and Q&A form. This opt-in allows students/alumni to indicate whether they'd be willing to have other students follow-up to learn more about their experience via Handshake messaging. This opt-in allows students/alumni to indicate whether they'd be willing to have other students follow-up to learn more about their experience via Handshake messaging in the future.
Why add this opt-in?
During our Q&A collection process, students and alumni have repeatedly expressed interest in contributing more answers and further engaging with students. Students reading reviews / Q&A have also expressed the desire to follow up and engage people 1:1. 
What does this look like?
We will add this as the last question in the Reviews / Q&A form - screenshot below:

What does opt-ing in do?
We've introduced this as a new user setting, and this opt-in in will turn your setting to "allow." 
Otherwise, because we have no peer-to-peer messaging capability on Handshake right now, students/alumni will not be able to message each other.
Employer Attributes and Ratings
What are employer attributes?

Students are asked to select attributes they feel best describe their employers in the reviews survey

These attributes were generated after extensive feedback from students about what they value in potential employers

If enough students select an attribute for an employer, that attribute is shown in the "Highlights" section of the reviews tab on the employer page

Many students have shared feedback that these attribute highlights are very helpful for them to get a quick understanding of what differentiates this employer from others

In the reviews collection process, you collected star ratings from students. How are you planning on using these ratings?

Star ratings are solely for your benefit and will not be shown to students.

In our pilot, we found them to be unhelpful to students, as originally constructed on a one-to-five-star scale.

Ratings in the pilot were overwhelmingly positive - the average rating was 4.5 out of 5. They therefore provided very little signal to differentiate employers and provide value to students.

We will instead show employer attributes (as described above), that provide a more nuanced and helpful signal about what makes an employer special.