To help ensure all university partners get the help they need, we've recapped some tips on working with our Support team. We look forward to connecting with you!
Process
How does contacting Support work? Here's a general flow of the process:

Using the Contact Form
To contact support, please follow these steps:
Visit our Help Center at support.joinhandshake.com and select "Contact Support".

2. Select "Career Services" from the user type drop-down. This is very important because if you select another type it will go to a different queue! You should instruct your students or employers to choose their user type if they need to contact us directly.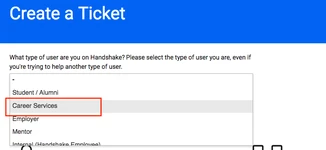 3. Enter all relevant information. If you have a question about your account, a colleague's account, a student, or employer please include their account information (email, profile link). If you're working on a report, event, survey, email, etc please include a link to what you're working on. When you get to "Question Type" here are your options:
Question: general inquiries, how-to questions
Report an Issue: if something doesn't work or is broken
Product Feedback: if you have a product suggestion or idea for us to consider. Please note if you select this option, we review submissions weekly and will only reach out if we need additional information. We share product roadmap and feedback trends in our quarterly roadmap webinars, monthly newsletter, and the Career Services Community.
4. Selecting the relevant category:
When you get to the "Category" field, please choose the category that best fits your inquiry. Please note that the "Technical Support" category is only for SSO, API, Student Sync, Importer, Past System Metrics, Kiosk Setup, or RSS Feed inquiries. 
5. Make sure to attach any screenshots of what you're seeing so we can troubleshoot faster.
6. Before your submission goes through we'll ask if one of our articles answers your question. If not, go ahead and contact us!
Checking Submission Status
After you've submitted your inquiry you should receive an email confirmation. You can view all of your submitted inquiries and their corresponding status by visiting https://support.joinhandshake.com/hc/en-us/requests 
Urgent Issues
On our contact form we ask about the impact of your issue. Please see our guidelines on how we classify time sensitive and very important issues. 
We look forward to working with you and helping you be great at using Handshake!