Students:
How to Login with SSO:
1.) Navigate to your institution's Handshake portal (yourschool.joinhandshake.com).
2.) Select the SSO login button, rather than entering your email: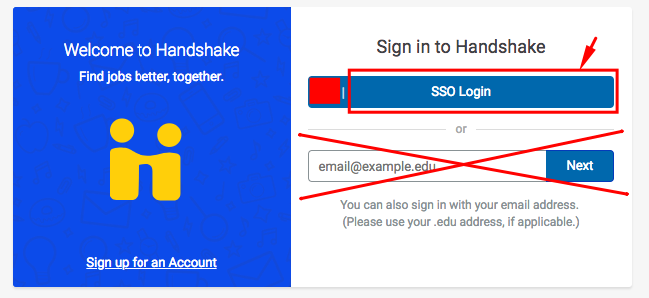 3.) You will either be:
     a.) Prompted on the same page for a username and password (your school SSO credentials) OR
     b.) Redirected to your school's SSO portal to authenticate.  Typically these credentials are the same you use for other SSO systems, email, etc.
Help! I see an error when I try to login with SSO:
If using SSO and you receive any authentication errors, reach out to your Career Services or IT teams to verify your access. 
With SSO, the username and password are stored and managed by your school, but there may also be an outage or configuration issue and they will work with Handshake's Support Team to address!
How to login if you don't have SSO access (Alumni, etc.):
Navigate to app.joinhandshake.com (or your yourschool.joinhandshake.com portal) and rather than clicking the SSO Login button, simply enter your school email address.  If your institution pre-created an account for you, use that same email address to access. 
If you're unsure of that account/email address, please reach out to your Career Services team for more details.
Career Services:
Please follow the same login flow as described for students above (should apply to staff and students). 
Any account that logs in via SSO must have an auth_identifier.  This is the only value used for SSO auth/verification.  If this value is blank or invalid on an account, you will see the message below during login: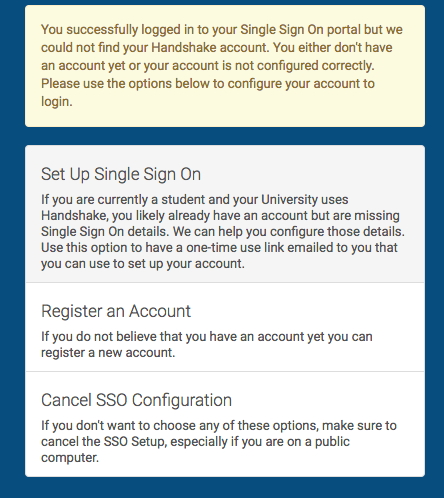 IMPORTANT: If most or all of your Career Services and student users see this screen on login, there is likely a configuration issue with SSO between your institution and Handshake, and you should open a tech support request (CC any IT or SSO contacts at your institution in this request as well).  If you are a live school, this would be considered an 'Urgent' issue.
*Also note that while students have an auth_identifier populated on their accounts via imports (student data feed), typically Career Services staff need these values manually entered on their profiles.  You can usually get the correct values for this field from your IT team if needed.
SSO Error Messages During Login:
You or your students may see an error like this during SSO authentication: 

If you are already live with SSO and this issue occurs for most or all users at your institution, the very first step would be to reach out to your IT team and see if any recent changes were made.  in some cases, a change that was made and can be rolled back temporarily until IT can work with Handshake support to align with new changes.
IMPORTANT: You can always login to Handshake with your email address and a Handshake-specific password if there is an SSO outage (If using email/password, on first login you will be taken through an email verification process and setup a new Handshake-specific password).
IT/SSO team:
Handshake SSO Configuration is now fully self-service!  If you need access to manage your SSO Preferences in Handshake (School Settings->Manage SSO Preferences), please reach out to your Career Services team to have a Handshake user account added with the 'Manage SSO Settings' role. From here you can perform common tasks such as:
-Update the fingerprint value when you roll over to a new x.509 certificate (SAML)
-Update the base URL if moving to a new CAS server (CAS)
-Update bind username/password, BaseDN, or Search Filters for LDAPS (If you're changing LDAPS IP's, we do need to whitelist these on the backend prior to the change.  More info here: https://documentation.joinhandshake.com/docs/ldap-setup)
Guides for Error Codes and Next Steps (Based on SSO auth type):