What is Q&A?
In Q&A (Question & Answer), students can ask career-related questions, and get answers from other students or alumni from any school. They will also receive targeted email digests of Q&A.
Some things to note about the Q&A email digests:
Start date: September 10, 2018 (Career Fair)
A student will receive at most 6 emails over the course of four months

There are five email digest "themes", and they are based on student interests and their school identification (major, year). The career fair digest will be sent to everyone.

Students can unsubscribe at the bottom of the emails
Frequency of email campaigns

Career Fair: Once
Employer Views: Weekly
Industry: Bi-weekly
Major: Most will be bi-weekly, the others weekly
Undergrad students at Liberal Arts Colleges: Monthly
Sample email digest

Example of Q&A on an employer's company page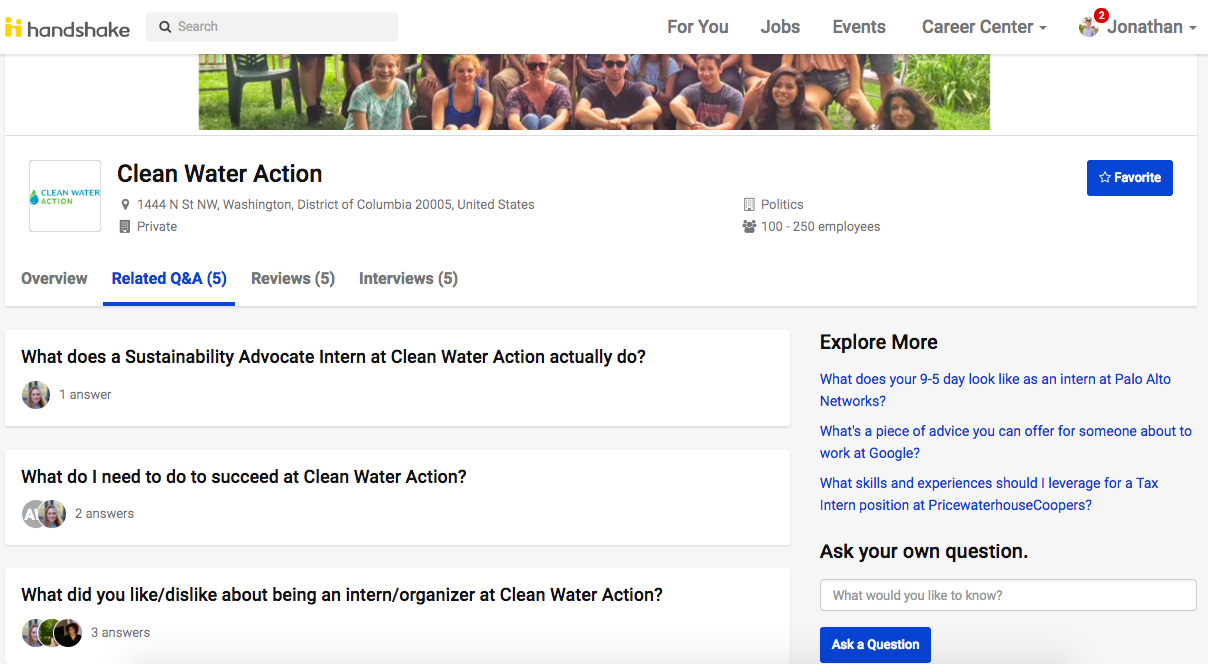 Why Q&A?
We keep hearing from students that they have questions at every stage of the job search process, but it is difficult to get helpful, contextually-relevant answers. After exploring different approaches and conducting significant user research, we found Q&A to be the most effective format to deliver a personalized, engaging experience at scale.
Through Q&A, we're able to leverage the power of the Handshake network, and share the collective knowledge, advice and experiences that our community of students and alumni have to offer.
Did you consult any schools on Q&A?
We discussed and got feedback from directors at 22 schools, including American, Arizona, ASU, Boulder, Illinois, Johns Hopkins, Loyola Marymount, Miami, MSU, Northwestern, Penn, Princeton, Rochester, Rutgers, Spelman, Stanford, Tulane, USF, UVA, Villanova, and Wellesley. We further ran a pilot at 100+ schools this past spring. Their feedback and the pilot results have directly shaped this feature.
How do you ensure appropriate content is shared?
We've done extensive work around content moderation and student privacy, in consultation with employment and privacy counsel. Our main principles for publishing Q&A are as follows:
Content would live across all schools

on the Handshake network, alumni and students

Student control of identity:

Fully Public or Semi-Anonymous (all answers would show school, year & major)

Handshake would moderate content

(see below)
All Q&A content is reviewed and moderated by Handshake moderators before it is published to ensure questions and answers meet our content guidelines:
Respect privacy: do not post personal information

Be constructive: do not ask questions or answers that are unhelpful or unrelated to helping other students advance their careers

Be honest, but don't get personal: do not ask questions or submit answers that contain negative comments about individuals

Be professional: do not post profane, vulgar, discriminatory, hurtful or illegal content

Respect confidentiality: do not post information violating intellectual property or confidentiality

Stay on topic: do not post spam
Employer FAQ's
Can employers answer questions?

Yes, in order to answer a question click on the Answers and fill out your answer which will be reviewed.

Can employers see Q&A about them in Handshake?

Yes, employers can see Q&A about them on their employer pages, exactly as students see them.
What if a question or answer upsets an employer?

We've found the majority of submitted Q&A to be thoughtful, constructive and high quality. Q&A is moderated so that content that doesn't meet the standards set in our content guidelines is not published.

Can an employer flag an answer?

Yes! Click the flag located on the answer, and then follow the directions provided.
Will employers be notified when new Q&A gets posted about them?

We currently do not have this functionality, and will circle back with plans in this respect.

Are there other (current or planned) entry points to ask questions, besides the Employer Page?


For the v0 rollout, the entry points are only on the job and employer page, specifically on the Q&A tab on each of those pages, and on the Q&A show page. We're working on a fast follow "Q&A Home" that will allow students to search and filter across Q&A; they will also be able to ask questions there as well.

What happens if a student posts a question via my Employer Page but a) doesn't mention my company, b) mentions someone else's company? Where does that question appear? Will it appear on 2 company pages? Or be re-routed to another company page?

Currently, Q&A must explicitly reference the employer for it to show up on the main Overview tab of the employer page. On the Q&A tab, we show "related questions" on the sidebar that may not have a direct relation to the given employer, but still be relevant for browsing purposes (e.g. Q&A about related job roles). If a question explicitly mentions two employers, it will be tagged with both and appear on both pages.
If an Employer has no questions, can we seed it for them with, say, the 3 most commonly asked questions?


Definitely! Similar to reviews, we'd love employers to encourage their employees or interns to participate in answering and asking.
What is the reason for not showing the originator of the question?

Students have the option to submit questions anonymously -- we want to provide an environment where students can feel comfortable to ask questions without fear of judgement from their peers or employers, within the prescriptions of our content guidelines.
Student FAQ's
How will Q&A be presented to students?

Students will find Q&A on their homepage, and on job and employer pages when relevant content is available.
How do students/alumni ask and answer questions?

Ask: students can submit questions on any Q&A page.

Answer: Handshake reaches out to students and alumni who have public profiles on Handshake and have relevant backgrounds to answer questions. We've found that both students and alumni have been very willing and eager to answer and share their advice with fellow students. We've also been excited to see that alumni from all types, regions and industries are willing to share their feedback.
Can a student ask or answer a question anonymously?

Asking: Students can choose between asking questions anonymously or doing so publically

Answering: students have two options when answering questions:

Fully visible: Display full name, photo, school, school year and major

Semi-anonymous: Hide full name and photo, but display school, school year and major

Rationale: After talking to students, the overwhelming feedback was that totally anonymous answers were significantly less valuable. This is because some context around who is behind the answer is important for establishing credibility and understanding if an answer is relevant to a student. For example, an English major at a small liberal arts college may find an answer from an engineering student at a large state school interesting, but less relevant to them personally.
Can students submit questions and answers that are visible only to other students and not employers?

No, all Q&A will be visible to other students, employers and career centers.
Do students at my school only see reviews from other students at my school?

Q&A will come from students and alumni from any school across the Handshake network. Harnessing the power of the network will provide a significantly more valuable experience, for students to be able to get insight from a far broader set of "answerers." For example, if you are a student at a technical school in Arizona, but are interested in working in design in New York, you will likely benefit from answers shared by design students or alumni from a school with that speciality. Even students at schools with broad alumni bases will benefit, because no school has a broad enough distribution by geography and industry to help the long-tail of your students who are not otherwise engaging with Career Centers.