If you would like to quickly download information about Employers for your Career Fair, follow these steps: 
Click Fairs on the left hand navigation bar
Select the Fair you need your data for
Click on the Download button in the upper right corner
To obtain this download you'll want to:
1. Click on the Fair in question
2. Click on the green "View Employers" button from the Fair page
3. Click the "Download" button in the upper right corner. In the spreadsheet download search for the survey questions you asked and you'll see the responses in the columns.
​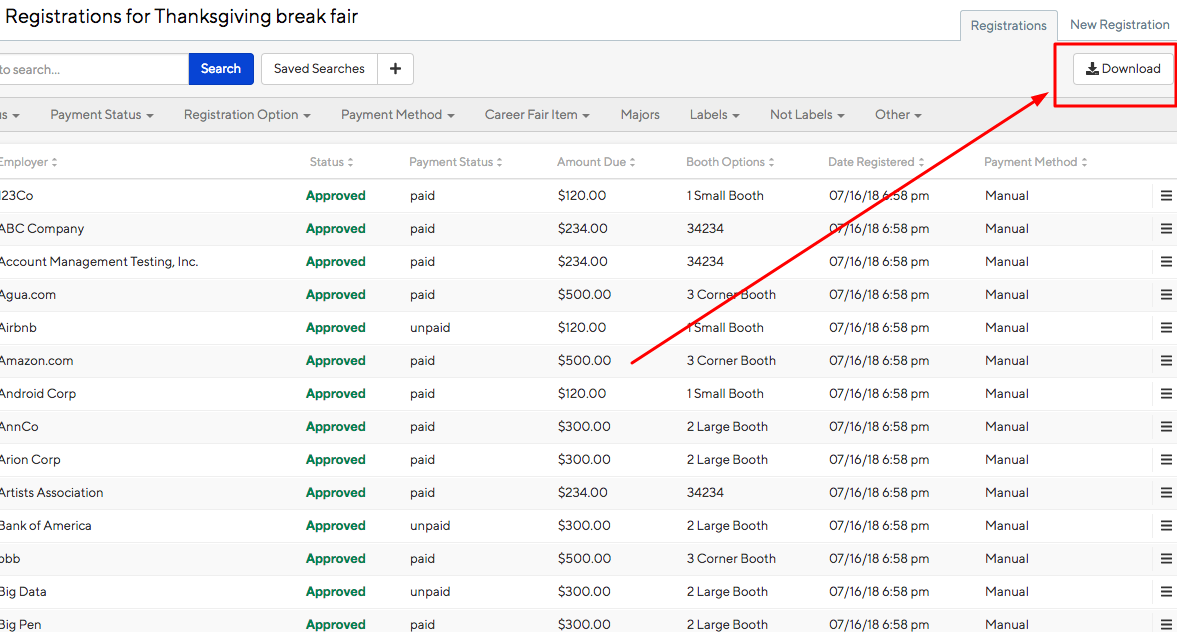 ​
This will download a report of the employer information and the following fields: 
Created Date
Updated Date
Career Fair Name
Employer Name
Employer Industry
Employer Description
Website
Division
Created By Name
Created By Email
Requested Booth Options
Assigned Booth Options
Assigned Booth Numbers
Assigned Booth Rooms
Payment Method
Registrant Name
Registrant Email
Contact Name (or Representative Name)
Contact Email (or Representative Email)
Employer Status
Payment Status
Amount Due
Total Paid
Message
Representatives Count
Refund Policy Agreement
Accept All Majors?
Employment Types
Jobs on Handshake
Job Titles
Majors
Major Groups
Combined Majors
Job Types
School Years
Located in US?
Accepts OPT/CPT Candidates?
Willing to Sponsor Candidate?
Work Authorizations
Last Change
Discounts
Sessions
Additional registration (survey) questions if added
Career Fair Additional Representatives
Career Fair Additional Tables
Career Increased Visibility
General Items