Premium partners with Event Manager have the option of setting up a Check-in Kiosk for events and fair booths.
Students can check in by entering their email address on your device or by scanning the QR code on their phone. 
Note: the workflow for both are identical and will work for on-campus, off-campus, or virtual events.
Premium features are for Handshake Premium accounts only. For more information, please check out this resource.
To setup and launch the check-in kiosk, the following items are needed: 
an active Handshake employer account with Event Manager

internet and browser-enabled devices (tablets, iPads, laptops, etc)

We recommend that you have more than one device to avoid student traffic congestion.

a supported browser

Chrome (recommended) 

Firefox (recommended)

Safari

MS Edge

an internet connection
Note: while an internet connection is required to set up and launch the kiosk, it's not required during the event.

If connectivity is slow or unstable during an event, the kiosk will continue to collect student data in offline mode.

If you've collected check-in data in offline mode at an event, you'll need to reconnect your device to the internet to sync these check-ins with Handshake.
If you shut down your device without uploading the date, relaunch the kiosk on the same device to allow the check-in data to automatically upload to Handshake. 

a paper printout of the QR code
Recommended for employers with high traffic student volume and those who cannot bring a device.
1. Click Events or Fairs from the left navigation bar in Handshake.
2. Select the event or fair you want to setup the kiosk for.
3. Click the Check-in Kiosk Setup tab. 

Click the blue button Activate check-in to configure the kiosk, if not yet activated. 

When configuring a kiosk for a virtual fair with multiple dates and times, select your registration date and time in the dropdown date and time picker above the Custom kiosk note.

Next, enter a Custom kiosk note – a custom note to display to students on the kiosk before they check-in, if desired. The character limit is 500. 

Next, choose which information you'd like to collect at check-in. You can have up to 5 required fields. Click on each respective toggle to make the field required. 
First name, Last name, and Email are auto-selected and required by default, and cannot be un-selected.
The Basic Info section also contains Course, Institution, and Graduation Date as optional fields to include.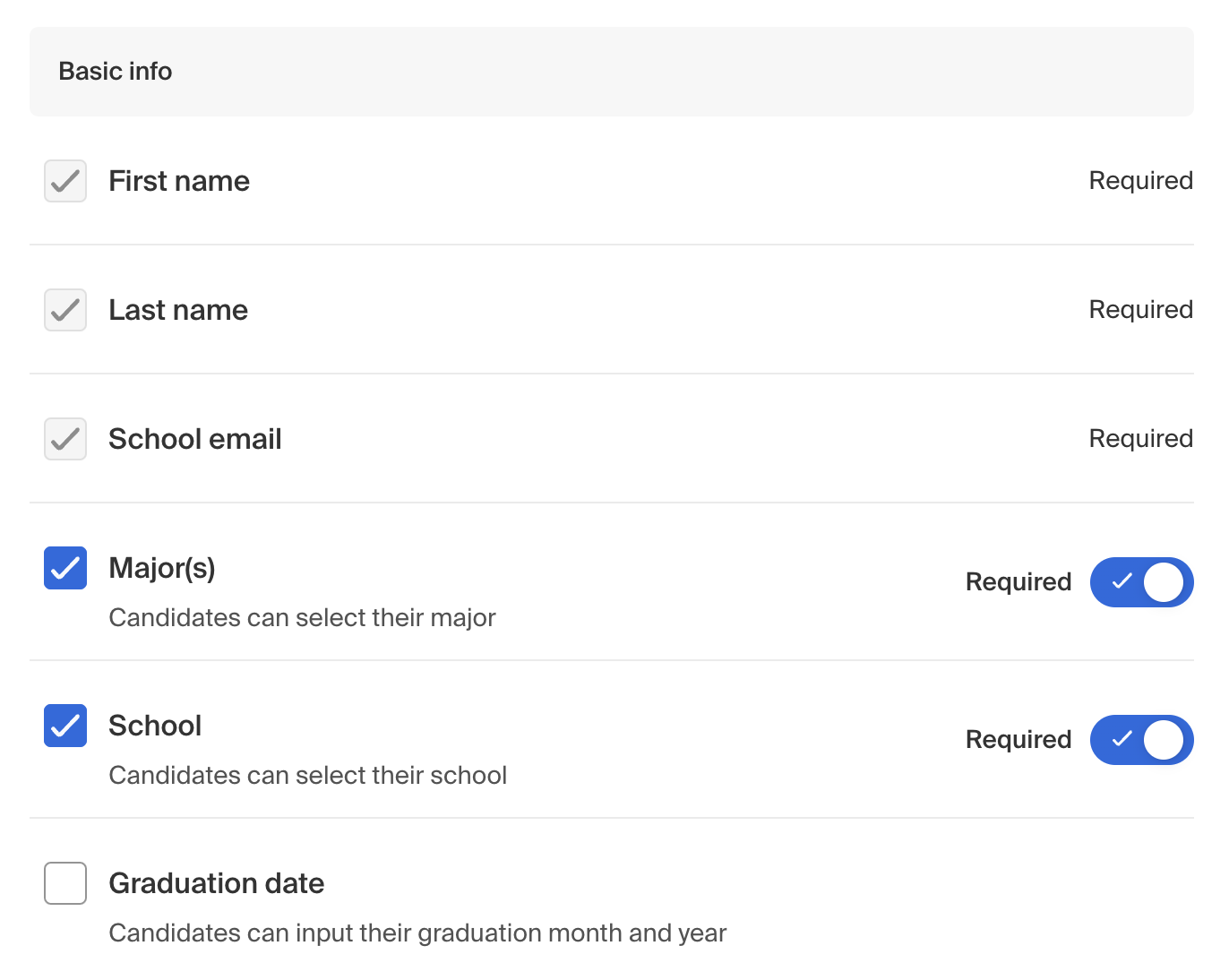 The Job Aspirations section contains Job locations, Job type, Areas of interest, and specific jobs that can be added to the form. For Job locations and Areas of interest, you can configure the responses that candidates will be able to choose from during the check-in process. 
T

ype in each respective search bar to configure responses.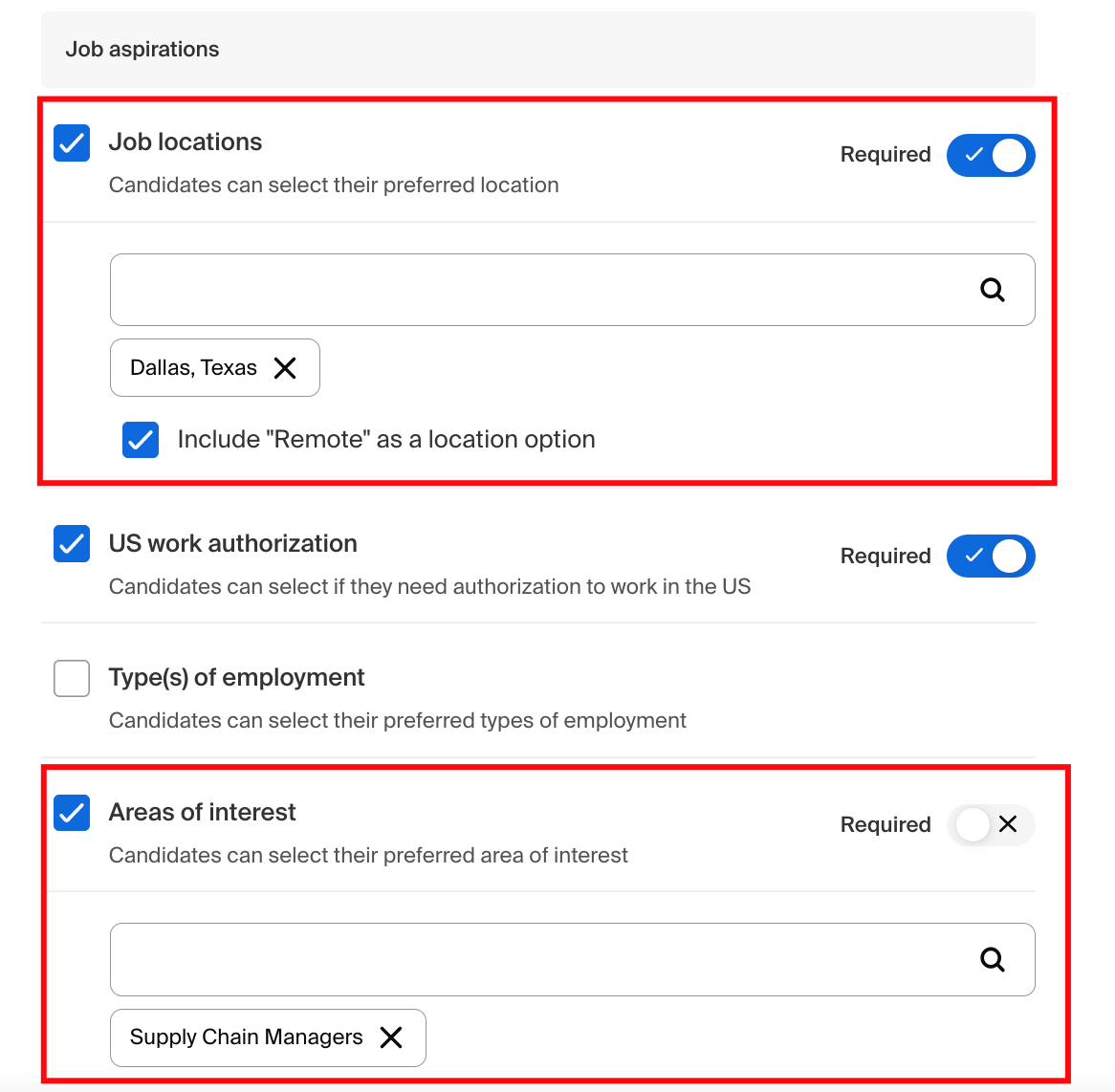 Select Include relevant job opportunities to allow candidates to express interest in relevant jobs posted by your employer on Handshake. Enter the title of the job(s) you'd like to showcase in the search bar to help refine your results. Each job will feature a unique job ID # to help identify the job(s) selected. 

The Competencies section currently has an option for candidates to select skills they'd like to add.

For in-person events and fairs, click Save to save your changes. For virtual events and fairs, click Save kiosk settings. 
Note: fields configured as either optional or required can be edited after you launch a kiosk. In this case, navigate back to the event, click the Check-in Kiosk Setup tab, update the form as desired, and re-launch. 
Before the event or fair 
Launch the kiosk, enter a test email, and confirm that students' check-ins are displayed. If you notice any problems, you should contact your Handshake POC before students begin to arrive.
It is recommended that the QR code be printed out the day of the event, and that multiple copies are available, so that students can use their own devices to check in.
To print your event QR code, click the gray button Print event QR code in the top-right corner of the page.

During the event or fair 
Always launch a kiosk even if you have QR Codes printed
While QR codes help fast-track students, a backup device with an active kiosk allows students to enter their email address on your device.
Avoid multiple browser tabs open at the same time
Make sure you're not doing two things at once on the same device. If you log back into Handshake while simultaneously trying to use the kiosk, check-ins won't be recorded.
You can be logged in on different devices — e.g. one account running on your laptop and another on your iPad.
Take Note of Participants to Follow-up With
On a separate device, log in to Handshake and navigate to the event, and click on either View RSVP List or the RSVPs tab. From this view, you can view students who RSVP'd or checked in.
Students who have checked in should display immediately. However, there may be a slight delay. If you notice that certain students aren't appearing on the list, refresh the page after 2–3 minutes.
After the event or fair
Follow up with students by sending them a message, or manage attendees with evaluations, notes, and labels to follow-up more efficiently.
Note: you can only message students who have an active Handshake account.
There are slight nuances between launching a kiosk for an in-person event or fair.