Please note: Premium features are for Handshake Premium accounts only. For more information, please check out this resource.
If you're looking to check-in students for virtual events, please see the Virtual Event Check-In Guide!
Value
Keeping track of students employers engage with on campus creates a holistic and full circle pipeline. With Handshake's event check- in functionality, students can check in to events/ fairs with their phone by entering their email address or scanning the QR code, regardless if they have the Handshake App.
Set Up Tools:
Browser enabled devices (tablets, Ipads, laptops, etc) - we encourage employers to have more than one device to avoid congestion

If using the QR code (recommended for employers with high traffic student volume and those who cannot bring devices)

Paper QR code print out enables any students to self check in with their phones, while they wait in line, regardless if they have the Handshake app

Quick check in experience
Start here! How to Create an Event on Handshake
Click on a topic below to jump to that section:
Functionality
Use the menu bar on the left of Handshake, and click Events or Fairs as needed.

Select which Event or Fair you would like to launch the kiosk for (the workflow for both are identical and will work for on-campus, off-campus, or virtual events).
Note: When you click on Fairs from the left menu column, you can filter on "Show registered only" to identify relevant fairs.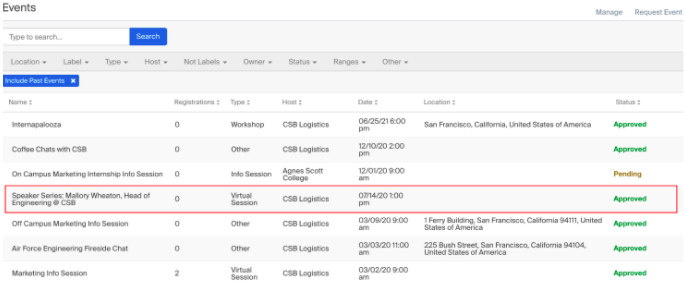 Before launching the Check-In Kiosk, we highly recommend customers to print their event QR code ahead of time. This QR can be used for any event and fair without having to check into the actual kiosk.
Be sure to print out more than one before each event and or fair.


To launch the kiosk, click on the Check-in Kiosk Setup tab.
Note: ​for security purposes, this will automatically log you out of your Handshake account. This is why the Kiosk will not work if you log back into the system.


You will get a prompt that informs you about what to do with a weak connection or offline mode. Read this prompt prior to continuing.
Note: We provide offline check-ins for locations with weak or no internet access. QR code check-ins rely on the student's mobile connection.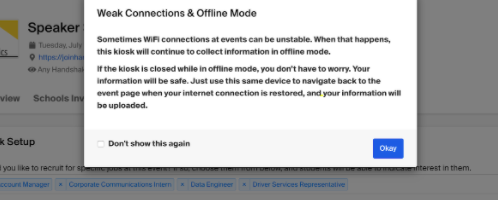 You will get the option to add jobs that you have on Handshake. This allows students to indicate possible roles they are interested in when checking into the Kiosk. This information will be downloadable for future reference but can be left blank if not applicable.
Create a custom Kiosk headline. We provide you with a default headline but encourage you to use your own language.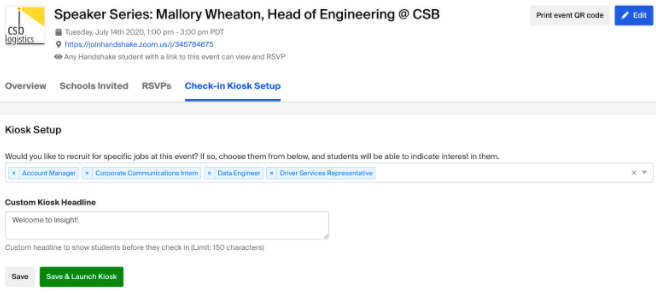 After saving and launching your Kiosk. This is what your Check-In Kiosk will look like.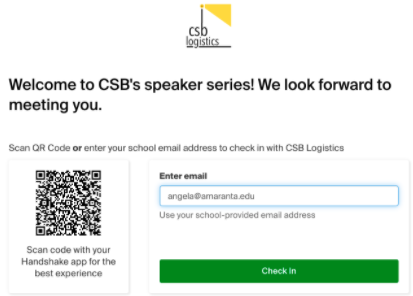 Students will be ready to check in - ensure that you have the kiosk launched on all devices present. If you are checking in students who already have a Handshake account, they can enter their .edu email address which will capture their information from their accounts.
If they are students at a non-Handshake partner school, or they haven't activated their account, they will be prompted with additional questions in order to collect their information.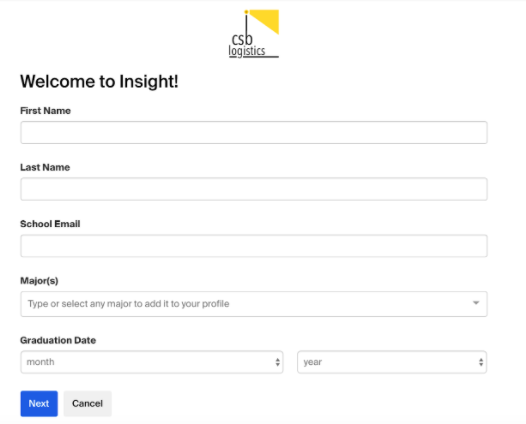 Take notes or add a label on a student
On a separate device, open the Event, and select View RSVP List or click the RSVPs tab. From this view, you're able to view and select students who RSVPed or checked in.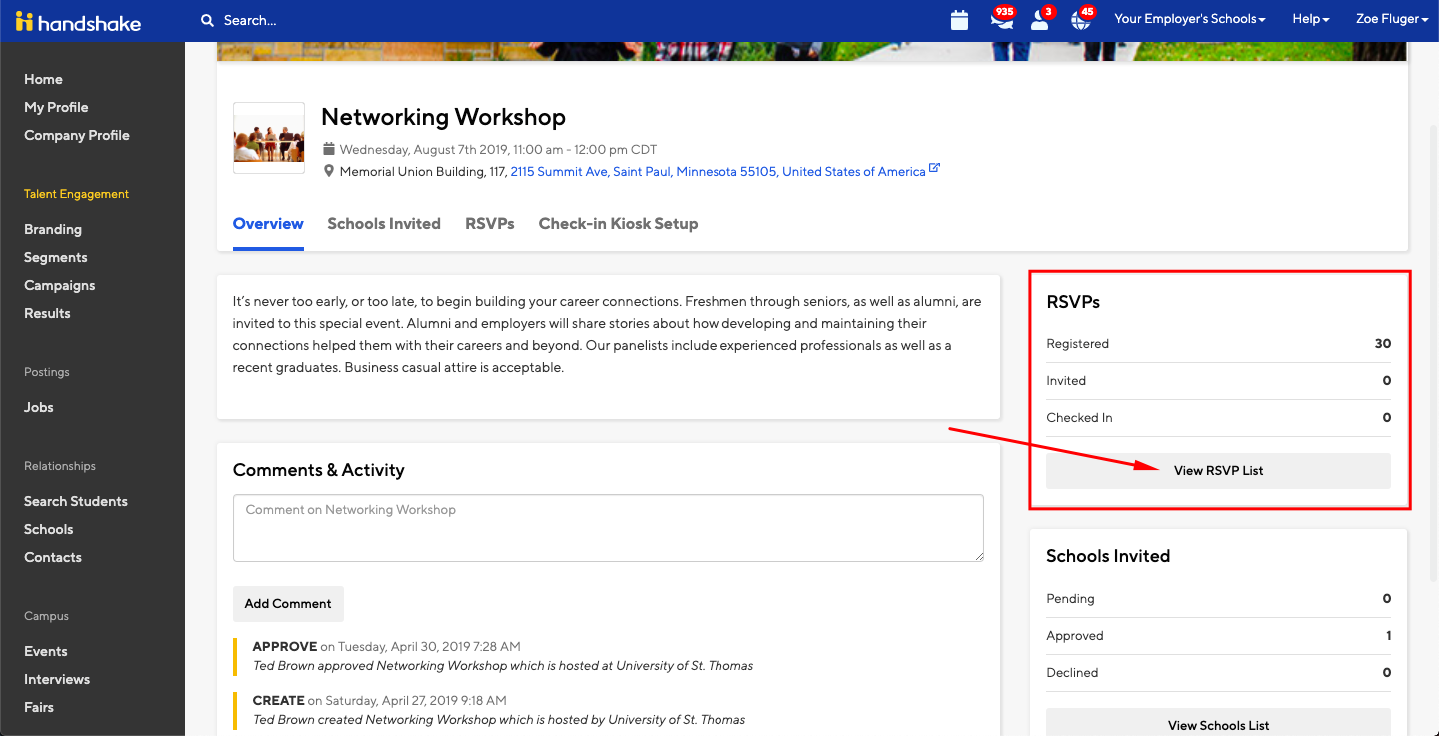 To add a note, simply click the notepad/paper icon next to the student's name on the left side of the student list.
Note: If you are using check in and note at the same time, after a student has checked in, click RSVP on top again to refresh the page, you should then be able to locate the recently checked in student.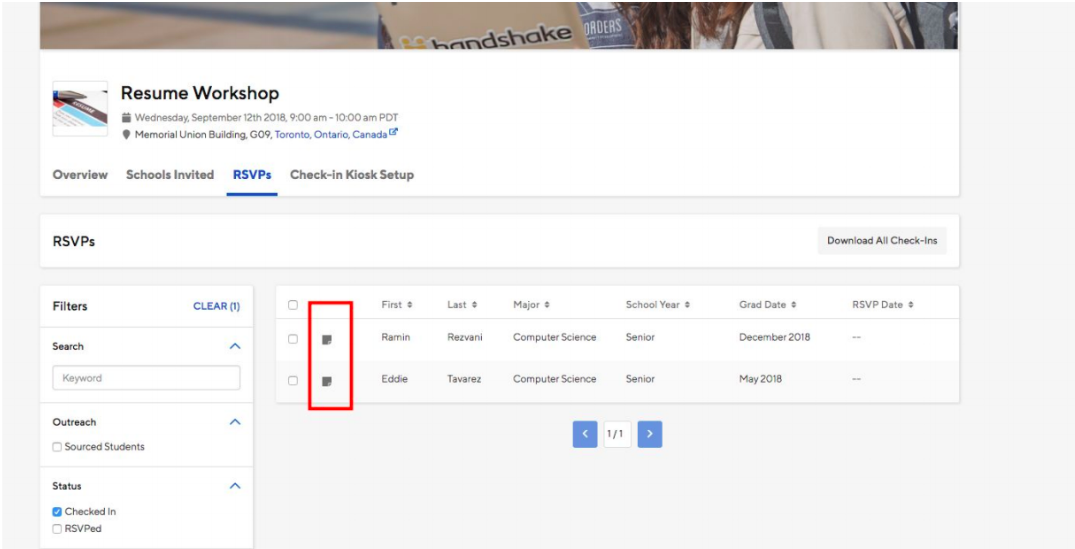 To add a label, put a check in the box to the far left in the row with the student's name, then use the bulk actions menu that appears at the top of the student list to click Add Label.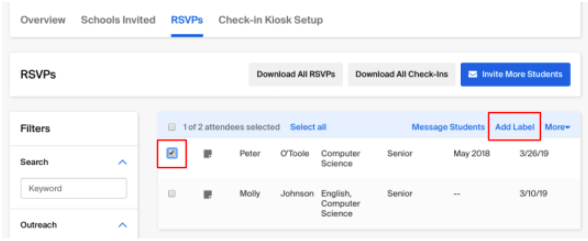 Post event instructions
Use the RSVP tab on your Event page to see a list of students that have registered for and checked into your event.
Accessing Student Check-Ins
If you have a tablet, you can view the student's profile while talking to them, and add labels after meeting with the students.
If you have a laptop, you can add labels and notes after meeting with the students.
Searching for students and viewing their profile
The student who last checked in would show up on the RSVP table first. You may need to refresh the page to see the record. It is likely that the student you are meeting is in the first few rows. If that's not the case, you can search by name using the search bar in the left filter.
You can also use the filters on the left of this page to narrow down the list of students, based on Outreach or Status (RSVPed or Checked In).
Click on the row to access the student's profile in a new page.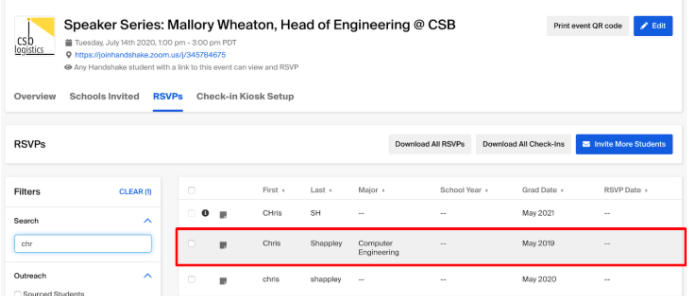 In this view, you can view the student's profile and any touch points you have with them.
Note: You will only be able to view the students who set their profile to be public.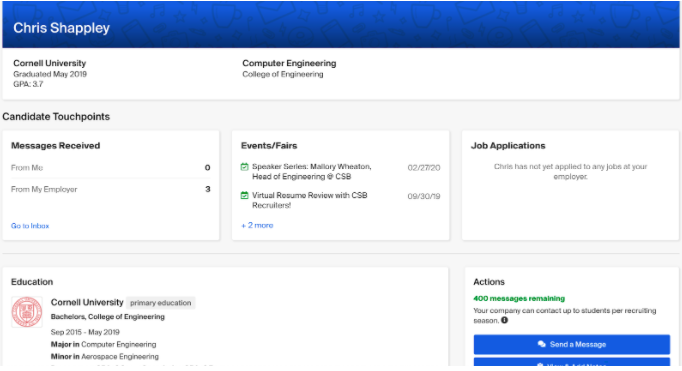 Follow Up: Messaging Students
You are also able to follow up with students by sending them a message. For more information, please review Accessing and Messaging Event RSVPs.
Note: You are only able to message students who have an active Handshake account.
Best Practices
Note: For virtual events, you can display your QR code on the screen of the virtual event for a few moments at the beginning so students can check-in. You can also launch the kiosk early, screenshot the QR code, and add to your presentation. Alternatively, the event host could launch a check-in kiosk, then collect student emails as they join the event. The event host can enter the emails in the kiosk to track attendance.
1) Before the event, ensure the right people have Handshake seats (and Premium Access)
* Our team can help give anyone access who needs it. You can also give them shared log-in information (email & password) if that's easier.
* Hiring managers and ambassadors can have Handshake seat types - but they'll still need a Premium seat to launch the kiosk.
2) Before the event, make sure to do a quick test to confirm check-ins are showing up (additional instructions below)
* Make sure to launch the kiosk, enter a test email, and verify check-ins are showing up in the RSVPs table
* If you notice any problems, give your Handshake POC a call and we can help troubleshoot right away, before students show up!
3) Always have a kiosk launched, even if you have QR Codes printed
* QR Codes are awesome, and will help fast-track students
* But it's always a great idea to have a back-up device with the kiosk launched, so students can enter their email address to check-in as an alternative - especially if they don't want to download the app
4) Don't try to have multiple browser tabs working at the same time
* You can be logged in on different devices - e.g. have one account running on your lap-top, and another on your iPad
* But, make sure you're not doing two things at once on the same device. If you log back into Handshake while simultaneously trying to use the kiosk, check-ins won't be recorded.
5) After the event, if wifi was shaky, make sure to re-launch the kiosk on the same device
* If any check-ins got stored in offline mode, they'll get synced back in at that time
* Check-ins are stored locally on the device used to check students in, so make sure to re-launch on that same exact device
FAQs
I'm having trouble launching my kiosk. Help!
In order to set up and launch the check-in kiosk, you will need to have a premium seat. Please contact your admin to let them know.

Once the kiosk has been launched, anyone can print the check-in QR code.
Do I need to use a specific device or browser?
The check-in kiosk works on any device that runs an internet browser (Google Chrome and Mozilla Firefox work best). For the best experience possible, we recommend using browser versions released within the last 6 months. Below is a list of browsers that are supported:

Chrome
Safari
Firefox
Microsoft Edge
Internet Explorer V11
Can I use check-in if we don't have an Internet connection?
An internet connection is required to launch the kiosk, but it is not required during the event. In the case that connectivity is slow or unstable during an event, the kiosk will continue to work and store check-ins in your system in offline mode.
If you've collected check-ins in offline mode at an event, you'll need to reconnect your device to the internet to sync these check-ins with Handshake. If you shut down your device without uploading the data, simply relaunch the kiosk on the same device and the check-ins will be uploaded automatically to Handshake.
Check out this video to see Event Check-in in action: