Please follow the below instructions to designate "Handshake Point of Contact" and "Manage Feature Preferences" roles for your career services team members.
Whenever there is a change in staff on your team, we recommend reviewing and updating members who should have these roles!
1. Sign into Handshake. Click your name in the upper right hand corner and then click school settings.

2) Scroll down and on the left hand side of the screen, click "Staff Management"

3) Click on the name of the staff member whose permission you would like to update.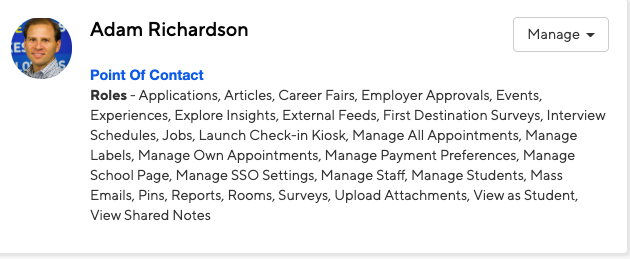 4) Click on the "Account" tab in the upper right hand corner of the screen.

5) Select Roles from the User Settings list on the left and click Show Permissions

Handshake Point of Contact: Team members will receive key communications from our team, which may include major updates, requests for input, or calls to action. Example emails include product updates, email campaign announcements, webinar timelines, and event invitations.

Select this permission for anyone on your team who should stay informed / receive emails directly from Handshake!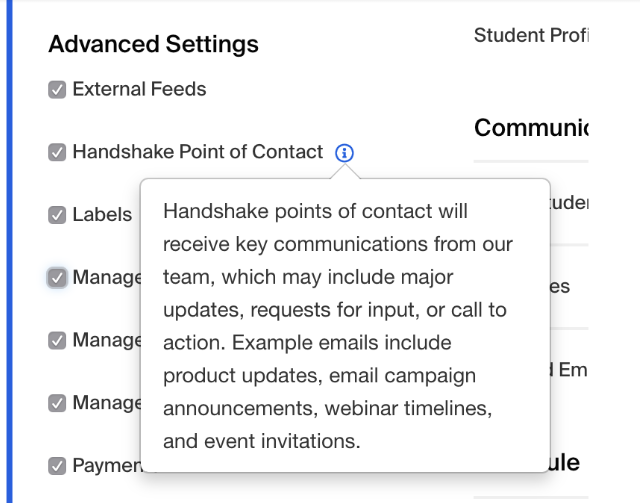 Managing Feature Preferences: Notified about product updates and key email campaigns. Manages toggles on new adoption features. We recommend that these individuals also have the "Handshake Point of Contact" permission.
Select this permission for anyone on your team who should make product release and email campaign decisions on behalf of your team regarding your Handshake instance.

Considerations when selecting these permissions
Only those who already have the "Manage Staff" permission will be able to designate these new roles. If you have this permission you should be able to give these roles to yourself by updating your own "User Settings."

If you do not designate these permissions by July 1st, we will provision these permissions to the main points of contact we have recorded for your team. You can always update these permissions for staff members at any time!
Considerations for the "Manage Feature Preferences" Role
We recommend providing this role to only 1 team member. If you need to provide this role to 2 or more team members, that is up to the discretion of your team.
Once the "Manage Feature Preferences" role is designated, that individual will be able to see and access the "Feature Preferences" menu item

in your school settings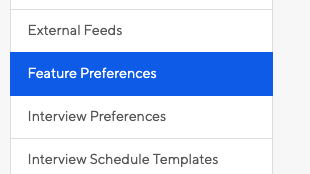 This tab will be updated regularly with product update launches and email activation options, and only the individuals with the "Manage Feature Preferences" role will be able to make decisions in this tab. Any decision made will impact your school's entire Handshake instance. In other words, different decisions cannot be made for different groups of students.