To engage students throughout the Spring 2020 season, Handshake is partnering with school teams to send timely and relevant email messages to unactivated undergraduate students. Our goal is to continue supporting school teams in providing a "ready to send" resource while increasing overall student engagement in Handshake. Read more about the entire Spring 2020 campaign here.
We recognize that students have a lot on their minds, but we want to make sure we continue to offer Handshake as a resource to them as they shift their search for jobs and internships online. All emails scheduled to be sent the week of March 30th have been updated to address the COVID-19 crisis and gently remind students about how Handshake can help them. Should you choose not to send emails to students during this time, we wanted to make it simple for you to opt out until the next round of activation emails (currently scheduled for the week of April 20th). If you navigate to the Feature Preferences tab in Handshake, you'll see a separate opt in/out toggle for this email send—you can use it to opt out of this email without opting out of future email sends.
Please see below for additional details:
School Participation & Details
To manage your opt-in preferences for the Week of March 30th Campaign, navigate to your feature preferences tab to indicate whether your institution would like to participate. If you are opted into the Spring 2020 campaign as a whole, you have been marked as opted into this email send.





Please note! Only individuals who have the "Manage Feature Preferences" permission can opt into these campaigns. To learn more about this permission level, please refer to this help center article.


Emails will go to unactivated undergraduate students that your institution has synced into Handshake. Each student will only receive one email.


These emails are not customizable. If you would like to customize messaging or send to specific student groups in addition to, or instead of, these emails, we encourage you to leverage our templates in

Handshake's Targeted Email tool. Just navigate to Handshake, click Emails from the left column, and click the "Handshake Templates" button on the right side of the screen.
Example Content
Students will receive one of the following emails. The subject line of all emails will be "[School Name] partners with Handshake to get you hired. From anywhere." The New Handshake Resources link will lead to this page on our Student Blog.
This email will be sent to unactivated undergraduates with a major: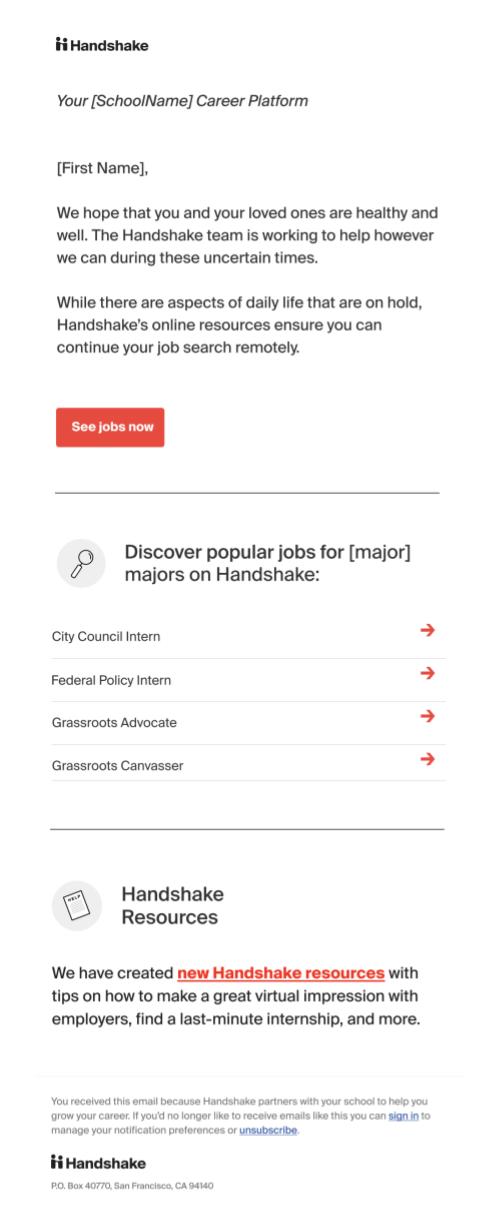 This email will be sent to unactivated undergraduates with no major or an undeclared major: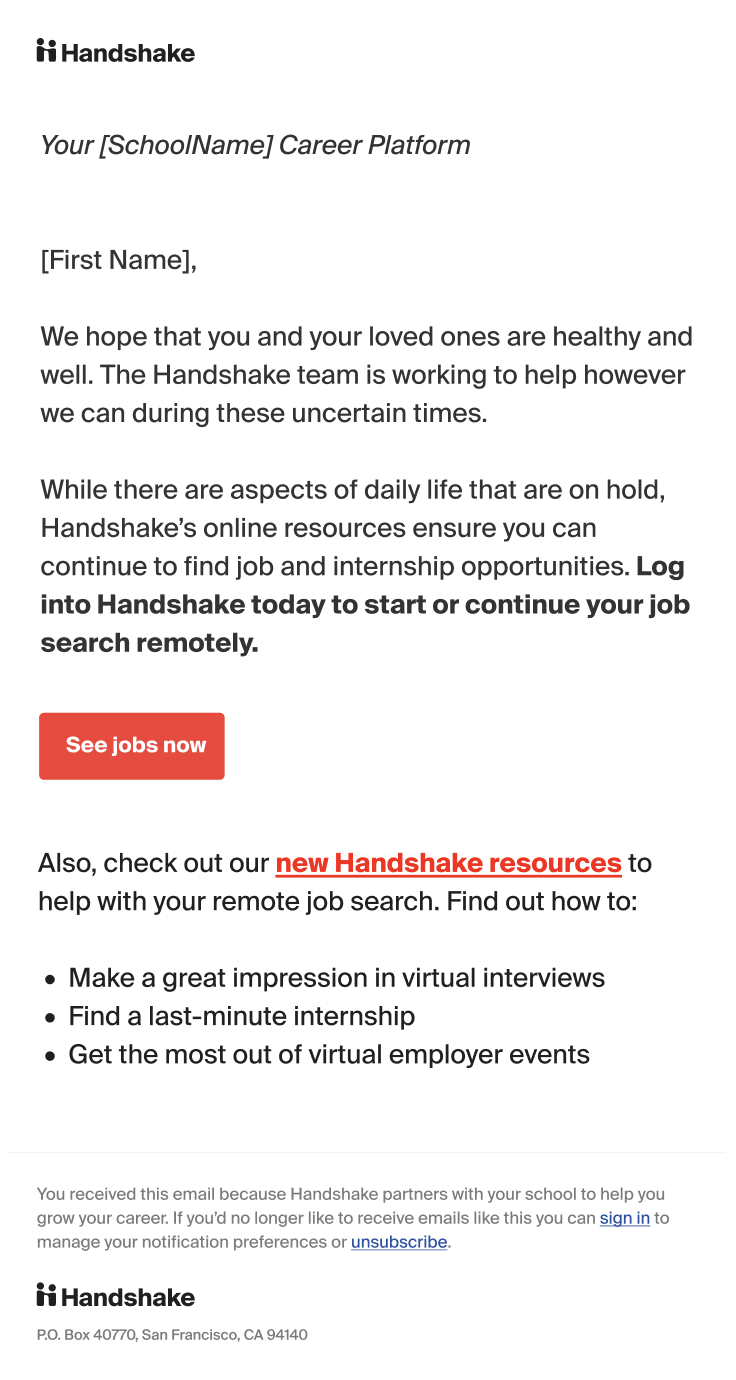 We will be testing this email with a very small group of unactivated undergraduates with a major. It will recommend relevant virtual events: