To engage students throughout the year, Handshake is partnering with school teams to send timely and relevant email messages to unactivated undergraduate students. Our goal is to continue supporting school teams in providing a "ready to send" resource while increasing overall student engagement in Handshake. To build on the success of our Spring 2020 campaign, which activated hundreds of thousands of students at over 600 participating schools, we are continuing through the summer.
Timeline & Participation Details
An email will be sent every 2 weeks over a period of 12 weeks this summer (6 emails in total). Emails will be sent over the course of Tuesday - Thursday of each send week. While we will no longer be sending a heads up notification to participating school teams a week before each email is sent, we are committed to maintaining this schedule. Here are the weeks of each email send:

Week of May 25th
Week of June 8th
Week of June 22nd
Week of July 6th
Week of July 20th
Week of August 3rd
To manage your opt-in preferences for the campaign, navigate to your

feature preferences tab

to indicate whether your institution would like to participate. You can opt in or out of these emails at any time.

Please note!

Only individuals who have the "Manage Feature Preferences" permission can opt into these campaigns. To learn more about this permission level, please refer to this help center article.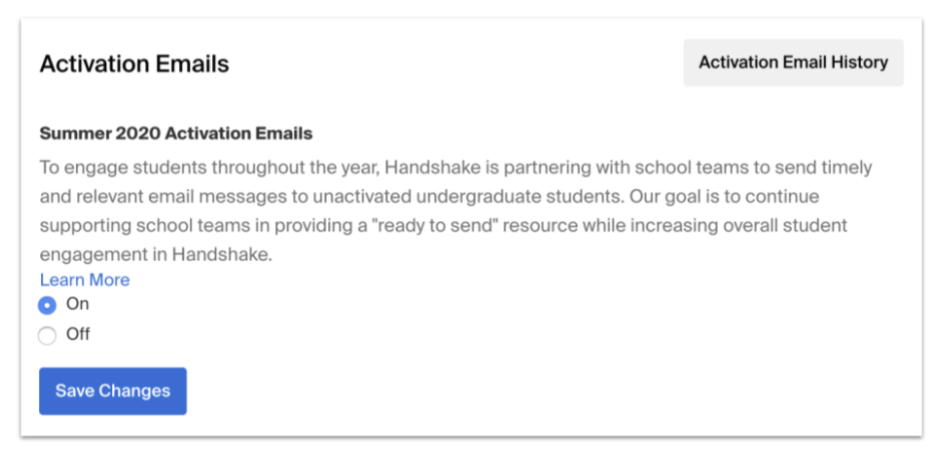 Audience & Content
We will target

undergraduate students who have not yet logged into Handshake

and will not include any new freshmen you upload to Handshake over the summer.

In addition to featuring recommended jobs, we will also be introducing relevant content, like employers to follow, company reviews and Q&A, statistics on available jobs and active employers, timely content from

our student blog

, and promotion of our mobile app. Below, you can find example email templates we'll use.
Week of May 25:

Week of June 8:

Week of June 22:

Week of July 6:

Week of 7/20:

Week of 8/3: