Please note: Premium features are for Handshake Premium accounts only. For more information, please check out this resource.
For employers with the premium Event Management module, Handshake supports collecting check-in information when students join your virtual events!
You can set up this tool on new virtual events and fairs or edit existing ones, and you can checkin students from both partner and non-partner schools!
Topics:
Activating the kiosk for a virtual fair
1. To activate the kiosk for a virtual fair, navigate to the fair in Handshake: Click Fairs from the left menu column, then use the filters on the left of the page to narrow down displayed results and locate the necessary fair.
2. Click on the Check-in Kiosk Setup tab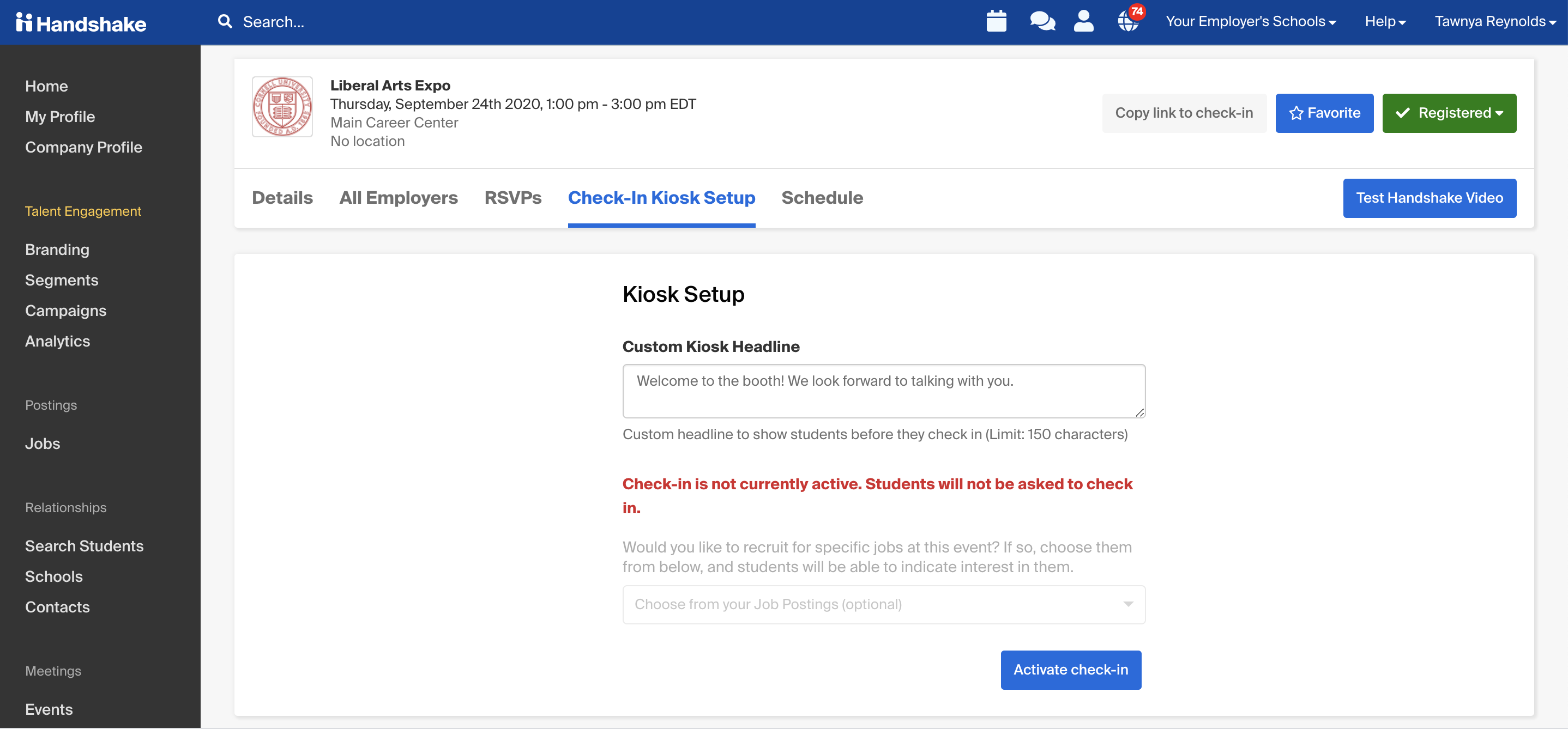 3. Enter a custom headline that students will see before they check in.
4. Click the blue button Activate check-in to enable the kiosk.
Requesting a new event
1. Select "Virtual Event" under Format
2. Select your Hosting Details - if you have the event management module, you'll be able to choose Handshake Video.
If you are using an External video platform, fill out the Web Host URL field in order to enable check-in.
Handshake requires a web host URL to know where to send the student to once check in is complete. Use your company's career page, every student will be redirected to this page after they check in.

If your event has a Non-Handshake Registration URL you will still need to add a Web Host URL if you want to use the virtual check-in kiosk feature.
3. Once a valid Web Host URL is entered, you will see a new field to enable Student check-in. To enable check-in, check the box for Request that students check in for this event via Handshake.

4. Finish event creation as normal, and click Save in the lower-right corner to create the event.
Updating an existing event
1. Navigate to the event in Handshake and click Edit Event.
2. If the Web Host URL is set, you are able to turn on the Student check-in setting (example screenshot above).
Alternatively, you are able to click the "Activate check-in" button on the Check-in Kiosk Setup page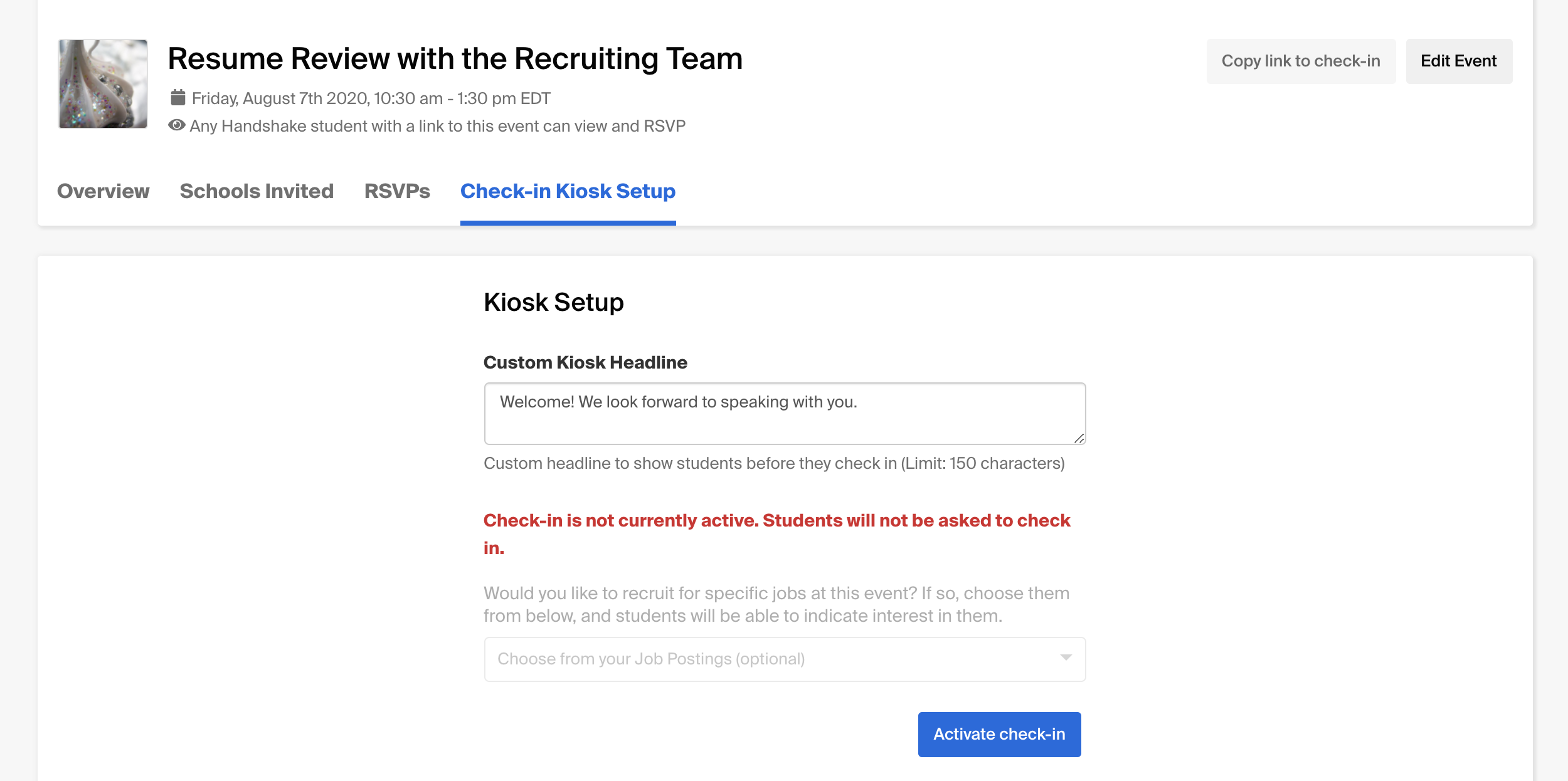 Kiosk setup
1. To customize what is displayed to students for check in, navigate to the event in Handshake and click the Check-in Kiosk Setup tab.

Enter a headline for students to see before they check in.
If you're recruiting for specific jobs at this event, select those jobs from the dropdown.

Only active job postings will be displayed!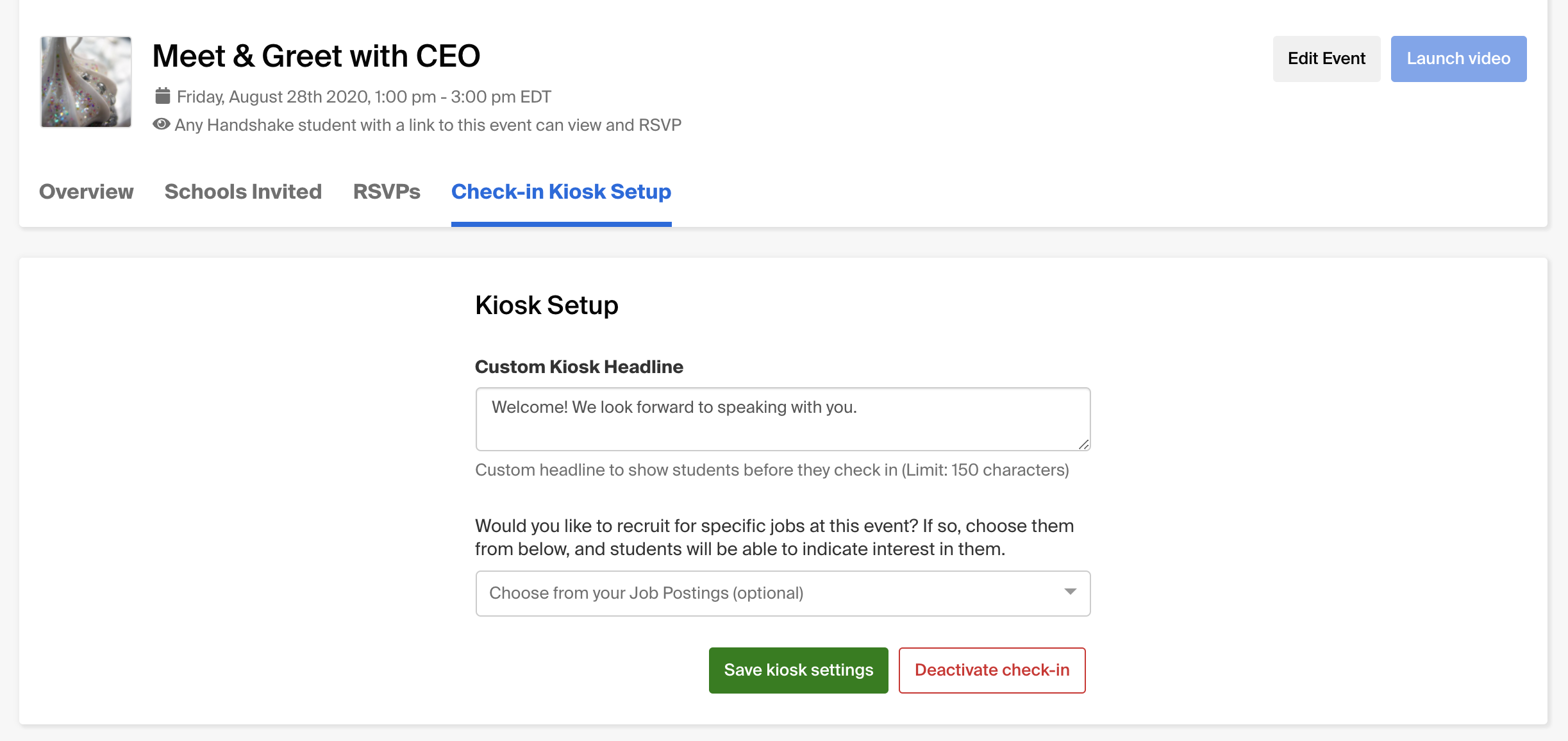 2. Click Save kiosk settings to save your changes.
3. Click "Copy link to check-in" button to send this to students outside of Handshake, either through your CRM or during the event itself if hosted on a third-party platform.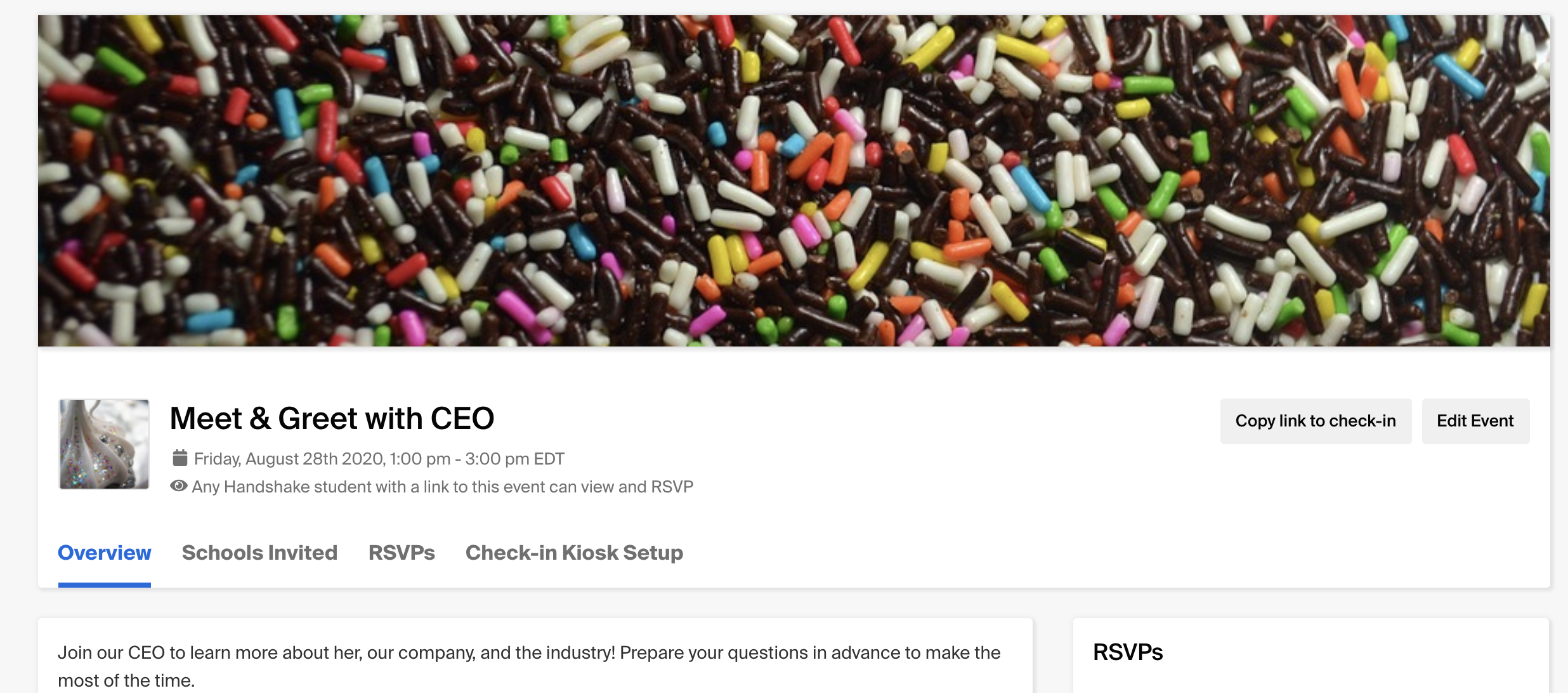 4. Students who join the event through Handshake will be sent to the kiosk page to check-in before joining the event.
This kiosk will be set live for students to check-in automatically 30 minutes before the event's start time.

The check-in kiosk will remain live throughout the duration of the event up to 30 minutes after its end time.

Students will be sent to the link set as the Web Host URL after checking in.