Employer-hosted schedules allow you to virtually conduct interviews, readily share information, and connect with students and alumni following an event or fair to facilitate meaningful student-employer relationships.
Within the Scheduling tab, you can find existing schedules within the tabs Active, Expired, and All and quickly create new schedules.
Note: The employer-hosted schedules feature is part of the Virtual Events Module — if you do not currently have this package, check with your Customer Success Manager for more information.
Premium features are for Handshake Premium accounts only. For more information on our Premium offering, please check out this resource!
Below, you'll find notable terms when using employer-hosted schedules:
Schedule: a collection of specified times that are used for student (candidate) interaction.
Schedule Type: refers to the session setup being used (Quick Screens, Interviews, and Office Hours).
Sessions: refers to a specific day that a schedule is occurring on.
Meetings: refers to a specific segment of time within a schedule.

The exception is when marking meeting unavailable — "Mark meeting unavailable" refers to the selected meeting time.

Interviewers: employer team members added to host meetings with students (candidates).
Students and Candidates are often used interchangeably on documentation related to this feature, but we try to keep the verbiage aligned with what is in Handshake directly.
Schedule Creation
New schedules may be created by Recruiters, Owners, and Admins (premium seat not required) via clicking Scheduling from the left navigation bar, then clicking the blue button New Schedule in the upper-right of the page.
Schedules can be recurring or one-time only, and they may be hosted with integrated video on Handshake or via an external video provider of your choice.
Learn how to Create a Schedule.
Schedule Management and Inviting Students
Once a schedule has been created, Recruiters, Owners, and Admins can mark sessions as unavailable, invite or add students, add interviewers, or delete and cancel meetings as well.
Representatives, Ambassadors, and Student Ambassadors have access to invite a candidate to specific meetings they are hosting, and they may also remove themselves as a host from meetings.
All user types have access to copy the invite link for a schedule. The link copied is a publicly shareable link, enabling all students to sign up for a session.
Learn more in Employer-hosted Schedules: Manage a Schedule.
Launching a scheduled session
Interviewers will be able to launch video up to 60 minutes prior to the scheduled start time to test audio/video quality.
Some employers may have particular settings to adjust (such as permissions or unblocking IPs or domains), which you can read more about in Host Requirements for Integrated Video. We recommend doing this in advance to ensure a smooth experience on the day-of.
When the interviewer is ready to launch Handshake Video, they will click Launch Video in the Location column.


To join the session, they will click Join Now.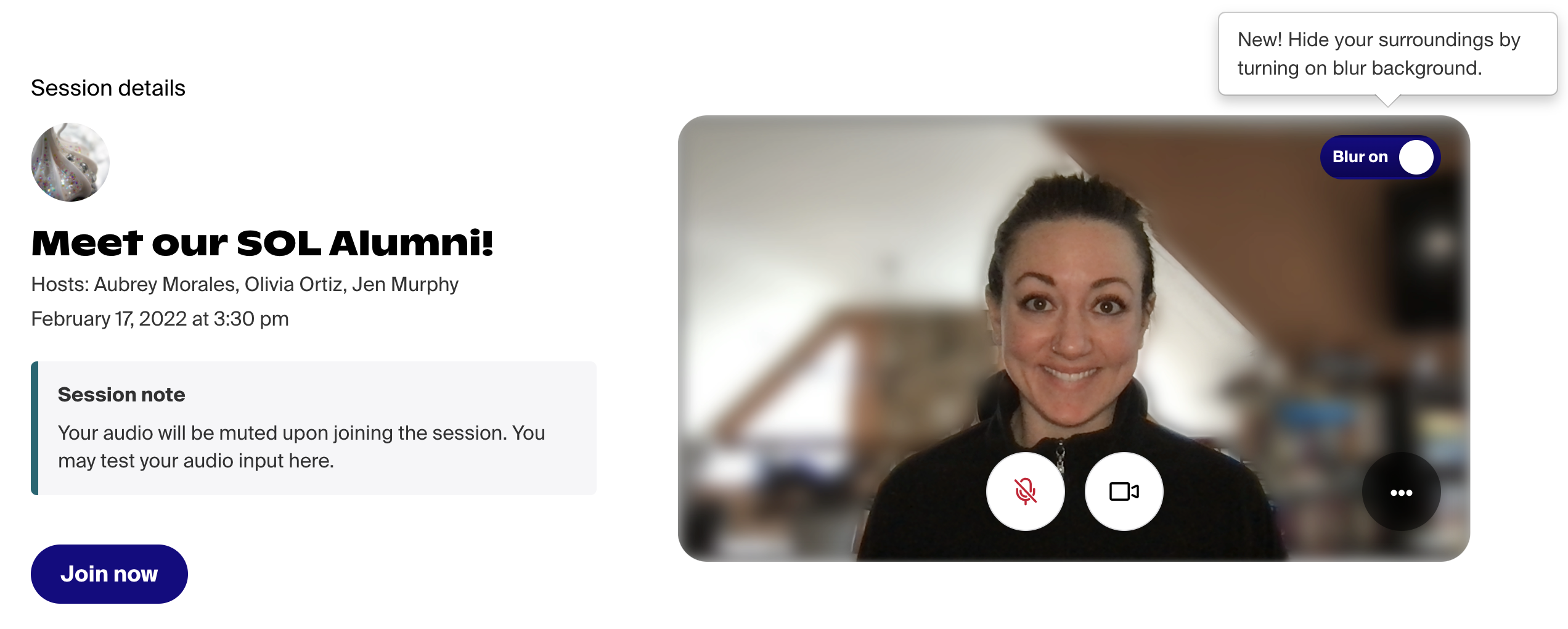 For an overview of features available in video sessions, check out Hosting via Video on Handshake!