Virtual info chats in Handshake provide a way for employers to connect quickly with students via our integrated video.
Availability calendars enable you to setup a schedule to show when you can host virtual info chats. This feature is available for all employers in Handshake (Core and Premium partners).
Integrated video on Handshake saves time and resources by allowing you to launch and host scheduled chats all through our platform.

Note: If you prefer to use a different video provider, that is ok, too! If you choose this route, you'll need to share the external video provider link to join with your candidate(s) individually.
Availability calendars are enabled by default, however, users have to create a schedule (set up availability) to host virtual info chats.
If you do not want your team to have access to this feature, the company Owner (or an Admin) will need to disable it via Global Settings. Read more in Company Settings: Global Settings.
Availability calendar overview
Availability calendars may be accessed any time via Meetings from the left navigation bar in Handshake.
When configuring a schedule:
They can be set up for only one person per schedule.
They can be set up for yourself or a teammate.
They can be recurring; however, they cannot be repeated for more than 6 months at a time.
Sessions are limited to 15 minutes each (this length cannot be changed)
Sessions can only be hosted on Handshake video. However, there is with no recording option.
If you're ready to set up your availability, check out Availability Calendars: Set up a Schedule.
Promote an availability calendar
Once the schedule is setup, students will be able to schedule time and they can be invited to sessions as well.
Currently, availability calendars can be promoted via bulk messages and via jobs. For information on bulk messages, refer to Virtual Info Chats in Bulk Messaging.
For new and existing job postings, this option is on the Basics tab, below Work Study information.
The prompt reads Are you open to speaking with interested candidates?
Select "Yes, I want interested candidates to reach to me for a conversation" to add your availability calendar to the job posting for students.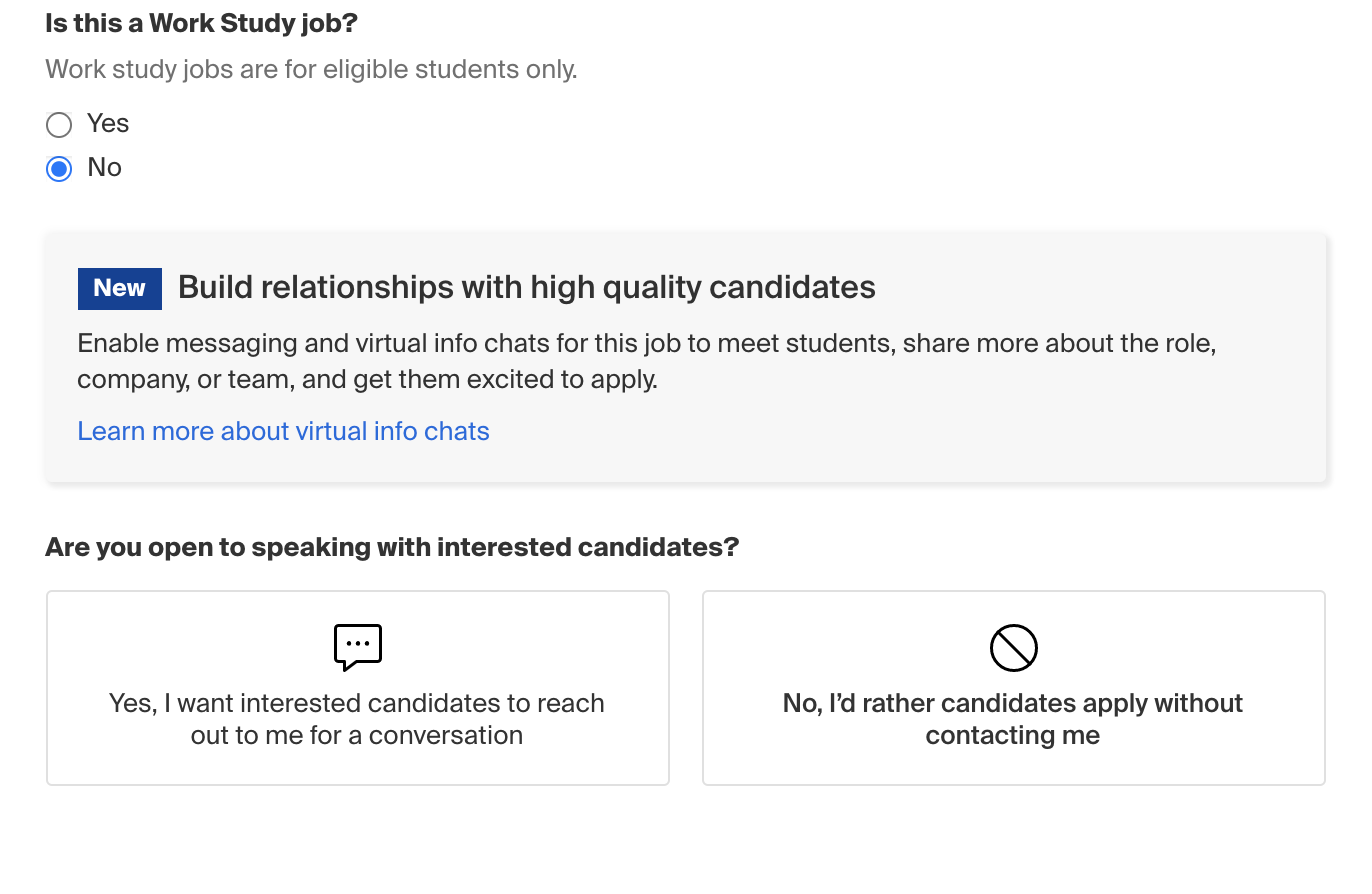 After you click "Yes", the page will expand down, and you can select "How do you want candidates to contact you?" (checkboxes) - Message me on Handshake, Schedule a virtual info chat based on my availability.
If you haven't configured your schedule yet, a yellow banner will be displayed, indicating there are no available times, and you'll be prompted to upon saving the job posting.
If you have configured a schedule already, a green banner will be displayed confirming sessions are setup. We recommend double-checking your Availability calendar to ensure it's not expired and that there are sessions available!
Tip: if you don't have a profile photo uploaded, we recommend you do so. For steps, check out Employer Account User Settings.