There are various reasons you may not be able to login and access your Handshake account.
The following outlines common issues and their solutions when attempting to access your account. 
You may not have an account 
If you get "Hmmm... Looks like there is no account on file for EMAIL" when logging in, make sure you're using the same email you signed up with.
If you're getting this message and you know you created an account previously, it's possible the account is tied to a different email. 
This can happen if you have more than one work email address or use email aliases. Even for aliases used for one account, they're recognized as independent email addresses in Handshake. We recommend trying to log in again with the email used to create the employer account.
If there are no other email addresses you could have used, it's possible the address may have been misspelled. When you're signed in, on the right of the page, check the email address listed and confirm it's spelled correctly. 
If you continue to receive the message stating that no account was found, you can either choose to create a new account with the desired email address, or contact our Support Team here. 
You may be entering the wrong password 
If the message "You entered an invalid password" appears when logging in, the password was incorrect.
Make sure that the password entered into the login field is correct. As you enter the password, pay close attention to the caps lock and num lock keys as these keys change the value of what you're typing. 
Disable your browser-based password manager or password manager browser extension if necessary, as they may auto-populate incorrect credentials or interfere with your login attempts if they haven't been recently updated. 
If you continue to receive an error, you can reset your password. Refer to Reset Password for an Employer Account. 
Your account is not confirmed 
If you log in but get stuck on a page that says "Great! You've successfully signed up for Handshake", your account is not yet confirmed.
Email verification links are usually sent immediately but may take up to 10 minutes. After that time, the link is valid for 12 hours. If more than 12 hours have passed, you must resend the email to generate a new link.
If you aren't receiving the confirmation email, we recommend taking the steps below:
Check your spam and junk mail. Since this is an automated email, some providers may filter the message from your inbox. I

f you're using any of the following mail clients, click the relevant link for additional troubleshooting steps.

Perform a keyword search for all mailboxes with the subject line "Email Confirmation". This can help better surface the email if it's been filtered to an unexpected location.
Add Handshake to your address book with the following email: "handshake@m.joinhandshake.com", then log in to Handshake and resend the confirmation email.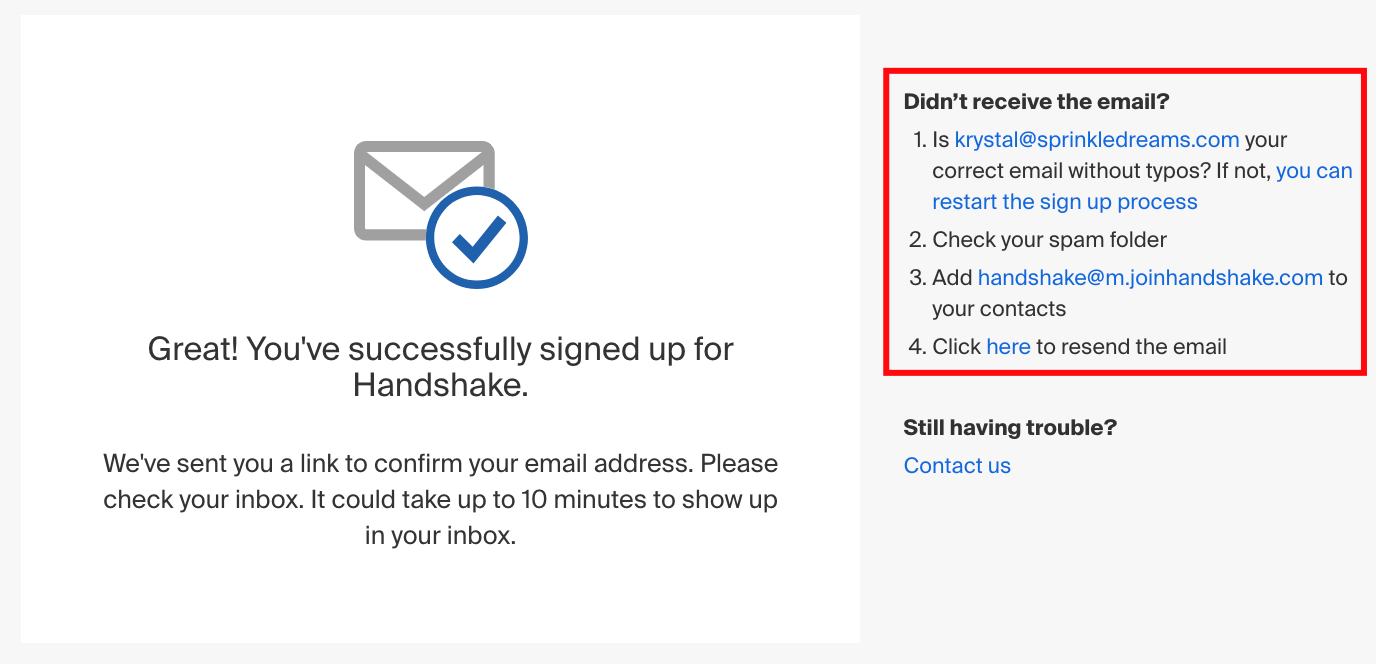 Contact your company's IT department to verify whether Handshake is blocked and ask that our domain be added to its list of accepted email senders. Details to share with your IT can be found in Email Delivery: Unblocking Handshake Email
If the confirmation email isn't received after taking the steps above, contact our Support team here. 
Best Practice: when submitting a ticket, include a summary of the steps you've taken so far. This will save time and result in a faster resolution.
Your account is not validated 
If the message "We're reviewing your new account" appears when logging in, your account is not yet validated. As part of Handshake's Trust and Safety process, we manually review and validate new accounts when they are created.
For additional details, refer to Employer Validation.
You are not connected to a company profile 
You're logged in and your email is confirmed, but you're being prompted (again) to Join Company. 
After confirming your email, you'll be able to join an existing company or create a new company profile if needed. If you've already requested to join a company, but are prompt to request connection after the initial request, this indicates that the connection request was not submitted successfully. 
Learn how to Create an Employer User Account, Join a Company, and Connect with Schools.
Your request is still pending approval
When you log in, your current status is "Pending approval at COMPANY NAME". This message indicates you've successfully requested to connect with the company, but you won't be able to fully access Handshake until your request has been approved.
Learn how to expedite approval in Pending Approval to Join Company.
Your account requires additional verification 
If you log in and encounter a message that reads "Your account is under review" or "Your account is temporarily suspended", we need additional information. To inquire further, contact our Trust and Safety Team.
To learn more about this process, refer to Employer Validation.
If you're still unable to access your account, or have other issues with access, submit a ticket to our Support Team here.