This article describes the different aspects of an individual student appointment page to help you maximize the features available.
To get started, click on Appointments from the left navigation column in Handshake, then click on any appointment listed.

The appointment details page will load. This page includes several key features, such as historical information about the appointment, options for managing the appointment, and updating details.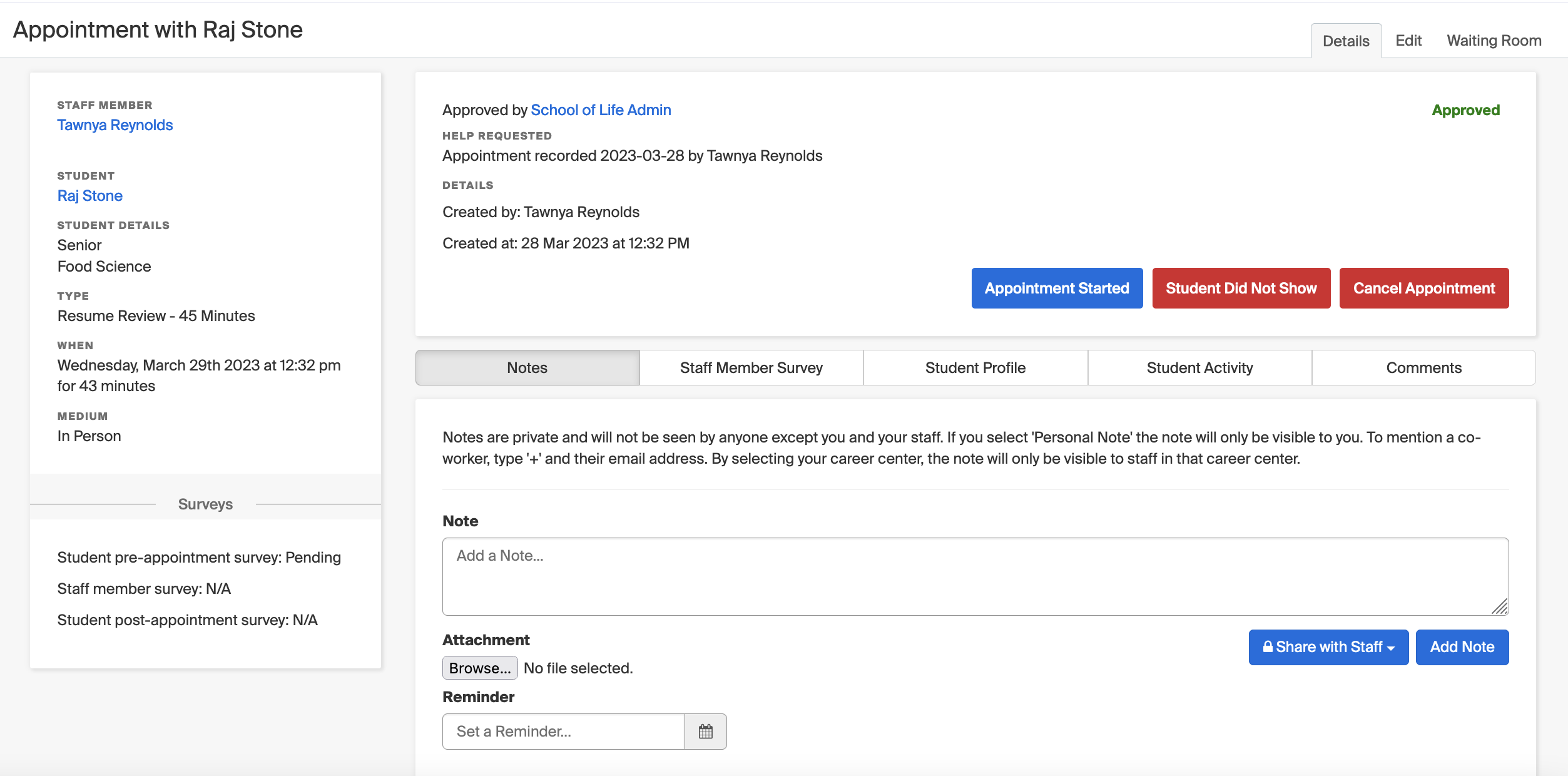 The below information is displayed on the left of the page:
Under the Surveys section, each survey type (Student pre-appointment survey, Staff member survey, Student post-appointment survey) will be indicated with it's current status. Learn more about surveys in appointments in Appointments System Setup Checklist and Testing Guide.
Pending: The survey has not yet been started or completed.
Completed: The survey has been filled out and completed.
N/A: No survey was set up for this appointment type.
The upper-middle section of the page provides information on which staff member started or approved the appointment, when it was created, and who created the appointment. Along with these details, there are buttons provided which will affect the status of the appointment:
Appointment Started: Begin the appointment, this can be selected before the official appointment start time.
Student Did Not Show: The student didn't attend the appointment at start time.
Cancel Appointment: Cancel the appointment.
Complete Appointment: Only selectable if the appointment was started.

Note: The appointment status can be changed by clicking on the Edit tab. Learn more about changing the appointment status in Manually Create an Appointment.
The tabs listed on the Appointment Details page each provide a different function for the appointment.
Notes: Add a note, attach a file, or set a reminder which will post the note at a designated time.

Share with Staff: The default setting for adding a note, selecting this brings up other options for sharing the note.

Personal Note: Save the note for your personal usage. Other staff members and the student cannot see this note.
Share with Staff: Share your note with other staff members.
Career Center Option: Share your note with a career center's staff members.

Staff Member Survey: If a Staff Member Survey was associated with this appointment, the questions will be available to answer under this tab.
Student Profile: Displays portions of the student's profile for a quick view.
Student Activity: Displays the Student Activity Dashboard for quick access. Learn more in About the Student Activity Dashboard.
Comments: Viewable by both staff and students, comments can be used to follow up with students, provide feedback, and answer questions before the appointment.

Note: Use the chainlink icon to add a hyperlink to your comment. Hyperlinks added to comments are clickable for both your staff and students!