University Product Announcement - July 27th, 2018
New Student On-boarding
This update will set students up for success by clearly communicating the value of Handshake and collecting key data by which we can help them get a job on Handshake. All students will be prompted to go through "reonboarding" in mid August. Reonboarding will consist of showing onboarding questions to anyone who first logged into their Handshake account more than 3 months ago.  The goal is to have all students update their job search preferences, leading to better job recommendations for them, and more accurate analytics for your team.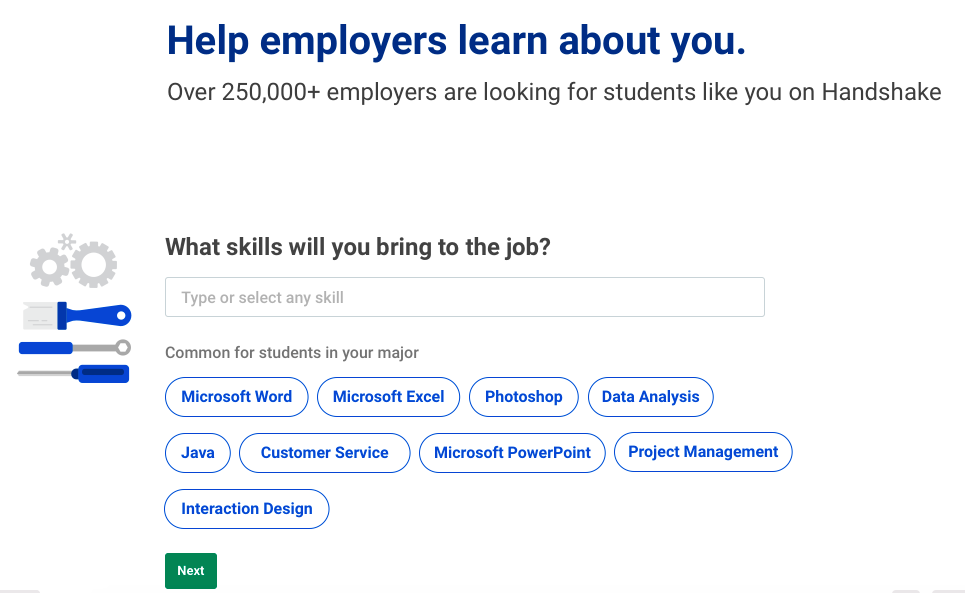 Employer role view for Career Services
Career services users can now view employer roles and statuses on the employer Staff Management page.
Hiring volume added to job form
Hiring volume: today it is difficult to determine how many students an employer is planning to hire. For example, a large employer may post a single job, but plans to hire 500 students for that position. Another might have 10 jobs, each with 1-2 openings. We have added the required Hiring Volume field In order to better recommend jobs, ensure there are adequate opportunities available for students of all majors, and increase the accuracy of school reporting.
Direct ATS Applications
We have released updates to the student application process in Handshake that will make it easier for students to apply to external application tracking systems. The update will allow employers to choose Apply in Handshake or Apply through external system on their job postings. If they choose Apply through external system, we will still track that student as an external applicant but the student will not have to complete an application in Handshake.
On campus interview job search filter
Based on your feedback we have added the "Interviewing On Campus" filter back to student job search.
Coming Soon
Work Authorization 
We will collect work authorization information directly from the student during the job application process to improve the application experience. 
Mass Emails 
Mobile Events and Fairs
Our mobile engineering team has been working hard on an amazing native experience for events and career fairs. Coming soon as a free update, Handshake partner Universities will automatically get a beautiful native mobile experience! More details coming soon! 
Android
We're excited to be bringing the amazing native mobile experience we pioneered on iOS to Android for back to school! Keep an eye out for future announcements and download links! 
MBA CSEA Outcomes Collection
This update will allow us to capture MBA student outcomes after graduation. 
Please sign in to leave a comment.