This resource was created by Nathan Hunsaker, Associate Director for Technology & Data, and Saahithi Budharaju, Data & Analytics Assistant at University of Virginia.
Many thanks for all of their hard work and willingness to share it with us! 
Click here to view the dictionary. Note: link will open in a new tab or window, depending on your browser settings.
What is this dictionary?
This is a collection of all possible filters & results available in our Insights reporting tool within Handshake. Each option references specific pieces of data within Handshake. 
Dimensions - What data do I want? Dimensions are the column descriptors of your table.
Measures - What do I want to do with my data? Measures are the math on top of your data.
How to use this dictionary
When you've clicked the link, you'll see the title page load first.
At the top of the page, directly under the Edit menu, you'll see 100% - this represents the size of the page you're viewing. Click the dropdown arrow to the right to reduce or increase the page view size.

Note: While there is a "print" option as well, please know there are about 2400 rows on the Dimensions tab, so we'd recommend to bookmark this link instead of printing! 
Look to the bottom of the screen to navigate to the Dimensions or Measures sheets. 

If you'd prefer to filter the results on the page, click on the Data tab, then click Filter, and choose the option you prefer.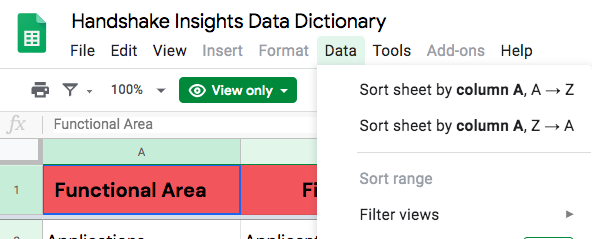 Quick Tip! Looking for something specific? Try using Control + F (on Windows) or Command + F (on Mac) to search for a keyword or phrase within the page! 
For more information on using Insights, check out these resources: 
Getting Started With Reporting on Handshake