Needs Review is a status that is assigned when a Reviewer declines an Experience or their time to approve expires.
This article will walk through the steps you need to take to restart the process as a Career Services user, so that ultimately the experience can be approved on time!
Indication the process has been halted
If you see any Experiences that have been updated to Needs Review, it means it requires some sort of action/management from a Career Services staff member.
The number of Experiences in the Needs Review status will be indicated on the Experiences list page. The reason that the Experience is in the Needs Review state is also listed in the Reason column.

How to manage the process once it has been halted
Select an individual Experience that Needs Review
Navigate to the Approvals tab
Review the Approver that declined or expired, you have a few options for how to proceed: Decline the Experience, Restart the Approvals or manually update the Approver status (as a Career Services user)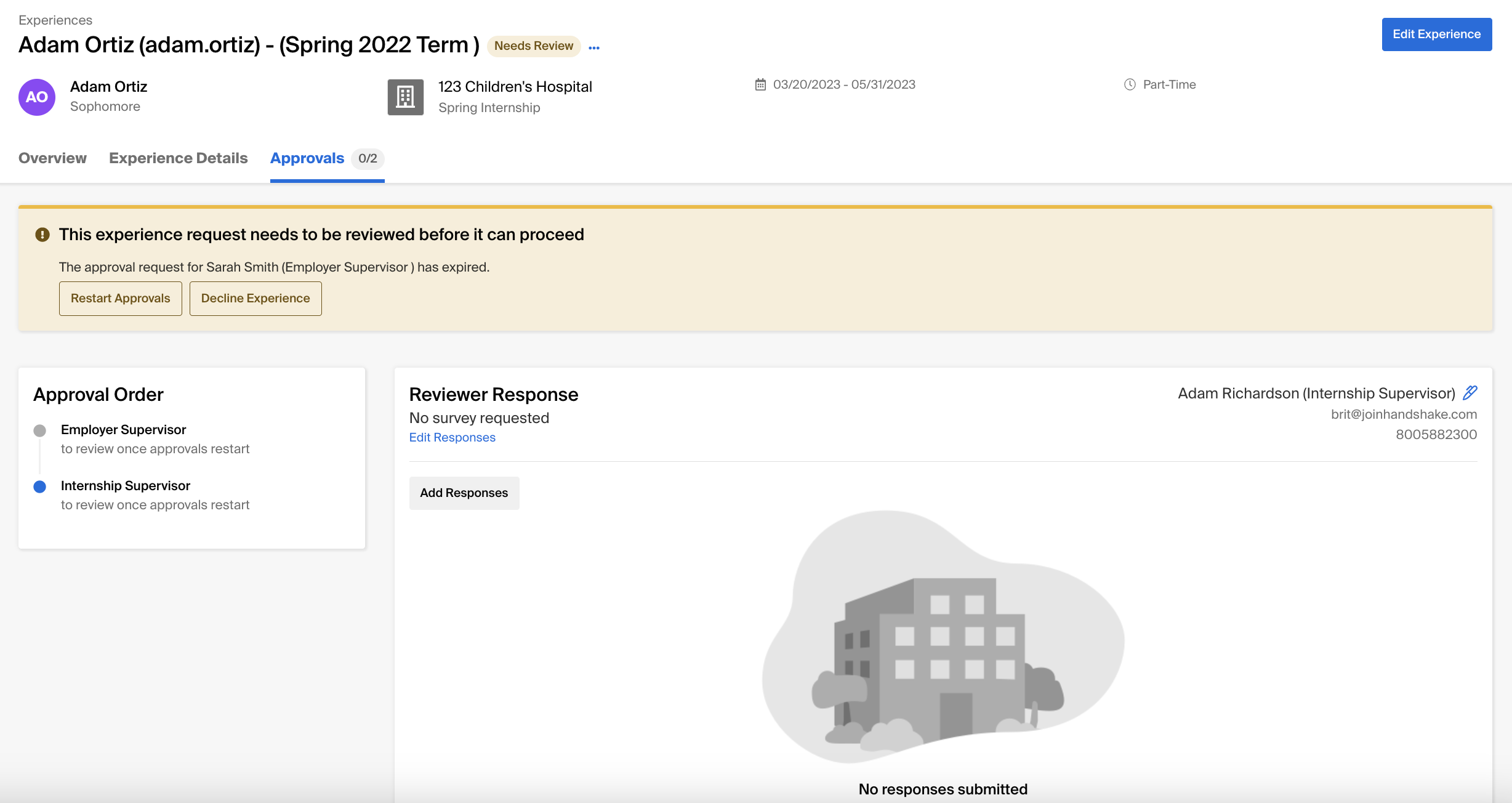 Decline the Experience
Click Decline Experience from the status section at the top of the page
Restart the Approvals
Click Restart Approvals from the status section at the top of the page
This will reset the time for reviewers to approve what you've defined in the template

If the Experience still "needs review" because it has expired, you can send an email reminder to the reviewers

If the Experience has not yet expired, you can manually update the responses from declined to approved for approvers that had originally declined the experience request


The approvals will then go in order from where they were halted
Manually update the Approver status (as a Career Services user)
Click into the relevant Approver
Click Add Responses
Fill out the approval form and select the correct status
FAQ
What happens if I Resend an Approval email when the Reviewer status is Declined or Expired?

They will not be able to respond - you will need to Restart the Approval process in order for this to work correctly

How do I manually update the status of the Experience to Approved?

Edit the Experience
Change the status to Approved