This article explains the best process for vetting pending students and making sure they make their way into your student list!
Click one of the links below to jump to that section.
How do Students (Alumni) manually create accounts?
This article outlines the log in process: How Students (Alumni) Can Request to Access Handshake
Ultimately, students and alumni will be able to create and request an account on either the main page or your institution's specific domain. (https://yourinstitutiondomain.joinhandshake.co.uk/register)
How can I review these pending Students (Alumni) requests?
Only career services staff members with the Manage Students role will be able to view and manage these requests.
Once a student (Alum) creates an account, they will appear in the notifications tab of your Career Services view. Select the "person" icon in the upper right-hand corner of your Handshake account to review:

Any requests will show in this pending bin:

The number of students displayed here can vary amongst your colleagues, depending on the following factors:
when a staff members account was created
when a staff member got access to manage students permission (which gives them access to pending students bin)
if a staff member ignores a student request, it will not remove the request for other staff member views
If you select the hamburger menu on the right, you can review the options for the request: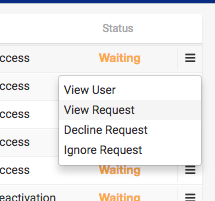 If you view the request, you will see the following details, which include links to the profile and institution:

If you
set a custom University Request message (and a link with additional questions)
you can also compare this request in Handshake with the details on that external form.
This is a great way to prevent duplicate accounts and ensure you're thoroughly vetting alumni requests.
How can I see who approved/rejected a request?
If you'd like to review a processed request, you can use the steps below to quickly see who approved/rejected the request.
1. Click on the student/alum name in the list of approved or rejected requests. You'll see a pop-up appear with a status of Successful or Rejected, along with the buttons for Approve and Reject.

2. Click on either Approve or Reject - it does not matter which one, since the request status cannot be changed. You'll see a new "error" pop-up appear in the lower-right corner of your screen with the following details:
who processed the request
when the request was processed

How can I manually connect a student with my institution?
This process is particularly helpful if a request has been rejected, but it should have been approved. Since there is no way to reverse that request, you'll need to take these steps to connect the student with your institution.
1. Go to Manage Students on the left of Handshake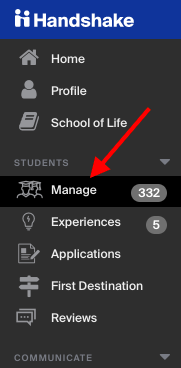 2. Enter the email address for the student (alumni) account you'd like to add in the field for "add existing user by email" toward the top middle of the page, then click on Add User.

Best Practices: Student Request Review
Use these tips as a guide when you're approving or declining student requests:
Check to see if the pending student (alum) already has a Handshake account.
Search for their name in the top search bar or within Manage Students
Check to make sure they weren't already loaded to Handshake with a different .ac.uk email or name.
If the student already has an account, we recommend emailing (outside of Handshake) prompting them to log in using SSO or the email their existing account was created with.
NOTE: If you want to update the email on the existing account and delete the pending user account, you can. By updating the email, you must indicate you don't want this student to be updated in student files going forward (because their email won't match what's on the file anymore). This is not recommended unless the student is an alumni as the student will then need to confirm their new email address and set a password.
If the student (alum) does NOT already have a Handshake account:
Verify that the student requesting access is an alumni at your institution
Most institutions will verify with an external alumni database - you can use the university request message as an another option to confirm.
If the student is an alumni that should have access, you can Approve the user request.
NOTE: If the user requesting is an active student (NOT an alumni) and is using the correct email format, check with your IT/data team to understand why it was not brought in through the student sync.
A few potential reasons:
The student is an incoming first year and has not had their profile loaded yet
The data was formatted incorrectly in the student file, so their row erred in the import
Do Importer Files/Student Syncs Update Pending student requests?
It depends!
Ongoing Syncs:
In order for an ongoing student sync to update a student record, both email_address and username must match between the file and the student records in Handshake. When a student manually creates an account, their default username is their email_address.
This means that most student syncs won't update pending user requests, unless you are sending username as email_address.
Manual Files:
Use manual imports to update information that was not caught by an ongoing sync.
On the importer, you will see all students with pending user requests as failed rows with the error "attempting to update sensitive fields without sensitive fields setting", assuming they manually created profiles with their .ac.uk email.
To update these pending users, you will need to take the failed rows from the importer and upload them manually with a sensitive fields update. By doing a manual sensitive fields update, you will update the usernames of these users to be whats on the file AND automatically mark them as approved.
FAQs:
Why does Handshake allow students to manually create accounts?
We want to make sure alumni who aren't included in your student file can access Handshake!
Can I delete a student that is pending at my university?
Yes, as a career services staff member you can delete a pending student account.
When is the student's email changed?
When they confirm the change and enter the code that was sent to their new email address.
Can I update an email address to one that already exists in Handshake?
No, if the email already exists in Handshake (even if it is tied to a different user type) you can't use that email address. This is due to security concerns - if career services changed an email address of a student to a staff member in their office by accident they would have access to all student information.